Time Clinic is a leading provider of varicose veins treatment in Essex, and is led by a team of medical professionals who are on hand to help with your aesthetic needs. Whether you're looking to remove spider veins or varicose veins, Time Clinic is an approved and trusted vein centre in Essex.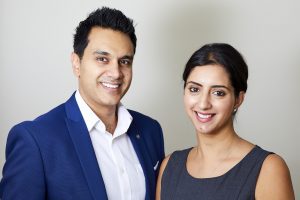 The treatment of spider and varicose veins is possible when undertaken by qualified medical experts. Visible veins are a common condition whereby the veins appear through the skin – often on the face and legs, and occasionally on the stomach following pregnancy.
If you're looking to eliminate the appearance of varicose and spider veins, the team at our vein clinic in Essex is here to help! Contact us today to book a no-obligation consultation at our Time Clinic vein centre in Essex.
Time Clinic – a trusted vein centre in Essex
Choosing the Time Clinic for spider vein removal in Essex is a way to guarantee that you are in safe hands. Our medically trained professionals are experienced in varicose veins treatment and what's more – we are Save Face accredited, meaning our clinic, employees and practises are regulated to ensure that we maintain the highest industry standards, at all times. 
Dr. Manav Bawa is Time Clinic's highly accredited and experienced medical doctor; he is a member of the Royal College of Surgeons (MRCS) and the Royal College of General Practitioners (MRCGP), and is regularly a guest speaker at conferences throughout the UK. 
If you're looking for more information about varicose veins treatment in Essex one of our friendly medical team members would be happy to discuss your situation and suitability for treatment at our vein clinic in Essex. 
How do varicose and spider veins differ?
Both spider veins and varicose veins can stem from the same root cause – often malfunctioning valves in blood vessels. However, the main difference between varicose and spider veins is their appearance. 
Varicose veins can be bulgy and raised in appearance and are more blue in colour, whereas spider veins appear smaller and may be red, purple or blue. Spider veins are usually completely harmless yet some people experience pain with varicose veins. 
Spider veins can sometimes appear as a result of varicose veins. Thankfully, at Time Clinic we have a successful track record in spider vein removal treatment in Essex and provide this popular treatment to patients who experience visible veins.
How are varicose and spider veins removed?
Sclerotherapy is the preferred method used to treat and eliminate spider veins and small varicose veins at Time Clinic in Essex. This is a non-invasive, safe and approved injectable treatment for the removal of spider and varicose veins. 
Time Clinic offers the gold standard in treating small varicose and spider veins and sclerotherapy is the preferred alternative by our clients in Essex who are looking for non-surgical remedies for the symptoms of visible veins.
Sclerotherapy is an injectable treatment that works by blocking blood flow through the targeted veins. The blood is then diverted away from the vein, and eventually the affected veins will permanently close and be absorbed by the body. Once a vein has been successfully treated with sclerotherapy, it will not reappear. 
Looking for varicose veins treatment in Essex?
We have an excellent track record in helping patients in Essex with the removal of spider and varicose veins. Our patients are the heart and soul of what we do and we pride ourselves on maintaining the highest standards and putting patient safety and wellbeing first.
At Time Clinic in Essex, we only use approved and trusted methods and our vein centre is affiliated with some of the industry's most trusted brands. We have a commitment to excellence and are passionate about upholding the very best standards in aesthetic and cosmetic procedures.    
How much does varicose vein treatment cost?
We would be happy to discuss costs for varicose vein treatment at a no-obligation consultation at our vein clinic in Essex. We're proud to be competitive in our pricing for varicose and spider vein removal treatment in Essex. 
Sclerotherapy is a comfortable and cost efficient option for anyone looking to treat varicose and spider veins effectively. Prices will vary depending on the treatment area and number of treatments required. 
For a no obligation consultation, or for more information about treatments at the Time Clinic vein centre in Essex, please email hello@time-clinic.com or call +44 20 3795 9063.
Located in southeast England, the county of Essex sits between London and the North Sea. It is one of the home counties, bordering Suffolk, Cambridgeshire, Kent and Hertfordshire. Essex is a popular destination for workers wanting to commute into the capital, since it is well-served by road and rail. Essex is steeped in history and enjoys a mixture of rural land as well as popular transport links including London Stansted Airport.