Choose an award-winning clinic for sclerotherapy in Essex. Time Clinic was recently awarded Best Medical Aesthetic Clinic and offers the gold standard in sclerotherapy for the treatment of spider and thread veins.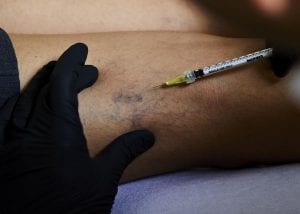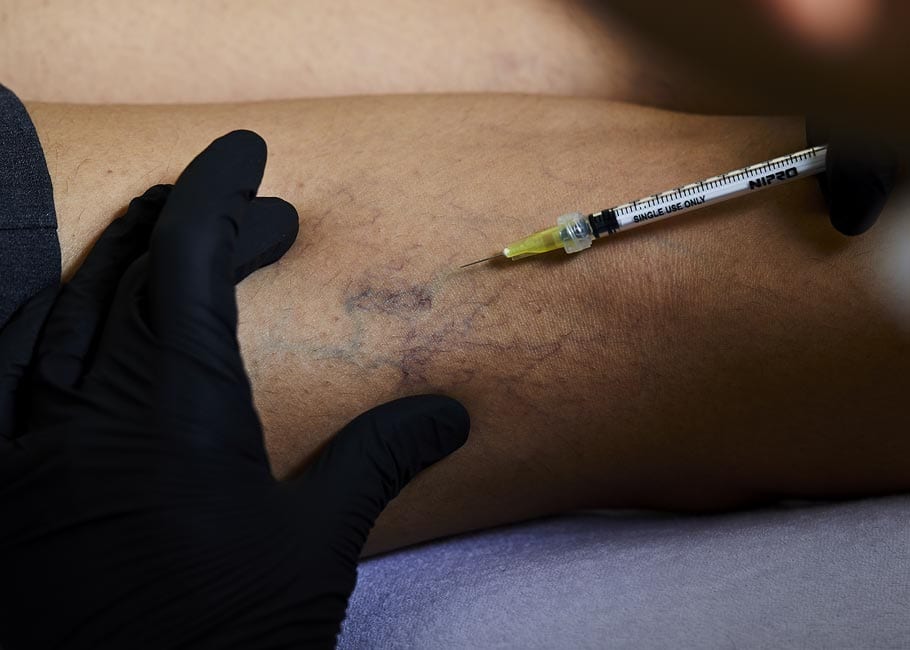 Our clinic is located on the Essex borderline to Woodford and Buckhurst Hill, so we're ideally positioned to serve patients from across the capital and further afield. 
If you're looking for sclerotherapy in Essex from a trusted provider then rest assured that all of our treatments are carried out by highly qualified medical professionals, in an approved and regulated clinical practice. 
BOOK A CONSULTATION under no obligation, to find out more about sclerotherapy treatments at our Essex clinic.
You can also contact us directly on +44 20 3795 9063 or email the team at hello@time-clinic.com
Is sclerotherapy treatment safe?
Sclerotherapy is considered a very safe and proven treatment for improving the symptoms of thread veins. It is a non-invasive and non-surgical procedure that involves injecting a liquid sclerosing agent into the affected area. 
It is a popular procedure since results can be permanent following successful sclerotherapy treatment. Our Essex patients can see dramatic improvements in the appearance of thread veins with this cost-effective solution.
Treatment itself is very quick and most patients are able to resume regular lifestyle activities soon after undergoing sclerotherapy. Some discomfort may be experienced and we do advise patients to wear compression socks for a couple of weeks following sclerotherapy treatment, to ensure fast and full recovery.
Read more about sclerotherapy treatments in Essex.
How does sclerotherapy target thread veins?
Thread veins are treated with a course of injections containing a sclerosing agent, which impacts the walls of the vein causing it to block. Blood is no longer able to flow through the blocked vein and therefore diverts into surrounding veins.
As a result of the lack of blood flowing through the affected veins, the thread veins will eventually close and disappear – in most circumstances, for good.
Who we are – an award-winning clinic
We were thrilled to be announced as the Best Medical Aesthetic Clinic in London at the recent Healthcare and Pharmaceutical Awards. 
Our priority will always be the safety and well-being of our clients – an approach which is recognised by our Essex patients and evident in our consistent high-praise reviews. 
Time Clinic Essex is a Save Face accredited practice, meaning we are highly regulated to ensure that all treatments and procedures live up to competency and industry protocol standards, at all times.
Dr. Manav Bawa is one of two fully-qualified and experienced medical doctors at Time Clinic. He is a member of the Royal College of Surgeons (MRCS) and the Royal College of General Practitioners (MRCGP), and is regularly a guest speaker at conferences throughout the UK. 
With a background in plastic surgery and general practice, Dr Bawa takes the time to train and teach other aesthetic doctors, including at the award-winning Harley Street Academy.
How many sclerotherapy treatments are needed?
Most of our Essex patients require just one course of sclerotherapy to treat spider and thread veins. We encourage you to book a complimentary consultation where your individual circumstances can be discussed.
Given the nature of the treatment, some patients may experience minor discomfort during the sclerotherapy procedure and in certain circumstances a local anaesthetic can be used.
Book your Sclerotherapy consultation in Essex
For more information about sclerotherapy in Essex please get in touch. 
Contact the clinic to book your no-obligation consultation, email hello@time-clinic.com or call 0203 795 9063.
About Time Clinic, Essex
Time Clinic is easily reached by road or rail, most conveniently via the Central Line on the London Underground – with a journey time of around 45 minutes.
We have ample parking on site. The clinic is located within the David Lloyd facility in Buckhurst Hill, Chigwell. 
Where to find us
Time Clinic
David Lloyds
Roding Lane
Buckhurst Hill
Chigwell
IG7 6BQ
About Essex
With a population of around 1.8 million people, Essex is a bustling hive of activity with a wonderfully diverse population.
The county lies between London and the North Sea, in the South East of England and enjoys excellent transportation links to the capital.
Essex is a popular destination with tourists and commuters alike, since its road and rail transportation links make it an easy destination to reach from London.