For a treatment that reduces scarring and improves the appearance of fine lines and wrinkles, microneedling in Essex is a great choice.
Put your skincare in the hands of trusted experts. Our team at Time Clinic includes Doctor Bawa, who is highly skilled in providing aesthetic and skincare treatments.
We provide the Secret RF microneedling treatment. This uses controlled radio frequency energy to take your microneedling to a new level. It does this by reaching the deep layers of your skin tissue. As a result, you get even better skin rejuvenation results.
To find out more about RF Microneedling contact our clinic in Essex. You can reach us directly on +44 20 3795 9063 or email us at hello@time-clinic.com
How does microneedling treatment work?
Microneedling is a popular cosmetic procedure that helps to treat a number of skin conditions. These include acne scarring, stretch marks and smoothing lines and wrinkles.
Traditional microneedling or collagen induction therapy
Microneedling is a minimally invasive treatment that works by using tiny needles or micro needles to create micro punctures in the skin. It's often a go-to treatment for tackling acne scars, but cannot be used on active acne.
It is also known as collagen induction therapy because it helps your body to produce new collagen and elastin. By doing this, your skin starts to look rejuvenated and refreshed.
The ageing process leads to us losing levels of collagen in our skin. Collagen production is important as it is what keeps our skin looking healthy and younger. It plumps the skin and keeps it strong.
Secret RF Microneedling treatment
Secret RF uses the same microneedling technique to improve the appearance of the skin, but also combines it with radio frequency energy.  This helps to penetrate the deeper layers of your skin and give you better results.
You can also tailor this treatment to target your specific skin concern. We use RF treatment to help patients with acne scars, skin tightening, to reduce lines and wrinkles, and improve skin texture.
By the end of your treatment programme, you should have skin that looks refreshed and brighter in appearance.
What are the benefits of Secret RF Microneedling treatment in Essex?
Here are four advantages of having Secret RF over traditional microneedling treatments:
1.     You reach deeper layers of the skin by combining microneedles with radio frequency. This helps to deliver optimal results on all skin types.
2.     It is a safe and effective treatment for all skin types unlike laser resurfacing treatments or deep skin peels, for example, which are not always good for darker skin.
3.     Secret RF can treat patients with more severe lines and wrinkles. This is because the radio frequency energy reaches deeper into the tissues to promote new collagen.
4.     It is more effective at treating scarring than other types of microneedling. This is especially true of acne scars. Scarring can create rough patches of skin that can be difficult to treat with other types of microneedling treatment. Secret RF helps to break down these patches of damaged skin.
How many microneedling treatments will I need?
During your consultation, Dr Manav Bawa will talk to you about your skin concerns. He will also walk you through what results you can expect from microneedling treatment.
At Time Clinic, we take the time to understand your needs and what will work best for your skin. From this we can create a bespoke treatment plan that will breathe new life into your skincare.
How many treatments you will need, will depend on how your skin reacts and takes to microneedling. Typically, our patients have 3-4 sessions of microneedling to achieve the desired result.
You may start to notice an improvement in your skin after your second treatment, but your full results can take up to three months to show after your final treatment.
Does microneedling Essex give you permanent results?
The great thing about RF microneedling is that we can tailor the treatment to your individual needs.
Results will differ from person to person. Your results can last up to 12 months. At this point, we recommend coming in for top-up treatments to maintain your results.
 Choose Time clinic as experts in microneedling in Essex
Your wellbeing and safety is at the heart of everything we do at Time clinic in Essex.
We help our patients achieve great results from microneedling by creating bespoke treatment plans. This way you not only leave your treatment looking good, but feeling good too.
We focus on understanding our patients needs so that we can treat each patient individually and in a holistic way. You can rest assured that you will always get natural looking and healthy results from your treatment with us.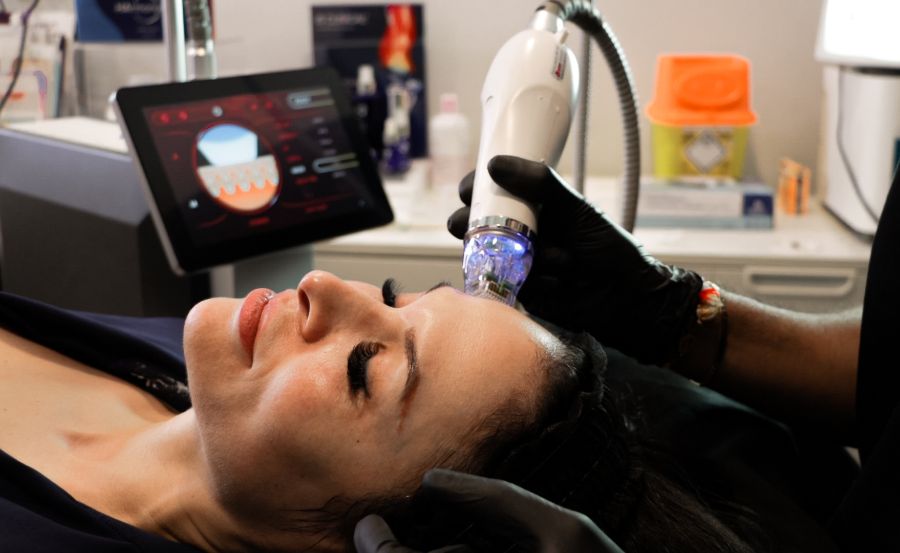 Address
Time Clinic
David Lloyds
Roding Lane
Buckhurst Hill
Chigwell
IG7 6BQ
About Essex
Situated in the East of England, Essex is a county that lies between London and the North Sea. It has a large population of diverse people and is well connected to the capital by road and rail.
In Essex you'll find the world's longest pleasure pier, as well as the UK's newest city – Chelmsford, and 'Britain's first recorded city' – Colchester.