Are you struggling with thinning hair or hair loss and looking for a way to restore natural, healthy hair growth? Look no further than hair loss treatment in Essex with Time Clinic. 
In the realm of hair loss treatments, there's a lot to take in and it can become confusing. You may have tried over-the-counter hair restoration treatments such as creams or shampoos, but are yet to see any results. Or maybe you are considering having a hair transplant at an Essex hair clinic.
Before going down the surgical route, did you know that there are non-surgical hair treatments that can help with your hair restoration journey? Not only do they provide great results by stopping further hair loss, but they can support healthy, new hair growth without the downtime of surgery. 
Take your first steps to stop thinning hair and restore natural hair growth with Time Clinic. We are a doctor-led clinic specialising in medical and aesthetic treatments including hair loss treatment. We pride ourselves on giving our patients clear and honest advice so that we can help them find the right hair treatment. 
If you want to find out more about our hair loss treatments, contact our team in Essex on +44 20 3795 9063 or email us at hello@time-clinic.com
What causes hair loss?
Hair loss is a common concern that affects both men and women. There can be a few different reasons why you may be experiencing hair loss. 
Genetics
One of the main causes is genetics. If your family or relatives have a history of baldness or hair thinning, you may be more prone to experience hair loss too. Female or male pattern baldness tends to happen gradually over time.
Hormonal imbalances 
Your hormones can also affect hair loss. If you suffer from conditions such as polycystic ovary syndrome (PCOS) or thyroid disorders, this can disrupt the normal balance of hormones in your body and lead to hair thinning and hair loss.  
Lifestyle choices 
Another factor that can cause hair loss is lifestyle choices. This includes not having a balanced diet, stress, smoking, excessive use of styling products and heat tools. One or more of these can have a huge impact on the strength and health of your hair follicles.
Medical conditions
In some cases, a medical condition such as alopecia areata can cause hair loss. This is where your immune system mistakenly attacks healthy hair follicles resulting in hair thinning or loss. Finally, certain cancer treatment medications can have side effects that include hair loss. 
Hair transplant treatments vs hair loss treatments 
When it comes to looking for a hair loss solution, you will likely be choosing between a hair transplant or hair restoration treatments. 
Hair transplants 
Hair transplants involve moving healthy hair follicles from either the back or sides of the scalp to the area where hair is thinning. 
There are two methods for hair transplants. The first is FUE hair transplant (Follicular unit excision), which involves taking one healthy hair follicle at a time with a small incision and implanting that into small holes in the treatment area. 
The second hair transplant method is follicular unit transplantation (FUT), which involves removing a strip of hair from the scalp. The hair transplant surgeon then separates into small pieces of hair and inserts them into the donor area. 
A hair transplant procedure can take up to four hours or more to complete. As it is a surgical procedure, it also comes with the chance of scarring and you need at least a few days of work to recover. Hair transplants can also be expensive, starting at around £2000. 
Non-surgical hair loss treatments
If you want to achieve healthier and thicker hair without going under the knife, there are several less invasive options. These include PRP (Platelet-Rich Plasma) therapy, which uses the body's own healing properties to promote healthier hair follicles. Another treatment option is tailored topical solutions such as growth factors, which requires micro needling treatment which can promote new hair growth and slow down further hair loss. 
What are the best hair loss treatments in Essex
At Time Clinic in Essex, we provide our patients with the best non-surgical options for hair loss. Not only do these provide you with great results, but they are also more affordable than hair transplant surgery and do not require a long recovery period.
Calecim 
This is a  serum in the form of growth factors from Calecim, this helps to nourish and strengthen your hair follicles to build healthier and thicker-looking hair. It contains peptides, vitamins and antioxidants that work in unison to stimulate natural hair growth. This results in better quality hair.
One of the great things about this serum is that it can target specific issues such as thinning hair and a lack of volume. It works well for people with age-related hair loss, in addition to anyone who wants to give their hair a much-needed boost. 
The ingredients in the serum help to improve the proteins and growth factors in your hair, which results in kick-starting the inactive growth cycle. In fact, you should start to see noticeable results in a few weeks. 
Not only does this serum provide visible results, but it's also easy to use, is non-greasy and does not cause any side effects. 
Dracula therapy (PRP)
Dracula therapy PRP or Platelet-Rich Plasma is a cutting-edge treatment that works well for people with thinning hair and hair loss. It uses a natural substance in the blood that contains growth factors and proteins that help to stimulate tissue repair and growth. 
It involves extracting a small amount of blood from the body. We then separate the platelets from other components in the blood through a centrifugation process. This results in a platelet-rich plasma that we inject into the scalp where hair is thinning.
The PRP treatment works by stimulating hair growth and improving the volume or density of your hair. This is because the growth factors help to nourish the hair follicles and prolong the active phase of your hair growth cycle. 
It is a versatile treatment that is suitable for most people. This is because of its natural approach to treatment by using your own blood. It is also a relatively comfortable treatment. However, some patients do experience a slight tenderness when the injections go in.
Start your journey to fuller, thicker hair with Time Clinic in Essex 
When choosing a hair loss treatment, you also want to choose a clinic you can trust. At Time Clinic in Essex, we always put our patients' wellbeing first. 
Our team of qualified doctors and practitioners provide in-depth consultations where we look at your medical history and assess your scalp and hair. From this, we will develop a tailored treatment plan that will provide you with the best results. 
You can also have peace of mind in the fact that we are a Save Face accredited practice. For our patients, this shows our commitment to high-quality treatments that meet industry standards. With the team at Time Clinic, you will be in safe hands through every step of your journey.  
CONTACT US TO BOOK AN APPOINTMENT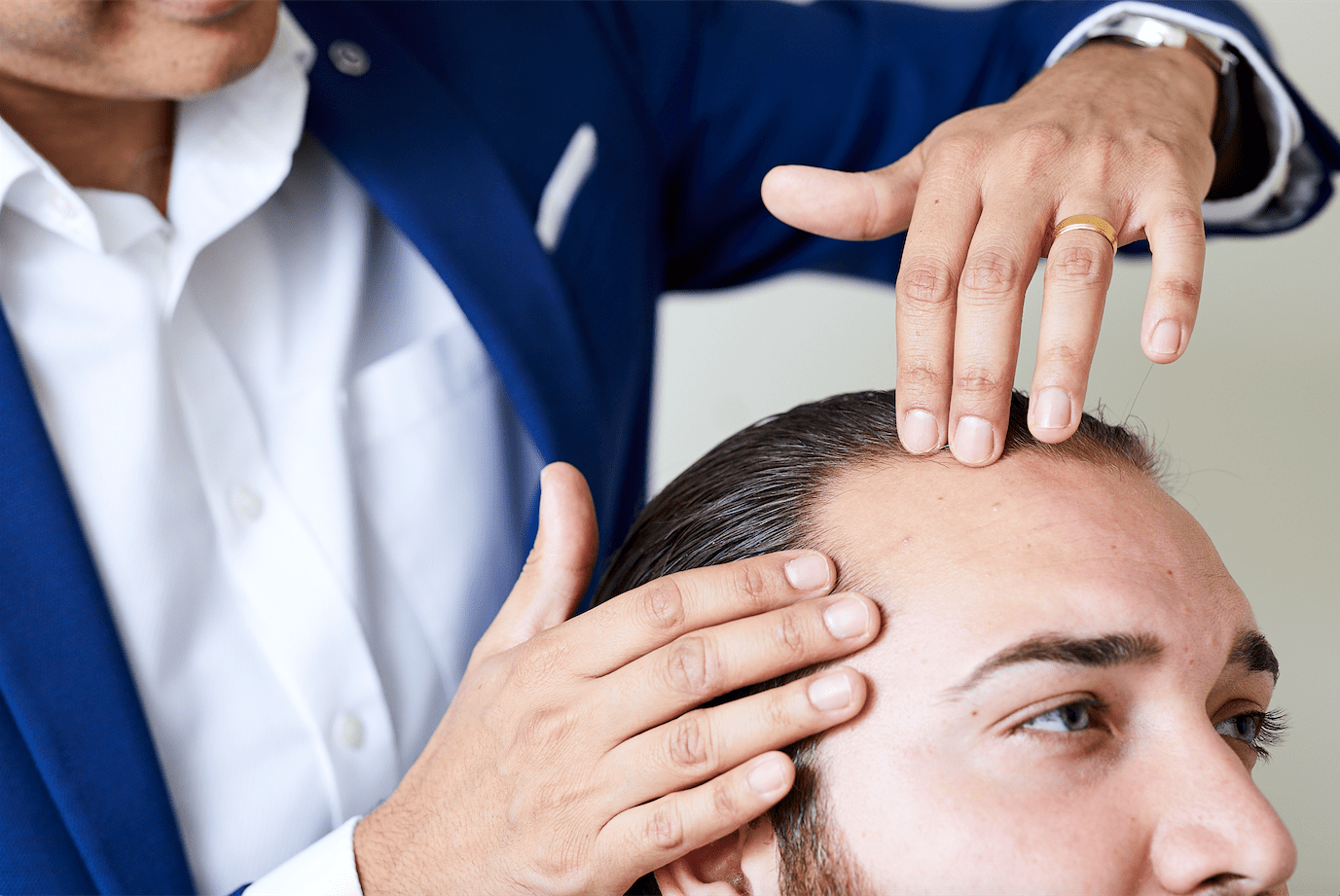 Where to find us 
Our skin clinic is conveniently located for patients from across Essex looking for ways to treat hair loss. You can reach us easily by rail on the Central Line, which only takes 45 minutes from London. 
We have plenty of parking spaces on site. The clinic is located within the David Lloyd facility in Buckhurst Hill, Chigwell. 
Address
Time Clinic
David Lloyds
Roding Lane
Buckhurst Hill
Chigwell
IG7 6BQ
About Essex
Essex is a beautiful county that is located in the East of England. It has a population of over 1.8 million people, which makes it home to a diverse and vibrant community. 
The county of Essex is known for its vast coastline and seaside towns such as Southend-on-Sea. It also has many historical sites, including Colchester Castle and Layer Marney Tower. This makes it popular with tourists visiting from all around the country.