Botox, the trade name for Botulinum Toxin, is an injectable treatment that can work wonders to reduce the impact of lines and wrinkles, making those who have this treatment appear more youthful and rejuvenated.
The treatment is available for those in  Woodford at the five-star rated Time Clinic, located in Buckhurst Hill and administered by Dr Manav Bawa, one of the UK's leading experts in facial aesthetics.
Whether as a treatment on their own, or part of a series of medical aesthetics procedures, you can be certain that the results will lead to results that look stunning, but natural leading – you will look fantastic, not as if you have had work done.
What is Botox?
Botox is an anti-wrinkle relaxing injection. This treatment is typically used for lines and wrinkles that appear as the face moves, for instance around the eyes or forehead, while dermal fillers are used for those lines and creases that are always visible.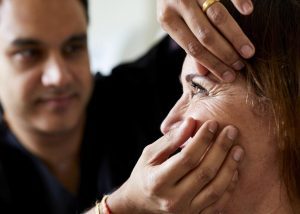 The treatment works by relaxing supporting muscles that have lost their tone and led to the slackening of the appearance. The skill of the person administering the Botox lies in the targeting of the injections and ensuring the optimal dosage.
The result of the treatment is that lines and wrinkles are less visible; a key sign of ageing mitigated.
Areas Treated By Botox
Botox is commonly used to treat
Forehead lines
Frown lines
Crows feet
Nasolabial and Marionette Folds
Lip lines
Lifting heavy eyebrows and sagging eyelids
Reducing jowls and sharpening the jaw line
Treating sweat in areas such as underarms and forehead
Combatting chronic headaches and migraines
Botox Key Facts
Treatment time – typically around 30 minutes
Anaesthetic? Not required, though the local area is numbed
How long will results remain visible? Patients usually have repeat Botox between three and six months later
Post-procedure downtime – you can go about your usual daily business following Botox injections, though there may be mild pain and localised swelling.
Why Consider Time Clinic for Botox in Woodford?
We Have a Five-Star Reputation
Our verified, independent reviews are universally five stars, the testimonials themselves speak of our attention to detail and levels of patient care.
We also treat all clients the same, we do not boast about celebrity clients; we provide world class Botox procedures for all. 
We are fully approved
The field of facial aesthetics is under regulated, unlike in many countries, almost anyone can administer Botox.
Your assurance of quality is that the clinic or person administering Botox is Save Face registered. Please, whoever you chose, ensure they have this level of accreditation, otherwise you run the risk of poor results from an unregulated practitioner. 
Botox Treatments By An Expert
Our clinic is run by Dr. Manav Bawa, who is one of the leading experts in facial aesthetics operating in the UK. 
Dr Bawa is a member of the Royal College of Surgeons (MRCS) and the Royal College of General Practitioners (MRCGP). He also holds a postgraduate diploma is Surgical Sciences and a Masters in Surgical Education from Imperial College London.
The Royal College of GP's turn to Dr Bawa as a trainer for minor surgery and joint injections courses while he also provides the training for a leading Harley Street clinic.
Results That Are Visible But Natural
The skill of the practitioner, their experience and proven track record really comes down to delivering results that provide a clear improvement but also look natural.
Our results make you look like you, only that bit better – people will comment on your appearance and how healthy you look, rather than wondering if you've had aesthetic treatment. 
Our results boost self esteem and self-confidence, they make you look like you – only refreshed, healthier, glowing. 
You can see examples of before and after botox injections on our treatment page. 
Detailed Consultations
We bring the highest standards to the field of Botox and medical aesthetics and this starts with a consultation.
This is your chance to discuss your aims for the procedure and for Dr Bawa to outline the best course of action. You can then come to a decision without pressure from us, coming if the procedure is truly for you.
Botox that is Affordable
We are open with all our prices making it easy to compare us to any other clinic.
You will see that our level of skill does not inflate the price tag. 
The cost will of course vary depending on the amount of treatment opted for, but Botox can cost under £200 for a treatment at Time Clinic at the time of writing. 
Next Steps
Located perfectly for Woodford, our clinic is in Buckhurst Hill, the full address
Time Clinic
David Lloyds
Roding Lane
Buckhurst Hill
Chigwell
IG7 6BQ
To discuss requirements for a consultation, whether in person or via video sharing, please call us on 0203 795 9063 or use our Contact Form.
About Woodford
Woodford is an area of London in the borough of Redbridge with superb transport links, including two stations on the Central Line.
Historically, it was a series of tiny villages and it was named in the Doomsday Book as Wdefort, but it became a place of residence from around the start of the 18th century.
It was in the early 20th century that population and Woodford's importance really grew and it became a municipal borough in 1937 and then formed a part of Greater London from 1965.
Woodford formed part of London Air Defence Area during the First World War, with an airfield on Woodford Green.
There are many notable residents of Woodford, both present and past, including former Labour PM Clement Attlee, Winston Churchill (who was MP for the Epping Constituency, including Woodford), Sylvia Pankhurt, Ruth Rendell, Tony Robinson and founder member of Depeche Mode, Erasure and Yazoo Vince Clarke.