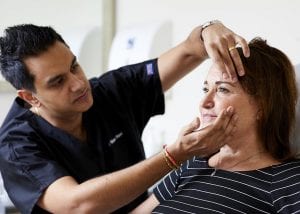 If you are seeking the best place for botox treatment near Romford  Time Clinic is a pioneer in providing safe and skilled anti-wrinkle treatments to a wide range of patients.
Botox has become the go-to treatment to target fine lines and wrinkles with effective, natural-looking results.
It is a quick, non-surgical procedure that relaxes the muscles in the face to smooth out the skin, leaving a youthful appearance.
It is also one of the most popular facial procedures in the UK, and because of this, you should choose your practitioner with care – someone you can trust for the best results and patient safety.
Based close to Romford in Chigwell, the award-winning Time Clinic is unrivalled in its commitment to ensuring that clients not only look good but feel great, too.
This customer-centric approach and priority for putting patient safety first has put Time Clinic on the map as Romford's leading nearby provider of anti-wrinkle treatments and natural enhancement aesthetic procedures.
BOOK A CONSULTATION with Time Clinic to find out more about anti-wrinkle and the anti-wrinkle procedures they offer, and whether Botox treatments are the right natural enhancement for you.
Why Time Clinic Nr Romford  is Best for Botox Anti-wrinkle Treatment
Time Clinic is Save Face accredited, which means it is regulated to ensure that all practices and procedures live up to competency and industry protocol standards, at all times.
Dr. Manav Bawa is Time Clinic's highly accredited and experienced medical doctor; he is a member of the Royal College of Surgeons (MRCS) and the Royal College of General Practitioners (MRCGP), and is regularly a guest speaker at conferences throughout the UK.
Not only does Dr Bawa consistently receive praise from his clients for his professionalism and approachable manner, he is a finalist in the nominations for Best Aesthetic Doctor of the Year in the Safety in Beauty Diamond Awards. Dr Bawa has a successful background in surgery, plastic surgery and general practice, and takes the time to train and teach other aesthetic doctors, including at the award-winning Harley Street Academy.
Conveniently located within the Physiotherapy & Injury Centre at the David Lloyd Club Chigwell, Time Clinic boasts an accessible location with a spacious car park on-site. Bordering London and Essex, the practice is within easy reach for patients travelling from working in the capital or from Romford.
For a no-obligation consultation, or for more information about botox treatments available at Time Clinic, please email hello@time-clinic.com or call +44 20 3795 9063.
Here's the science – how Botox actually works
Botulinum Toxin – more commonly known as Botox, is an injectable drug that temporarily relaxes the facial muscles in areas where the muscle has lost its tone and contracted with age. These anti-wrinkle injections are proven to be a safe and minimally invasive treatment that helps to reduce the appearance of fine lines and wrinkles, most commonly around the eyes and forehead, by smoothing out the skin.
Botox injections have also been found to be effective in various medical situations including for the treatment of neck spasms, overactive bladders, lazy eyes, excessive sweating, teeth grinding – and could also help prevent chronic migraines.
Following a thorough consultation to assess each individual situation and to discuss patient goals, Time Clinic will provide an effective wrinkle reduction treatment plan tailored to each patient. Book your consultation.
Are anti-wrinkle injections painful?
Patients report feeling very comfortable during Botox treatments at Time Clinic. The procedure involves a series of small injections into the skin in parts of the face where the treatment is required. This can be virtually painless – you may only feel a little pinch very briefly. These muscle relaxing injections are incredibly quick, with treatment lasting roughly 30 minutes. Most patients are able to carry on with daily pursuits immediately after treatment.
How long do the effects of Botox last?
On average, the effects of Botox can be seen for 3-4 months. Depending on your anti-wrinkle injectable treatment plan, this is the time in which you would be invited back to the clinic for your next appointment. Some patients report seeing longer-lasting results after their second treatment. In some cases, Botox effects can last up to six months.
How much does 'Botox' cost?
Full treatment costs and plans will be discussed during consultation. Prices for Botox treatment at Time Clinic start from £190.
Are muscle relaxing injections safe?
Anti-wrinkle injections is a licensed product that is considered a safe and effective treatment when administered by certified professionals, dermatologists and plastic surgeons. Any risks and possible side effects will be discussed during consultation. These may include headaches, minor bruising and swelling. Very rarely do more serious side effects occur.
Please contact Time Clinic to discuss treatment plans that use anti-wrinkle – email hello@time-clinic.com or call +44 20 3795 9063.
About Romford
Romford is a large metropolitan area that was once part of ancient Essex, but now is the administrative centre of the East London borough of Havering.  Population growth has been significant over the last century and stood at 122,854 on the 2011 census. You may mistakenly think that most people in Romford commute into London centre but many people are employed in Romford itself. Romford is recognised in the London Plan as one of 13 significant metropolitan areas within Greater London
Distance between Romford and Time Clinic is about 7-8 miles, a trip more than worthwhile given the reputation of Dr Bawa at his award-winning clinic.