Fully Save Face accredited and proud recipients of the Best Medical Aesthetic Clinic – London award, Time Clinic is the leading choice for anyone considering Botox treatments in Epping.
When applied with skill by an experienced practitioner, Botox – Botulinum Toxin – is a wonderful treatment that can address many signs of ageing, creating a more youthful, yet still natural appearance.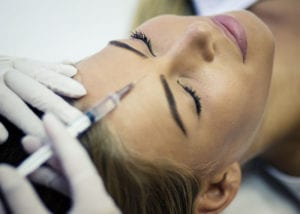 Patients in Epping opt for this treatment because it is pain-free and results are instant, along with a treatment such as dermal fillers it is also an affordable treatment, producing profound change but without the cost or invasive nature of surgical options.
However, it is also important to choose an approved and accredited clinic as the field of facial aesthetics is under-regulated. Incredibly, almost anyone can set themselves up as a practitioner and start offering treatments – these often with dubious results, while the clinic itself might have dubious safety credentials.
Please, whoever you entrust, ensure they are Save Face registered, have proper medical qualifications and that independent reviews suggest a high level of quality and customer care.
At Time Clinic, we are run by GMC registered GP Dr Manav Bawa who is an expert in the injections of Botulinum Toxin and also entrusted to train others in these procedures. Dr. Bawa is entrusted by the Royal College of GPs to instruct in minor surgery.
The Time Clinic has universally five-star reviews.
What is Botulinum Toxin?
Botulinum Toxin (and the specific product Botox), is a non-surgical injectable with the primary usage of addressing signs of ageing. 
The Botulinum Toxin is injected carefully through a very fine needle, targeting specific areas of the face.
The process works by suppressing nerve signals to muscles. As we age, the impact of these muscles becomes ever more profound, making deeper lines in the face as the muscles are enacted. The suppressant therefore stops these lines from appearing.
The treatment is different to fillers, which work by stimulating new collagen creation to smooth out lines – the two treatments work for different signs of ageing on the face. Typically, Botulinum Toxin is suitable for signs of ageing that appear dynamically, lines around the eyes and mouth for instance that appear as we change expression, smile or similar. Dermal fillers address lines that are more permanently visible.
Key to Botulinum Toxin treatments is ensuring just the right amount is used and that just the right nerves are targetted. The results have to be as desired; when administered poorly the results can either be almost impossible to see or, worse still, create the clear look of 'work having been done' and the frozen face look.
When used in combination with other treatments such as fillers, facial peels and skin tightening, Botulinum Toxin can create what is called a non-surgical facelift; this having the impact of a full deep plane facelift but without the expense or lengthy period of recovery post surgery.
Botulinum Toxin Areas of Treatment
The treatment is one that can help to reduce the impact of multiple signs of ageing.
Botulinum Toxin is a suitable treatment for:
Frown lines

Forehead lines

Lip lines

Crows feet (wrinkles around the eyes)

Slimming the jawline

Lifting heavy eyebrows and sagging eyelids

Downturned mouth (sad look)

Dimpling chin
Less commonly, it can also be used for treating excessive sweating and also in the treatment of chronic headaches.
Of course, anyone who suffers regular, severe headaches should first seek medical advice
Suitability for Treatment
Suitability for Botulinum Toxin treatments and assessing whether this is a procedure that can deliver the results you seek is determined at an initial consultation.
At Time Clinic, we apply the highest of standards to the consultations, only ever recommending treatments that are in a patient's best interests and can deliver the result they seek.
This is an opportunity for you to talk and us to listen. Tell us about the signs of ageing that concern you and the areas of your appearance you would like to be treated, we can then suggest a best course of action.
There is also no need to be an expert in the various forms of non-surgical treatments – it may be that Botulinum Toxin alone is the best treatment, but we can also advise as to any other options and create a bespoke package that will deliver the profound change you seek.
The overall impact can be stunning, producing the non-surgical facelift level of change.
Please be assured that consultations are pressure and obligation-free, we have no interest in trying to push people into treatments that are not in their interest or cannot deliver the results they seek.
We take pride in doing what is best for each and every patient.
Amazing results Achieved
The quality of results produced is shown by before and after pictures – which we can happily share at consultation – and also what past patients say of their treatment.
We could write hundreds of words saying profound change is achieved, but what do those who have entrusted us say?
Our reviews are all glowing – just like the complexion the treatments help to create. The quality of Dr Bawa is also shown by the fact that he is entrusted to train and teach others in botox injections.
Why Use Time Clinic for Treatments in Epping?
Amazing reputation
Our reviews are universally five stars, each and every testimonial is an indication as to our levels of patient care.
Award Winning
Only one clinic in all of London can be named the Best Medical Aesthetic Clinic – we are proud and honoured that it is us who hold this title. In 2021, we have also been named 2021's Best Bespoke Facial Aesthetics & wellness Clinic- London.
Our level of service is the best not just in Epping, but all of London.
Expert Knowledge
Our clinic is run by Dr Manav Bawa, a leading expert in the field of facial aesthetics.
Dr. Bawa is a member of the Royal College of Surgeons (MRCS) and the Royal College of General Practitioners (MRCGP). He also holds a postgraduate diploma in Surgical Sciences and a Masters in Surgical Education from Imperial College London and a Postgraduate Diploma in Aesthetic Medicine.
Furthermore, Dr. Bawa is a trainer for minor surgery and joint injections courses for the Royal College of GPs and also provides the training for a leading Harley Street clinic.
This is very different from the skills and CV of most practitioners and ensures a level of patient care that is unsurpassed.
Botulinum Toxin that is Affordable
Despite this heightened level of expertise, Time Clinic remains competitive on price and a detailed, full quote would be produced at consultation.
The cost will vary by precise nature of the treatment but Botox can cost under £200 for a treatment at Time Clinic at the time of writing.
Next Steps
Located handily for Epping, our full location in Buckhurst Hill is:
Time Clinic
David Lloyds
Roding Lane
Buckhurst Hill
Chigwell
IG7 6BQ
To discuss requirements for a consultation, whether in person or via video sharing, please call us on 0203 795 9063 or use our Contact Form.
About Epping
Epping is a market town in the Epping Forest district of Essex. As of the 2011 census, it has a population of slightly over 11,000.
The town of Epping has a lengthy history, it was mentioned in the Domesday Book of 1086, although the modern settlement of Epping was established significantly later.
Nevertheless, it is a town with many Grade 1 and 2 listed buildings, these include Beulah Lodge and many old cottages on the High Street.
Epping is famous for both the Epping Sausage and also Epping Butter.
Famous residents past and present include Nick Berry, Sir Winston Churchill, Glenn Hoddle and Griff Rhys Jones.