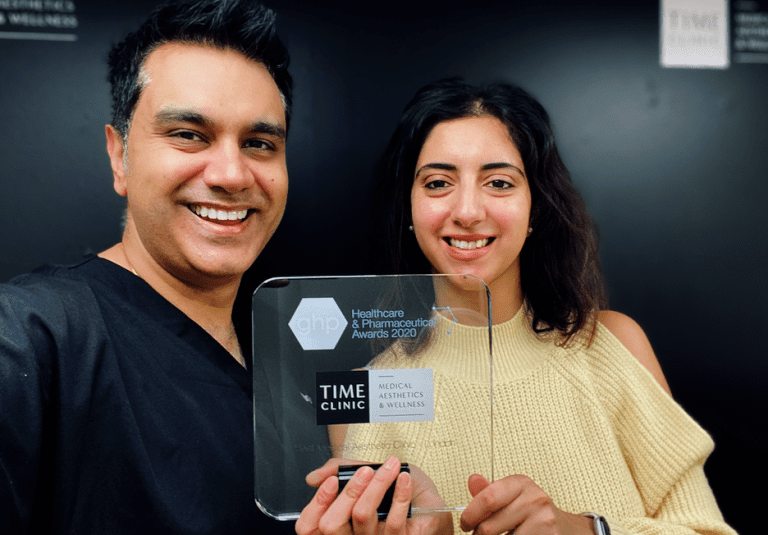 The 'award-winning' Time Clinic is delighted to announce that we have won an award!!
Following our recent nomination to the Healthcare and Pharmaceutical Awards, hosted by Global Health and Pharma (GHP), we are bursting with pride to declare that we have been officially awarded with Best Medical Aesthetic Clinic – London.
At Time Clinic we are always putting our patients at the forefront of everything we do. We are humble in our attitudes but are not shy in putting ourselves forward to helping our patients in any way that we possibly can, and we are proud to shout about it.
Our name was built around the approach we take towards aesthetic health and wellness: giving 'time' to delivering the best treatments, technologies and techniques; giving 'time' and investment to ensuring our team deliver a successful service and outcome for our patients; and lastly (but by no means the least) giving 'time' to our patients to enable our practitioners to get to know them as a person and provide a personalised treatment plan – that works.
The Healthcare and Pharmaceutical Awards is an organisation that does not present awards based on popularity of votes, but considers a broad criteria. Their decisions are based around their evaluation of the skills and standard of service that is provided by the clinic. Winners are awarded through the excellent contributions that have been shown to their industry; demonstrating: expertise within their field, dedication to customer service and a commitment to promoting excellence – aspects that we at Time Clinic hold dear as part of our ethos.
At Time Clinic we have always been confident that our services are first rate, and now we have official recognition for the care and attention we provide.
So, if you haven't already visited our wonderful clinic and experienced for yourself all the fantastic things we have available, please do come and see us. You really will be part of an 'award-winning' establishment that has your welfare at heart.
Back to blog