Acne treatments are available for those in Chigwell through Time Clinic – an award-winning, Save Face registered local clinic.
Acne is a condition that can have a major impact on a person's life – it can be a very visible blemish that plays upon confidence and self-esteem. It can be extremely upsetting to see the impact that major or severe acne can have upon someone.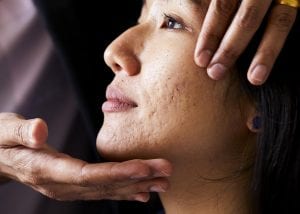 However, there is often a solution in the form of superb, non-surgical treatments that can greatly reduce – even completely remove acne and also treat any historic acne scarring.
In this page, we will detail some treatment options, the impact these can have, answer common questions and then also talk a little about Time Clinic. As the independent, verified reviews demonstrate, we are the leading clinic not just around Chigwell, but for the whole of London.
Acne Treatment Patients
Acne commonly appears on the face as well as chest, back and neck for those who suffer from this condition.
It can, of course, be just a minor outbreak – most of us will have had some degree of acne at some stage – but it can also be far more serious – major, ongoing acne outbreaks that can be highly visible and have a huge impact on mental health.
Acne is commonly associated with those in their teens and early twenties, but it can affect people later in their life too – for instance many experience acne in their forties as they go through hormonal changes.
In many instances, the cause for the acne is hormonal, but it can also be the result of – or made worse by – pores becoming clogged due to an excessive production of sebum, this combining with dead skin cells.
Suitability for Acne Treatment
Ultimately, to a prospective patient, it perhaps does not matter so much what causes the acne. What matters to you is whether there is a remedy.
Suitability for acne treatment is therefore broad, it is typically suitable for anyone who has acne outbreaks that are a cause for concern, whether these are on the face or elsewhere.
Similarly, there are also treatments for those who have no fresh acne, but would like the appearance of historic acne scarring reduced.
As with so many aesthetic treatments, suitability for treatment largely depends on the impact a condition has on someone. For someone with minor acne, who is not overly concerned by this condition, then treatment might not be such a priority.
However, for those who find acne plays on their mind, who find their self-esteem affected, or even feel somewhat depressed, then the impact is huge.
Acne Treatment
Many will try picking and scratching at spots, but this rarely achieves anything better than a very short term reduction in a singular blackhead or pimple. More likely, the acne spreads as dirt passes from the fingers to the face.
Fortunately, we have treatments that actually remove the acne.
One option is iS Clinical Skincare. The iS range is a medical-grade, clinically proven series that cleanses, treats, hydrates and protects.
Through the inclusion of pharmaceutical-grade botanical ingredients, structural cell integrity is enhanced and cellular renewal promoted.
These treatments are completely safe and can even be used by those who are pregnant – this in contrast to many non-surgical treatments.
Many have seen their skin transformed by the iS range; it tackles the core of the acne issue for many.
Another potential option is Obagi skincare, this is a complete skincare system comprising a range of products. Every skin type is catered for, and a huge range of skin conditions – these including acne.
Because there is a range of products, it is essential that the right ones are chosen for each patient, everyone's skin is unique and so a unique blend of the Obagi range is required.
There are other treatment options too, however it is impossible to suggest the best treatment for any individual in a web page.
Instead, it is important to have a detailed consultation – at Time Clinic, we adhere to the highest of standards in consultations, taking the time to talk in depth to the prospective patient and assess the best treatment option for them – this factoring in their full medical history.
A huge benefit of having multiple treatment options – as well as being a clinic led by true experts – is that we can always find the best option. There is no need to follow a one-size-fits-all style approach.
Rest assured though that in the vast majority of cases, there will be a non surgical treatment option that can greatly improve your skin.
Results from Acne Treatment
Results of acne treatments are of prime importance. Do they remove or treat the acne? How quickly do they do so? Do the results last?
Because there are a range of treatments and everyone's skin – and degree and cause – of acne varies there is no singular answer for how quickly results will be seen.
However, results are often visible within days, with improvement then ongoing. Essentially, the treatments are making the skin healthier, removing the cause for the acne and so there is a profound change created that lasts.
Often, there are very clear improvements within a few weeks, and then more gradual, ongoing improvement until the skin looks fully healed – healthy, youthful, radiant and glowing.
The results last, this because the skin is being healed, rather than this being some sort of mask or cover-up that doesn't truly tackle the condition.
There is also no downtime, patients have a treatment and then go about the rest of their day. With some treatments, it might be that there are skin care products to be applied at home as part of an ongoing daily routine.
At consultation, we would be happy to display before and after images of patients with similar levels of acne to demonstrate the impact that treartments would be expected to achieve.
The results can also be seen in terms of mental health, confidence and self-esteem. One of the best things about our job is speaking to people who have undergone treatments, seeing how happy they are now, how much more confident they are. They now portray the best version of themselves, rather than potentially feeling somewhat withdrawn.
Why Consider Time Clinic?
You may be certain that acne treatments are an option you would like to pursue, but why consider Time Clinic?
There are many compelling reasons.
We stand apart as the top clinic not just in the Chigwell region, but also much of London – with the reviews and awards to demonstrate this standing.
Please consider our services for the following reasons:
Amazing reputation
Our independent reviews are universally five stars,.
Expert Knowledge
Our clinic is run by Dr Manav Bawa, a leading expert in the field of non-surgical treatments.
Dr. Bawa holds a postgraduate diploma in Surgical Sciences and a Masters in Surgical Education from Imperial College London and a Postgraduate Diploma in Aesthetic Medicine.
Dr. Bawa is entrusted as a trainer for minor surgery and joint injections courses for the Royal College of GPs and also provides the training for a leading Harley Street clinic.
The level of patient care provided is unsurpassed – this also seen in the care taken with follow-up appointments,
Award Winning
For the entire London region, we were named Best Medical Aesthetic Clinic – we are proud and honoured that it is us who hold this title. In 2021  we were also named Best Bespoke Facial Aesthetics & Wellness Clinic- London
Our level of service is the best not just in Chigwell, but all of London.
Next Steps
Located perfectly for Chigwell, our clinic is in Buckhurst Hill, the full address
Time Clinic
David Lloyds
Roding Lane
Buckhurst Hill
Chigwell
IG7 6BQ
To discuss requirements for a consultation, whether in person or via video sharing, please call us on 0203 795 9063 or use our Contact Form.
Chigwell
Chigwell is a town in the Epping Forest district of Essex. As of 2011, it had a population of around 13,000.
Chigwell's name is believed to derive from Chicca's Well – Chicca being a personal name.
A number of notable names are associated with Chigwell, especially those with links to sport. These include Ronnie O'Sullivan, Sally Gunnell, Bobby Moore and Alan Sugar.