Named as the  Best Medical Aesthetic Clinic and, separately, Best Bespoke Facial Aesthetics & Wellness Clinic – London, Time Clinic is an award-winning clinic offering acne scar treatments for patients in Essex.
We don't just have one acne treatment and hope it is suitable in all instances, we have a wide range of options for anyone suffering from acne scarring and the expertise to always recommend the best course of action.
As you would expect given our award-winning status, we adhere to the very highest of standards, nothing matters more to us than any patient's well-being.
We are fully Save Face accredited and hold high-level medical qualifications.
Time Clinic is run by Dr Manav Bawa, an expert in non-surgical procedures who is entrusted by the Royal College of Surgeons to train others in acne scar treatments.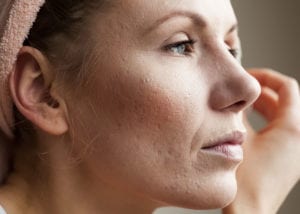 Time Clinic also always puts patients first – this from the first time you arrive for an obligation-free consultation. We realise that you may not have arrived at a decision to seek treatment lightly, visiting a clinic for acne scar treatments can lead to a degree of anxiety. We go out of our way to make you feel at ease.
Benefits of Acne Scar Treatment
The obvious benefit of acne scar treatment is to address a physical concern, but benefits often extend well beyond this.
We all like to look at our best, and so an issue such as facial scarring can be a cause for concern. Our range of leading acne scar treatments can certainly counteract the aesthetic worries.
However, the treatments can do much more than this too. They can help to boost confidence and self esteem, making you feel so much better in yourself. This can impact all areas of life – relationships, interactions with family and friends and also your work life.
Even an event such as speaking in meetings or presentations can be so much easier when we are not always subconsciously worried about our appearance.
It can be wonderful to see the benefits of treatments, someone who was perhaps lacking in confidence instead suddenly revitalised; projecting the very best version of themselves. This is the true benefit of non-surgical procedures administered with skill, they improve appearance, but they also transform the person.
Acne Scar Treatment Options at our Essex Clinic 
There is no singular best treatment option, it will always vary by patient, the nature of their skin and acne scarring.
However, some clinics do try to impose a one-size-fits-all approach, and for many this is dermal fillers.
Dermal fillers, some clinics would have you believe, are a cure all for any facial concern.
In the case of acne scarring, they might be a good option – but there may be better choices, including:
iS Clinical Fire and Ice Facial, this treatment works by gently resurfacing the skin. It is a treatment that is incredibly kind to your skin, it does not lead to peeling or shedding of skin and it can even be used by those who are pregnant, breastfeeding or undergoing cancer treatment.
Through cellular renewal, this an ongoing process, the iS Clinical Fire and Ice facial will smooth, soften and resurface the skin, this through a treatment that is of itself relaxing.
This may be the perfect treatment for those with what might be described as relatively minor acne scarring.
For other patients, a chemical peel might be the perfect treatment, this bringing about the profound improvements that are sought.
The peels work as the name implies, peeling away the top layer of skin, this then revealing the fresh, rejuvenated skin below. The process will typically involve peeling and shedding of skin and this is an option that should only be considered when administered by those with medical training.
There are many peels on the market and many who offer treatments without having the requisite skills or qualification. In some instances, this can, unfortunately, lead to scars and burning.
As a leading expert in non-surgical facial treatments, Dr. Bawa uses only the highest quality of peels and these applied with the greatest of care. The peels can be a wonderful option when used correctly, leading to healthier skin with scarring and blemishes greatly reduced and a far more radiant appearance created.
You may have heard of the next treatment option –  the Obagi skin care range.
The Obagi range is a complete skincare solution that has been built on the latest scientific discoveries.
The range covers everything from moisturisers through to cleansers, toners and then even full prescription options.
When the correct products are matched to the correct skin type, the results can be remarkable, with superb, visible regeneration of the skin.
Acne Scar Removal Process
With so many treatments available, it is impossible to outline precisely what the process would be for any individual patient.
However, the process always starts with a thorough consultation. We are committed to adhering to the highest of standards and this includes fully checking the state of any patient€™s skin, looking at their medical history and then creating the perfect plan of the best action.
The treatments will vary on the nature of the acne scarring and also the prospective patient's overall skin. We would not, for instance, use the same option for someone in their mid-20s with very visible acne scarring to someone who is 50 and has scarring from decades past that has faded to a certain extent.
The treatment plan can also address other concerns, for example, visible signs of ageing.
We take the time to talk to patients to understand all their hopes and the changes they seek and then recommend the bespoke plan of action that will deliver the changes.
It is this level of service that sees us repeatedly win awards and have universally positive reviews.
Any prospective patient may not know which treatment is best, instead simply be open and honest with us about the issues you wish to rectify and we will find the solution.
Time Clinic will outline full details of each procedure during your acne treatment consultation, including any after-care considerations.
Why Consider Time Clinic for Treating Acne in Essex?
We stand apart as the top clinic in London – with the reviews and awards to demonstrate this standing.
Please consider our services for the following reasons:
Amazing reputation
Our independent reviews are universally five stars,.
Expert Knowledge
Our clinic is run by Dr Manav Bawa, a leading expert in the field of non-surgical treatments.
Dr. Bawa is a member of the Royal College of Surgeons (MRCS) and the Royal College of General Practitioners (MRCGP). He also holds a postgraduate diploma in Surgical Sciences and a Masters in Surgical Education from Imperial College London and a Postgraduate Diploma in Aesthetic Medicine.
Dr. Bawa is entrusted as a trainer for minor surgery and joint injections courses for the Royal College of GPs and also provides the training for a leading Harley Street clinic.
The level of patient care provided is unsurpassed – this also seen in the care taken with follow-up appointments.
Award-Winning Clinic
For the entire London region, we were named Best Medical Aesthetic Clinic – we are proud and honoured that it is us who hold this title.  In 2021  we were also named Best Bespoke Facial Aesthetics & Wellness Clinic – London
Our level of service is the best not just in Essex, but all of the south.
Next Steps
Located in a prime location in Buckhurst Hill, Chigwell our full address is:
Time Clinic
David Lloyds
Roding Lane
Buckhurst Hill
Chigwell
IG7 6BQ
To discuss requirements for a consultation, whether in person or via video sharing, please call us on 0203 795 9063 or use our Contact Form.