Sclerotherapy Treatment Essex and London
We provide patients with expert sclerotherapy from our Essex clinic in South Woodford, close to Lomdon.
What is Sclerotherapy?
Sclerotherapy is a non-invasive injectable treatment used to treat and eliminate thread veins and spider veins. Sclerotherapy is the gold standard treatment for thread and spider veins, and the preferred alternative where surgical intervention is not required or advised.
How Safe is Sclerotherapy?
A more comfortable and cost efficient option for the patient, Sclerotherapy is a very safe procedure, which improves the symptoms of thread veins by applying a course of "liquid injections" containing a sclerosing agent directly into the affected area.
How Sclerotherapy Works
The sclerosing agent then impacts on the walls of the vein, causing it to swell and block. The action of inflaming and blocking the vein will prohibit any blood from passing through the vein, and deflame the raised and prominent vein, first reducing its appearance, and eventually through the diversion of blood, the thread vein will permanently close and disappear.
Once a thread vein has been successfully treated with sclerotherapy injections, it will not return.

Some research has shown that along with impact trauma, the hormone Oestrogen may play a role in the development of thread or varicose veins, and equally it has been suggested that those who avoid tight clothing may be at less of a risk of development of this condition.
Book your Sclerotherapy consulation at our Essex clinic
Book a Consultation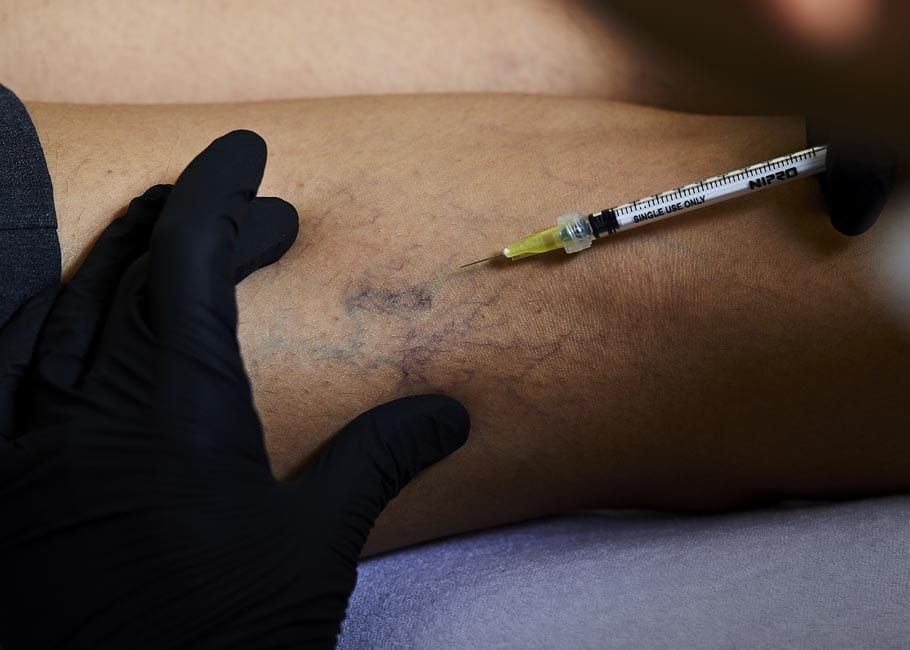 At a glance
Treatment Time
60 Minutes
Treatment Anaesthesia
Local Anaesthetic
Treatment Downtime
Discussed at Consultation
Treatment Results
Eradication of thread veins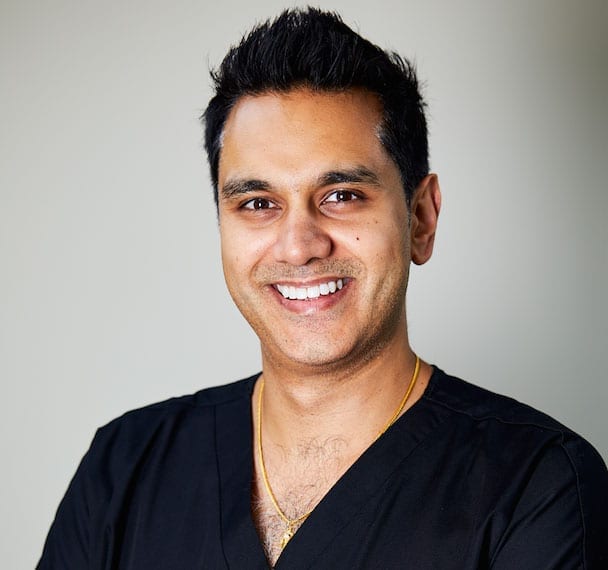 Treatment
Frequently asked questions
Am I suitable for sclerotherapy treatment?
You will be suitable for sclerotherapy treatment if you have developed thread veins. If you have experienced varicose veins at all, now or in the past, you will not be suitable for this treatment. If you are undergoing cancer treatment or have a history of blood clots in the legs or lung, you will not be suitable for this treatment. A thorough consultation will take place prior to your treatment, taking full account of your medical history.
How safe is sclerotherapy?
Time Clinic always ensure you undergo a full and thorough consultation before commencing with any treatment. If deemed suitable, Sclerotherpay is very safe and effective.
Is sclerotherapy painful?
This treatment can cause a little discomfort, although a local anaesthetic may be used if required. You may find the area a little achy in the hours following treatment.
sclerotherapy side effects or risks?
There is a small risk the skin may blister post treatment. Other minor side effects confined to the treatment area may include: swelling, redness or bruising, skin markings or itching. Some patients experience some dark discolouration of the skin, which usually goes away within 12 months.
How much downtime to recover is usually needed after sclerotherapy?
sclerotherapy treatment needs little downtime, but we do advice you wear compression stockings following your treatment for 2 weeks. This will be discussed at your initial consultation.
Testimonials
What our patients say...
Dr Bawa is very passionate about what he does , we discussed everything in great detail before starting, also no pain, just a tiny scratch sensation
I'm very pleased with the subtle look I wanted to achieve. I would highly recommend Dr Bawa
Katie Strange
I can't rate Dr Bawa highly enough. He is exceptionally skilled and you always know that you are in the safest of hands, not only because of his impressive medical background but because of the time and care he takes to listen and respond to your individual needs. Not only that he is a truly lovely and genuine person. I would not hesitate in highly recommending him.
Adele
Being completely new to Anti-Wrinkle Injections – Dr Bawa completely put me at ease. He has a wonderful, pleasant manner and is incredibly knowledgeable and an expert in his field. This allows you to put trust in him and make informed decisions. Still awaiting full results of the procedure to present themselves but otherwise so far so good – no bruising, no pain and completely undetectable! Thank you Dr Bawa!
Sammi
Absolutely delighted with the results of the Fire and Ice facial. My skin was glowing for days afterwards and was the best it had looked in years. Dr Bawa did a thorough consultation beforehand and talked me through each step in detail. Highly recommend Dr Bawa!
Charlotte
Always a great experience! I always feel very comfortable and in safe hands . Great long lasting results every time. I highly recommend Dr Bawa for any aesthetic procedure.
Sarah
Dr Bawa made me feel very comfortable and relaxed. He explained everything clearly and concisely. Will definitely recommend him to friends and family.
Carol Grant
Treatments
Treatment videos
Treatments
Related Treatments
Treatment
Dracula Therapy™ (PRP)
'Platelet Rich Plasma therapy' is most commonly used to treat hair loss and promote enhanced skin rejuvenation.
View Treatment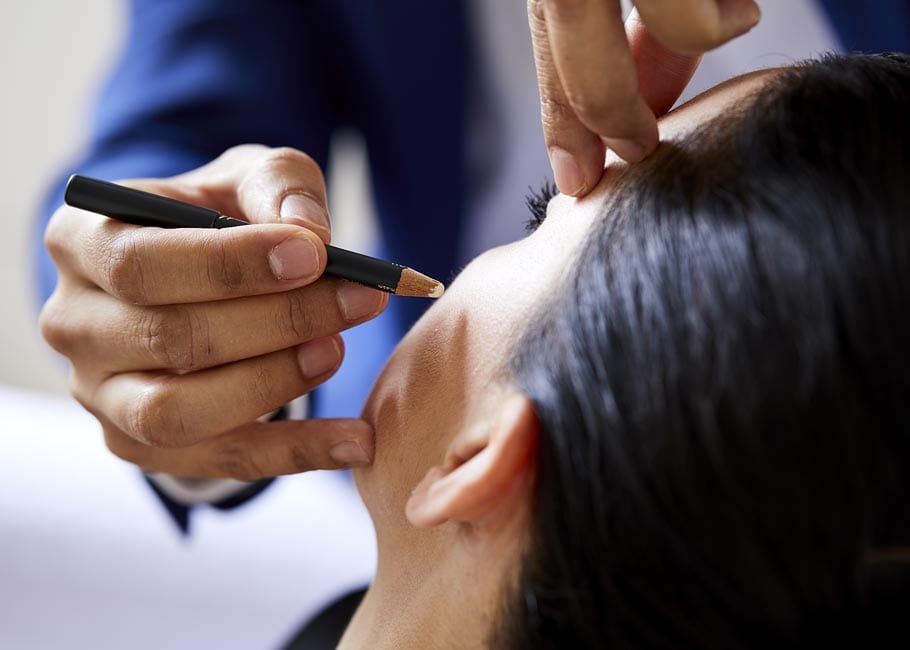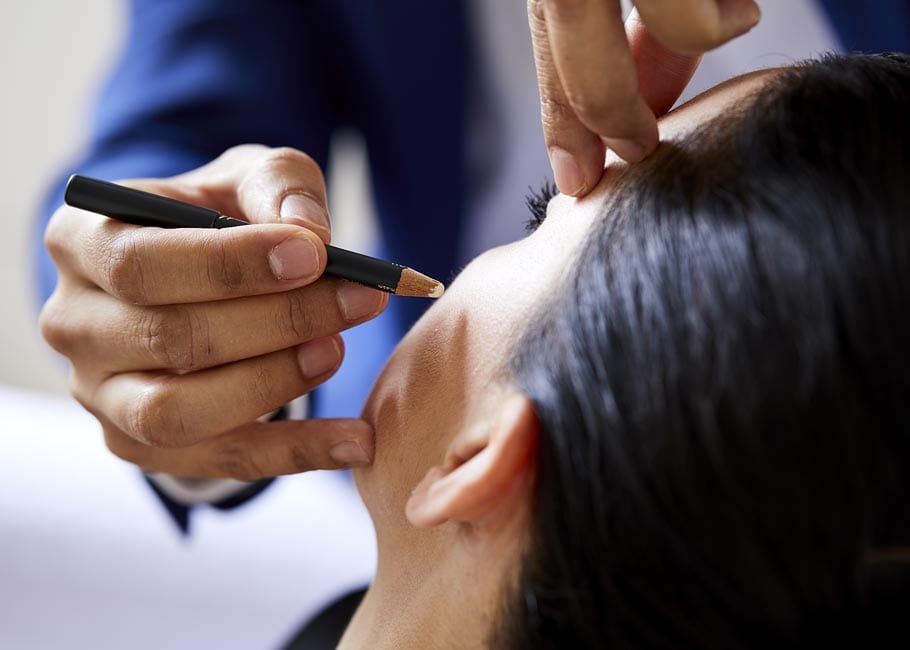 Treatment
Dracula Therapy™ (PRP)
'Platelet Rich Plasma therapy' is most commonly used to treat hair loss and promote enhanced skin rejuvenation.
View Treatment