Time Clinic is led by a team of medical professionals and is proud to offer the best in spider veins treatment in London. Whether you're looking to remove spider veins or varicose veins, Time Clinic is an approved and trusted vein centre in London.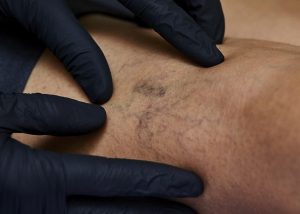 Spider veins can be safely and effectively treated by qualified medical professionals. These visible veins appear through the skin and are most often noticed on the face and legs, and occasionally on the stomach following pregnancy.
If you're looking to eliminate the appearance of spider veins in London, we are a vein clinic that is here to help! Contact us today to book a no-obligation consultation at our spider vein centre in London:-
Time Clinic is a trusted vein clinic in London
Time Clinic is Save Face accredited, which means it is regulated to ensure that all practices and procedures live up to competency and industry protocol standards, at all times. Clients who undergo spider vein removal in London with Time Clinic can be assured and rest safe in the knowledge that they are in the hands of medically trained professionals.
Dr. Manav Bawa is Time Clinic's highly accredited and experienced medical doctor; he is a member of the Royal College of Surgeons (MRCS) and the Royal College of General Practitioners (MRCGP), and is regularly a guest speaker at conferences throughout the UK. 
Contact a member of the Time Clinic team today to discuss spider veins treatment in London – we'd be happy to offer more information about the condition and assess your suitability for treatment at our London vein clinic. 
What's the difference between varicose veins and spider veins?
One of the main differences between varicose veins and spider veins is their appearance. While varicose veins can be raised and often blue in colour, spider veins appear smaller and may be red, purple or blue. Varicose veins can occasionally cause pain, whereas spider veins are often painless. 
People with varicose veins sometimes experience spider veins as a follow on from the condition. Both conditions can stem from the same root cause – often malfunctioning valves in blood vessels. Time Clinic's spider vein removal treatment in London is a popular remedy for patients who experience visible veins, particularly on the legs – even though these are usually completely harmless.
How does varicose and spider vein removal work?
At Time Clinic, we use sclerotherapy to treat and eliminate spider veins. This is a non-invasive, safe and approved injectable treatment for the removal of spider veins. 
Sclerotherapy is the gold standard in treating small spider veins and is the preferred alternative by our London clients when surgical intervention is not appropriate. It is an effective solution in treating the cosmetic concerns and symptoms of varicose and spider veins.
Sclerotherapy treatment works by restricting blood flow through the targeted veins. Blood is diverted away from the vein and eventually the affected veins will permanently close and disappear. Once a vein has been successfully treated with sclerotherapy, it will not reappear. 
Looking for spider veins treatment in London?
Time Clinic has an excellent reputation for helping London patients with the removal of varicose and spider veins. We thoroughly believe that cosmetic treatments should not only be about how you look, but how you feel.
Time Clinic is affiliated with and accredited by some of the industry's most trusted brands and patient wellbeing and safety is at the heart of what we do. We have a commitment to excellence and are passionate about upholding the very best standards in aesthetic and cosmetic procedures.    
How much does spider vein treatment cost in London?
Time Clinic is proud to be competitive in providing spider vein removal treatment in London. We use sclerotherapy to treat small varicose and spider veins and this is a cost efficient option using an injectable treatment. 
Prices vary depending on the number of treatments required for each patient, this can be assessed and discussed during your initial consultation with one of our medical team.
For a no obligation consultation, or for more information about treatments at the Time Clinic vein centre in London, please email hello@time-clinic.com or call +44 20 3795 9063.
London is a thriving metropolitan city wrapped in history, dating back to Roman times. As the capital and biggest city in England, London is a popular destination for tourists and boasts many iconic landmarks such as Big Ben, Westminster Abbey, Buckingham Palace, the London Eye and the Houses of Parliament. The city of London sits on the River Thames – the longest river in England and second longest in the United Kingdom.