Have you ever considered laser skin resurfacing treatment, but realised it wouldn't work for your skin type? Did you know that there are other treatment options available? Start by looking at skin resurfacing in Essex with Time Clinic. 
From reducing acne scarring and stretch marks to tackling problems with skin pigmentation, we can help you find the right skin resurfacing treatment for your skin. We are a team of qualified doctors and practitioners who understand how to boost your skin's health so that you look and feel your best. 
At our Essex clinic, we use the Secret RF microneedling treatment to help give you a fresh and radiant complexion. This is more gentle on the skin than most laser treatments, yet still provides great results. It also works well on all different skin types and skin tones. 
To see how we can help you feel confident in your skin, contact our team on
+44 20 3795 9063 or email us at hello@time-clinic.com
Laser skin resurfacing – what you need to know
Fractional laser skin resurfacing uses an intense beam of laser to help improve your skin complexion. Laser skin resurfacing treatment can smooth lines and wrinkles, provide skin tightening and even out your skin tone and texture. 
Laser treatments often adopt an ablative approach, which uses more aggressive lasers to remove the outer layer of your skin. This allows them to heat below the skin's surface to help stimulate new collagen growth. As a result, it improves the firmness and plumpness of your skin.
This type of laser skin resurfacing treatment is only suitable for people with a lighter skin tone.  Fractional laser treatments can cause treated skin to become darker or sometimes slighter than before. These changes are more common in people with dark brown or black skin. You will require a patch test before being able to move forward with any laser treatment.
Non-ablative laser skin resurfacing
Skin resurfacing can also use a non-ablative approach or radiofrequency. This still stimulates collagen production, but the laser or light source is more gentle as it does not remove the top layer of your skin or damage surrounding skin tissue. 
Because of this, recovery time is much shorter and it makes it a better option for people with darker skin. However, you should always speak to a skincare expert or dermatologist before deciding on what treatment is right for you.
Radiofrequency microneedling – a great alternative to laser skin resurfacing 
If you're looking for a less abrasive skin treatment that still delivers great results, Secret RF is a great option. It combines a microneedling treatment with radio frequency energy. This helps to target the surface and deeper layers of your skin to encourage skin cell renewal. It also triggers collagen and elastin production, which helps to give your skin more shape and firmness. 
Secret RF improves skin complexion in just a 20-minute treatment session. Depending on the skin issue you are looking to treat, we recommend that you have 3-4 treatments so that you can achieve the best possible results. Your skin will continue to improve after your treatments, with the final results showing three months after your last session. 
At Time Clinic, we can customise this treatment to tackle different skin imperfections. These include acne scars, stretch marks, pigmentation and it can also be used to improve your skin texture. Your first step to skin rejuvenation starts with an in-depth consultation, where we can show you how Secret RF works and what results you can achieve from it. 
Why you should consider Secret RF microneedling in Essex 
There are many reasons why more and more patients are looking at Secret RF microneedling, here are just a few:
    You will see the benefits of both a microneedling treatment and radiofrequency energy in one treatment.

    You can reach deeper layers of your skin, which means the treatment starts to work from within, boosting your collagen production and building healthier-looking skin. 

    It is safe for all skin types and skin tones, unlike fractional laser skin resurfacing treatments or deep chemical peels, which are not always good for darker skin types. 

    It goes beyond anti-ageing benefits such as skin tightening or reduces wrinkles, and can help to fade scars and stretch marks. 

    Your practitioner can treat both delicate areas such as your under eye area and nose, as well as larger areas including the chest and neck.  
How long will I see results for?
You will start to see results from Secret RF after your first or second treatment. How long your results last varies from person to person. To keep your results, we suggest that you come back for a maintenance treatment every 12-18 months. 
Why choose Time Clinic for skin resurfacing treatment?
We are a facial aesthetics and skin care clinic providing high-quality skin rejuvenation treatments to patients throughout Essex. From dermal fillers and laser hair removal to chemical skin peels, our team of skin specialists can help find the best course of skin treatments for you.
This starts with a full skin consultation with one of our doctors or practitioners. They will assess your skin concerns, while also listening to your skin goals. From your initial appointment to your treatment and aftercare, our goal is to give you the best experience possible, while also delivering results that make you look good and feel good too.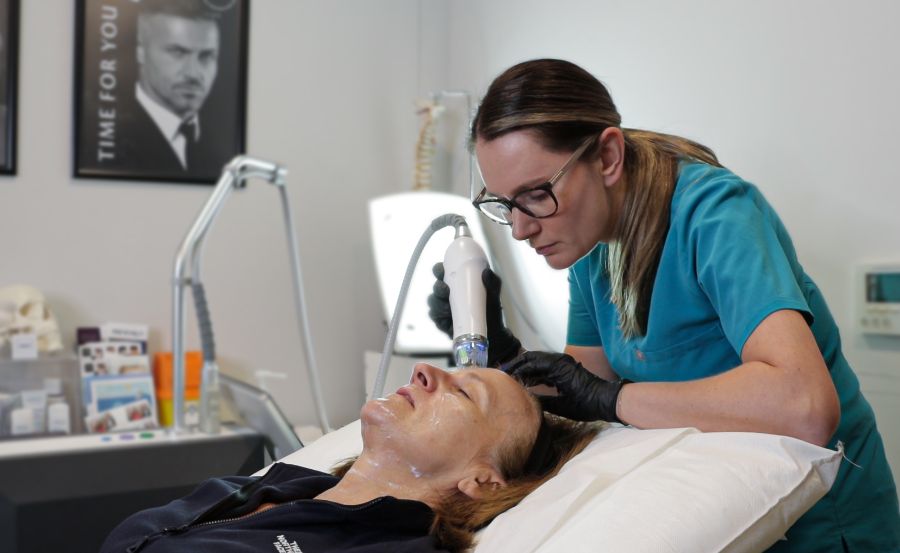 Where you can find us 
Time Clinic is conveniently located to treat patients from across Essex and London. The clinic is easily accessed by rail via the Central Line. It only takes around 45 minutes from the capital.
We have plenty of parking spaces on site. The clinic is located within the David Lloyd facility in Buckhurst Hill, Chigwell. 
Address
Time Clinic
David Lloyds
Roding Lane
Buckhurst Hill
Chigwell
IG7 6BQ
About Essex
Essex is a county in the East of England, famous for its stunning countryside and coastline. It draws tourists from around the UK, who come to visit the historic towns of Colchester and Chelmsford, as well as Southend-on-Sea.
The accessible road and rail networks that link Essex with London make it a popular area for city workers who commute into the capital daily. Trains from Chelmsford take around 30 minutes and from Brentwood 40 minutes.