Sclerotherapy treatments, hugely popular and effective in the treatment of thread and spider veins, are available in Loughton through the nearby Time Clinic.
The sclerotherapy treatments can have multiple advantages for those seeking to aesthetically improve the impact of visible veins. The treatment is cost effective, quick to administer and generally pain free (there can be mild discomfort).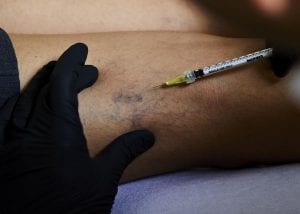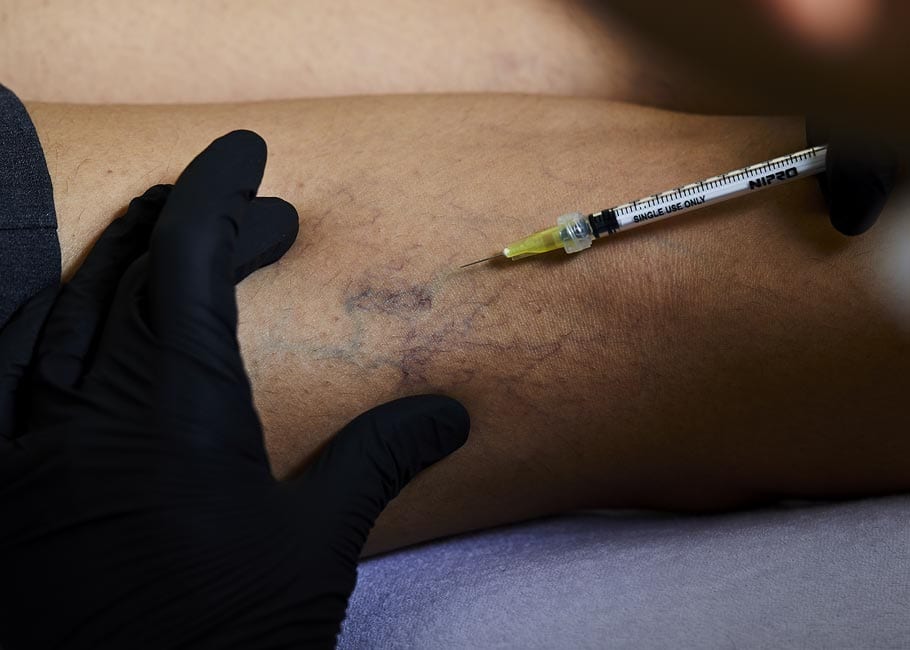 The treatments are also permanent, once a vein has been treated in this way it will not return. 
The procedure works through a course of 'liquid injections' that contain a sclerosis agent into the area to be treated. This agent then impacts on the walls of the vein, causing it to swell and block. Ultimately this forces blood through other veins and the ones being treated close and disappear.
Given this treatment involves injections and the treatment of veins, the body's vital network, the need to use a professional clinic following the highest of standards is clear. In the Loughton area and indeed within Greater London, the Time Clinic stands apart.
The treatment itself might be quick to administer, typically taking under an hour but that is not to say all clinics should be seen as equal.
At the Time Clinic we have a range of factors that set us apart, namely:
The Highest of Standards.

 

For all treatments, we apply the standards you would typically expect of major cosmetic surgery.This includes detailed consultations and examinations, for instance with Sclerotherapy we need to ensure you are a suitable candidate. Those who have experienced varicose veins are not suitable, neither those undergoing cancer treatment or who have a history of blood clots.We taker a prospective client's full medical history into account.
We have Save Face registration. Save Face is the register accredited by the Professional Standards Agency and is recognised by the government, department of health, NHS England and Care Quality Commission.With this accreditation comes your assurance that we follow all procedures and guidelines correctly.Regardless of whether you ultimately choose the Time Clinic from the options in thew Loughton area, please make sure your choice is Save Face accredited. It is your assurance of safety.
We are headed by a true expert in the field of injectable treatments – Dr Manav Bawa.Dr Bawa's CV stands comparison with any in London and beyond, let alone the local Loughton area.Dr Bawa is the holder of a postgraduate diploma in surgical sciences at the University of Edinburgh and has a Masters in Surgical Education at Imperial College London.Dr Bawa is an injectables trainer for a Harley Street clinic and a trainer for the Royal college of GP's for minor surgery and joint injections courses.
We produce results that are natural looking but also make a profound difference.The balance in any cosmetic surgery is often to ensure the results are beneficial, there is clear improvement for the money spent, but they are not over the top, creating the fake look of 'work having been done'.The more skilled and highly trained the person administering the treatment, the better the results.
Time Clinic is competitive on price. Our level of quality and expertise does not come with an inflated price tag. Please get in touch to see how we compare.
Why Consider Sclerotherapy in Loughton?
If you suffer from either thread or spider veins then sclerotherapy is likely to be a procedure that will have a guaranteed impact, removing the problem veins and so improving the appearance of skin.
There are many things to like about this treatment. It is effective, quick to administer, generally pain and discomfort free and any side effects are typically limited to minor swelling, redness and short-term irritation.
It is also a treatment that is generally affordable, people of all income bands have this treatment open to them.
Of course, we appreciate that for any patient, especially new ones, the thought of injections and cosmetic treatments can be somewhat nerve wracking. We pride ourselves on putting people at ease and being kind and understanding. 
To get a feel for the atmosphere and process with Time clinic, please take the time to watch the videos below.
Located perfectly for Loughton, our clinic is in Buckhurst Hill, the full address
Time Clinic
David Lloyds
Roding Lane
Buckhurst Hill
Chigwell
IG7 6BQ
If you would like to arrange for an obligation free consultation, please call us on 020 3795 9063, email hello@time-clinic.com or use our Contact Form.
About Loughton:
Loughton is a town and civil parish in the Epping Forest district. The town is around 11 miles from central London and has excellent transport links to the capital via road, rail and underground.
The earliest mention or sign of Loughton, if not by its current name, was around 500 BC, an Iron Age fort found from this period, though it was only discovered in 1872 having become hidden by thick undergrowth.
The first reference to the modern day site in written form came in 1062 in the charter from Edward the Confessor. 
Loughton, or the settlement that would become Loughton, remained a small village for centuries only growing in size when a high road was extended through the forest in the 17th century.
Steady growth, driven largely through ever better transport links saw Loughton develop to its current standing as a town of more than 31,000 residents as of the 2011 census.
There have been a number of notable people who were either born in Loughton or are associated with the town. These include Harry Kane, Ron Greenwood, Matt Johnson (frontman of The The) and Sidney Godley – the first private soldier to be awarded the Victoria Cross during the Great War.