Give your skin a healthy boost and reduce the signs of ageing including lines and wrinkles with microneedling in Loughton.
In as little as 30 minutes, our Secret RF microneedling treatment can help achieve a more even skin tone and texture. you will see skin that is firmer and smoother than before. 
We are a team of qualified medical professionals who are skilled at carrying out skin rejuvenating treatments. From the moment you enter our clinic near Loughton, you will be in the hands of experts who help patients not only look good, but feel good too. 
Do you have questions about microneedling treatment? Contact our team today by calling us on +44 20 3795 9063 or email us at hello@time-clinic.com
Secret RF microneedling – two treatments in one
As we age, we start to lose collagen in our skin. This is why our skin starts to become fragile and thinner. To give it that youthful glow, you need a treatment that can help restore collagen levels in your skin.  
Microneedling, also known as collagen induction therapy, is a popular treatment for helping your skin regain that youthful glow. Using tiny needles that create micro punctures in the skin, it helps to kickstart collagen and elastin production. This leaves your skin looking refreshed, plump and healthy. 
But microneedling is not just a way to help ageing skin. It is an effective treatment for tackling scarring including acne scars or stretch marks. 
What does Secret RF add?
With Secret RF you get all the benefits of a traditional microneedling treatment with an added extra bonus. So, what else does it do for your skin? It delivers fractional radio frequency to the surface and deeper layers of your skin. 
Radio frequency helps to rebuild skin tissue and rejuvenate your skin. It also helps to lift, firm and tighten your skin. 
We can also customise the Secret RF to help target your individual skin concerns. At your consultation, a member of our dedicated team will help create a treatment plan that works for you and provides you great results.  
Why should I consider having Secret RF microneedling?
At Time Clinic, we use Secret RF to treat a number of skin conditions and skin issues. These include:
      Refreshes your skin tone and texture

      Minimises lines and wrinkles

      Tackles different types of scars including stretch marks and acne scarring

      Reduces signs of skin discolouration and photodamage
If you're not sure whether Secret RF microneedling treatment is right for you, contact our clinic to book an appointment. 
What is it like having Secret RF microneedling?
Secret RF is great for patients looking for a skincare treatment to fit into their busy routines. Each session takes around 30 minutes to complete.
Before your treatment, one of our doctors will apply a numbing cream to the target area to minimise any discomfort. It is normal to feel some slight heating and pressure during your treatment, but we will do everything to make your treatment as comfortable as possible. 
What can I expect after having microneedling treatment?
It is completely normal to experience some redness or mild swelling after your treatment. This should go down within the first 24 hours. There is no downtime with the Secret RF treatment, so you can go back to your normal activities straight away. 
We do advise that you avoid wearing any make up for the rest of the day. We also recommend that you stay hydrated and keep your skin moisturised. We will provide you with advice on how to do this after your treatment. 
Are the results permanent?
 With Secret RF microneedling you can start to see positive changes in the condition of your skin after just one treatment. 
Every person's skin reacts differently to treatment. This is why we advise having 2-3 sessions of Secret RF before you are likely to see the full benefits to your skin. 
The great thing about this microneedling treatment is that you will continue to see your results improve up to three months after your last session. 
A clinic you can trust for microneedling in Loughton
When having microneedling in Loughton you want to choose a skin clinic that takes pride in taking care of their patients. At Time Clinic, we put our patients' safety and wellbeing first. This is why we work with the most trusted and reputable brands in the industry. We take the time to get to know you and your skincare needs to help you make the right decisions.
Our team has an extensive background in facial aesthetics. This includes Dr Manav Bawa and Dr Victoria Russell. During your consultation, we will guide you through every step of your microneedling treatment with us. This includes any aftercare you might need. With Time Clinic you will receive the best advice and support throughout your journey.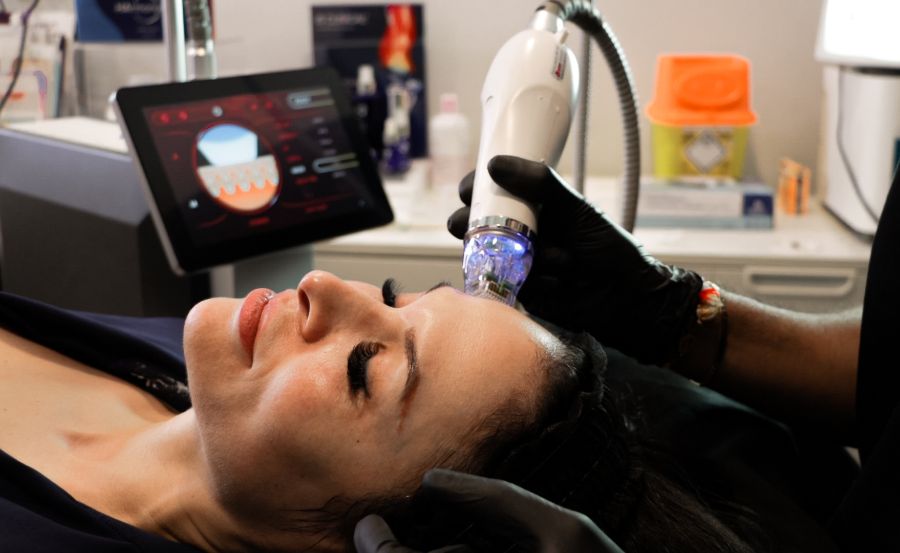 How to find us 
We are easily accessible by road and rail. The most convenient route is via the Central Line on the London Underground which takes around 45 minutes. We have plenty of parking spaces available for patients on site.
Address
Time Clinic
David Lloyds
Roding Lane
Buckhurst Hill
Chigwell
IG7 6BQ
About Loughton
 Loughton is set in the heart of the Epping Forest District of Essex. It boarders the areas of Chigwell, Waltham abbey and Theydon Bois. Loughton has a residential appeal, which attracts families and professionals from around the Greater London area.
 Despite its slower pace of life, Loughton is a popular commuter town. Within 40 minutes you can reach London via the Central Line, making it perfect for work and play.  It also offers easy access to the M11, which allows residents to escape further north to Cambridge.