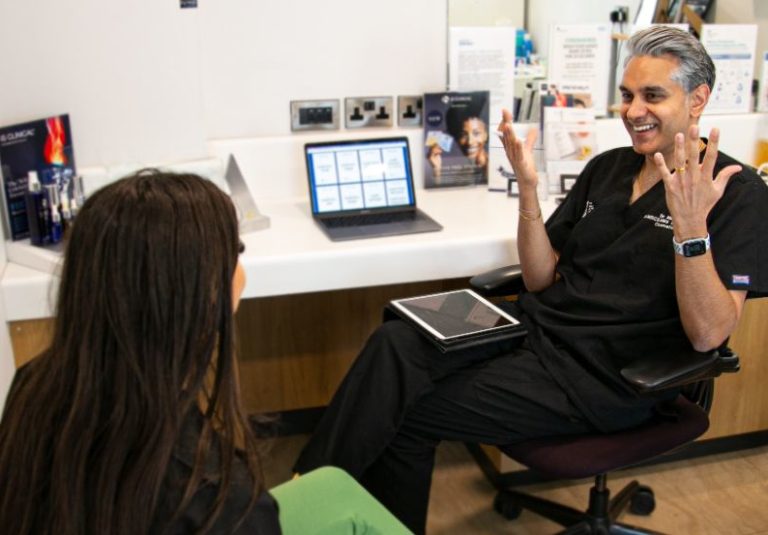 Time Clinic in Chigwell, regards the consultation as one of the most important parts of the treatment process. For many first-time patients, it is when coming in for the consultation that you'll be introduced to our clinic; meeting the team and becoming familiar with our unique environment. It is the consultation that starts the treatment journey and this session is specifically useful for many reasons:
Building a rapport
Our team is made up of a variety of people. We provide a professional service, but also recognise that this needs to be combined with a caring and friendly approach. All our staff and practitioners undergo rigorous training for their roles, both in-house and externally. Our provision is totally centred around your needs and we do everything we can to ensure you're made to feel welcome, cared for and valued. A calm and approachable manner comes as standard from our team, and is the reason why we build long-term, trusting relationships with our many patients.
Discussing your concerns
In order for our practitioners to suggest the most suitable treatment solution, we'll need to learn about you as a person, and the conditions that are causing a concern. We pride ourselves on being a clinic that takes the time to listen to our patients. It is through listening that we become fully informed about you – the whole patient, enabling us to put together the most beneficial plan of action. We work with you to devise a treatment plan which acts in your best interests, makes you feel relaxed about the proposed treatment and aims to produce the best possible outcome.
Explaining about the treatment
It is a requirement of the clinic that you attend a consultation before any treatment takes place. There are a variety of things that need to be covered at the consultation, which is a private session between you and your practitioner. We don't expect you to know what the treatment process entails, especially if it's the first time the treatment has been performed. Practitioners will make sure you are fully informed about the recommended treatment, ensuring a detailed explanation has been given which outlines how it is carried out, the equipment / products that are used, how this works with your body, and what (if anything) is to be expected in the days or weeks that follow. This will greatly help you to feel reassured by the process, knowing exactly what to expect.
Defining the results
One of the most common reasons why a patient is dissatisfied by their aesthetic experience, is finding that the treatment didn't deliver their desired results.
It is often the case that a patient doesn't realise what the actual outcome will be. It is paramount to Time Clinic that our practitioners ensure patients fully understand how the treatment can work for them, giving an open and honest description of what will realistically be achieved. Patients are individuals and their treatment will provide unique results.
Answering questions
We understand that for many people, undergoing a treatment can be daunting and we expect our patients to come to us with a number of questions and concerns about what will happen during the treatment. It is important that we uphold the integrity of all our patients and we act in a responsible and honest way.
We welcome any questions that patients have about any aspect of their treatment, no matter how big or small, and we'll ensure that all concerns are answered fully.
Although many quibbles are addressed during the consultation, it is often the case that questions can arise at a different point. Time Clinic will always be available to answer a patient's questions at any time before, during and after the treatment.
The consultation is the first stage of your bespoke treatment journey, and Time Clinic provides a unique and tailored experience to all patients.
To find out more about Time Clinic's patient journey, including the consultation, visit our website.
Back to blog