We are not going to be shy in coming forward – at Time Clinic we believe we are undeniably the best clinic for dermal fillers in London, and we can prove our case.
Other clinics may stake their own claim and it is not our place to speak of their quality. We would not claim to be the only good clinic in London – it would be a sad state of affairs if there was only one good practitioner for lip fillers and dermal filler treatments.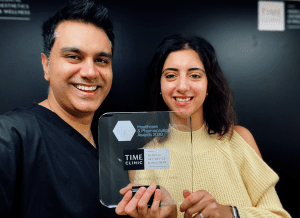 However, there has to be a best and we believe this is us.
What Makes A London Clinic The Best?
A number of factors must combine to make a clinic the best, these include.
Award Winning
Time Clinic are proud recipients of the Best Medical Aesthetic Clinic – London award. We are officially the best!
Proven track record
What do past clients say? It is very easy to speak of being the best clinic, as we have done so far, but does evidence back this up?
What are the reviews from previous customers, are they universally positive and do they specifically mention dermal fillers or are the positive results actually for wholly different procedures?
We have a superb reputation, this backed up by independent, verified reviews. From dozens of reviews, our rating is the full five stars. 
For any other clinic to be a contender it needs a similarly high rating from previous clients.
Natural looking results
For anyone who has lip fillers or dermal fillers, the results should have a clear impact but also produce natural looking results.
The fillers should add volume, they should help to remove lines and wrinkles, but without the look of a frozen face or the clear look of 'work having been done'.
The skill of the practitioner is of absolute importance. The treatment involves the injection of the filler, this containing hyaluronic acid. To get predictable, superb, natural results it is necessary to inject just the right amount into the optimum location.
The process is non surgical, but this is not to imply it requires any less skill than a surgical operation. The medical expertise is still required, the skill of a surgeon to know precisely where to inject and how the facial tissue will react.
The treatment can ultimately be wholly judged by the results.
For examples, please see the gallery on our treatments page.
Safety First
It is a remarkable fact that almost anyone can administer dermal fillers in London, almost anyone can set themselves up and claim they can treat lines and wrinkles.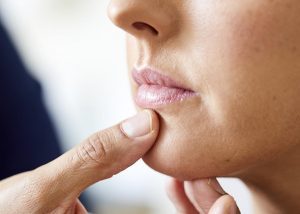 However, just because the procedures are non surgical, this does not mean safety should be neglected. Dermal fillers are still injected into the face, the process still involves the insertion of hyaluronic acid into the lips, forehead, around the eyes of other areas.
We would question why anyone would choose an inexperienced, unregulated practitioner. Yes, the initial cost might be a little less, but this is because the fillers are likely to be of a lower quality and the person treating the client has not had to invest time in training or become an expert.
The old adage that you get what you pay for is certainly true.
How then can you ensure quality and safety?
You should ensure that any clinic you consider is Save Face registered, the national register accredited by Professional Standards Agency and recognised by the Government, Department of Health, NHS England and the Care Quality Commission. 
This will mean you are using a clinic where high standards have to be adhered to, standards in keeping with doctors and other medical professionals, rather than an amateur set-up. At Time Clinic, Dr Bawa, a GMC registered doctor, is a local GP as well as having a background in Plastic and Orthopaedic Surgery.
Save Face registration ensures a clinic is good, that they offer a solid treatment, but it does not make them the best.
At Time Clinic we have the added benefit of being established and run by a true expert in the field of aesthetic procedures, the award-winning Dr Manav Bawa.
Dr Bawa's qualifications include being a member of the Royal College of Surgeons (MRCS) and the Royal College of General Practitioners (MRCGP).
Dr Bawa's credentials also include holding a postgraduate diploma in Surgical Sciences at the University of Edinburgh and a Masters in Surgical Education at Imperial College, London and a  Postgraduate Diploma in Aesthetic Medicine. 
He is also an injectables trainer for a Harley Street clinic and a trainer for the Royal College of GP's for minor surgery and joint injections courses.
A welcoming Environment
Whether it is your first treatment or you have had a number of minimally invasive cosmetic appointments, whether it is your first consultation or you are experienced in having injections, you still demand the same high level of service.
We aspire to make every client feel relaxed and welcomed. Those considering a facial treatment for the first time might be wholly unsure whether it is truly for them.
Many book a consultation with a view to finding out more information, seeing if they feel comfortable in the setting.
We understand this and we certainly do not want to push anyone into having any issue – lips, lines, wrinkles, dull skin or other – treated if they have any doubts.
The video below gives an honest insight into a patient's experience at Time Clinic, please take the time to watch it to get a sense of the experience at the Time Clinic.
We welcome visits to the clinic for you to see for yourself how it compares.
A Range of Treatments
While your primary focus might be to find an expert in the application of dermal filler, any top clinic should provide a range of treatments.
By combining treatments it is possible to have an impact that is profound and leads to an overall look or rejuvenation and youth.
Botox is a treatment that will often be used in conjunction with dermal fillers as the two treat separate signs of ageing. Whereas fillers remedy fixed lines, wrinkles and similar, Botox – botulinum toxin – works to address lines that form as we change expression or move elements of our face – forehead lines and lines around the eye for example.
Botox works by targetting nerves and blocking messages sent to muscles, whereas a dermal filler treatment would, as the name implies, fill in.
Other facial treatments might target the skin, for instance a peel to help remove impurities and leave a refreshed, youthful appearance.
Used together, a skilled clinician can create what is known as a non surgical facelift, creating real change and a vastly improved appearance but wholly through non invasive and minimally invasive aesthetic procedures.
Dr Bawa, as an expert in aesthetic medicine, can help advise any client as to the treatments that can have the best impact. 
A client may not know precisely which treatments would be the best, they instead know that they want to target certain areas, reduce specific signs of ageing.
The skill of a true expert is in chatting with the client and coming to an agreed best approach. It is the approach of a doctor and medical professional; acting in the person's best interest.
What Others Say
Unbiased, genuine testimonials matter.
There is huge competition in the field of cosmetic procedures and aesthetic procedures, many clinics offer similar services.
Often, we will not be the first clinic someone has tried, but when they do entrust us they realise the difference we offer. They tend to wish they came to us first!
Some clinics talk about their A-list clients and boast about the big names that visit. We believe this approach is wrong, we will happily treat anyone, their perceived status is of no interest.
Every client deserves the same quality of care and the same high standards. We don't give some clients a better service because they happen to have a famous face. Instead, we give all clients our very best.
Our recent testimonials include the following:
"Hands down Dr Bawa at Time Clinic is the only place I need to go for all my aesthetic needs.
"Dr Bawa always has time for you and I 100% trust his advice and work implicitly. He is by far the best physician I have seen to date, and more importantly a genuine, caring and trustworthy person who is passionate about what he does."
"I found Manav and his team extremely professional and friendly. Manav gave me great advice on how to keep your skin well with a daily plan. Go see him immediately."
"Where to start..Dr Bawa is everything you could want in a practitioner. His knowledge is incredible, he answers everything you want to know and he makes you feel so comfortable and relaxed! 
"I was slightly nervous about the procedure and the outcome but he made me feel so calm and chilled I didn't have any worries! The clinic is outstanding, he made me feel very safe with keeping everything clean and being so hygienic especially during COVID! 
"The whole process of getting booking in, having the consultation and talking to Dr Bawa was excellent! Everything was definitely up to my personal high standards. My results are unreal and I now have more confidence than ever! I am so grateful for Dr Bawa! Literally a miracle worker!"
"Dr Bawa was very professional and is also interested in any other concerns you have. Even if he can't deal with the problem he has your wellbeing at heart and will guide you in the right direction. I was made to feel  very welcome and am pleased with the treatment I received. I would definitely recommend his services."
Areas Covered
The best London clinic will of course cover all of London.
We are conveniently located in Buckhurst Hill, our full address:
Time Clinic
David Lloyds
Roding Lane
Buckhurst Hill
Chigwell
IG7 6BQ
Clients visit us from across the capital, including areas such as:
east london, essex, South Woodford (E18), Woodford (IG8), Buckhurst Hill (IG9), Loughton (IG10), Chigwell (IG7), Chingford (E4), Redbridge(IG1), Abridge (RM4), Epping (CM16), Wanstead (E11)