Acne scars can understandably be a cause for concern for those who have this condition – impacting both appearance and also confidence and self esteem. 
At the award-winning Time Clinic, proud recipients of the Best Medical Aesthetic Clinic London award, please rest assured that we have a range of treatments to help minimise, and even remove, the impact of any acne scarring.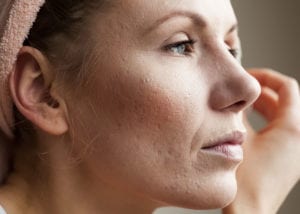 Our clinic is fully Save Face registered and run by a true expert in non-surgical treatments – Doctor Manav Bawa entrusted by the Royal College of GPs to train others in treatments.
We also pride ourselves on the highest standards of patient care. We understand that visiting a clinic can make people somewhat nervous, perhaps especially if they are seeking treatment for a condition such as acne scarring.
We treat everyone with the highest standards of care and respect, this starting from the moment you have an obligation free consultation to discuss potential treatment options.
We have treated many patients in London, helping to remove their acne scars and creating a happier, more confident person. The impact of these treatments can be truly wonderful to behold.
Acne Scar Treatment Options
In a web page it is impossible to suggest what the best course of treatment might be for any individual, what we can say is that there are likely to be a number of options.
At Time Clinic, we stand apart because we can find the bespoke solution that will best serve your individual needs. Other clinics might only have one option for addressing acne scarring, and this is often far from the best choice. All too often, a clinic will use dermal fillers as a sort of one-size-fits-all treatment for all manner of facial issues.
Fillers may be an option, but there are many other choices that might deliver better, longer lasting results in your case.
One option is the iS Clinical Fire and Ice Facial, this a treatment that gently resurfaces the skin. This procedure, which is wonderfully relaxing, softens the skin, smooths and resurfaces, this through cellular renewal.
There is no downtime, no peeling of skin, it is a treatment so gentle it is suitable for those who are pregnant, breastfeeding or undergoing cancer treatment to discover the benefits.
Another option would be a chemical peel, this leading to the blistering and shedding of the superficial layer of skin, this in turn revealing a new, fresher layer.
With peels such as this it is essential that you only entrust a medical professional – there are a huge number of chemical peels on the market, and many offer treatments despite having little or no training. Poor application of a sub-optimal product can lead to burns and scarring.
Obagi skincare might also be an option, the Obagi range is a complete skincare system – covering cleansers, toners and moisturisers but also serums and even full prescription options.
The Obagi range is at the cutting edge of scientific research, delivering profound results.
Acne Scar Removal Process
In truth, the process begins with a thorough and detailed consultation. It is necessary to examine the nature of any prospective patient€™s acne scarring and then determine which treatment option, or bespoke package of treatments will deliver the very best results.
Acne scarring can differ greatly by person – the treatment for someone in their twenties with very apparent acne scars would be different to someone in their forties who has scars that are still visible, but faded. The ongoing skincare regime would be different for both.
This can be a further benefit of the consultation, whilst coming in for procedures relating to acne scarring, it is also possible to get help and advice from the clinic regarded as the best in London for all facial aesthetic concerns.
If the patient ultimately decides to have a treatment, in all instances this would be delivered by medically trained practitioners operating to the highest of standards in a relaxing, well-equipped environment.
Some of the treatments have no downtime, they just subtly work and gradually improve the complexion. Others such as facial peels lead to some flaking and shedding of skin, this then exposing the refreshed, new layer beneath.
In all instances, you would be fully informed as to the process and what to expect as the skin goes through stages of recovery and improvement.
Benefits of Acne Scar Treatment
The benefits of acne scar treatment can extend beyond the purely aesthetic.
We are all concerned with our own appearance to some extent and so visible acne scars can naturally be a cause for concern. Treatment can improve appearance, but also do so much to boost confidence and self esteem.
It is upsetting to see how much people can be diminished by an issue such as acne scarring; it is heartening to see just how much treatment can help restore their confidence.
This is often the true benefit, it is a treatment that impacts on personal life, relationships and work. It leads to a happier, more confident person, someone who can approach every opportunity with enthusiasm.
Acne scar treatment can remove those scars that will not simply fade or disappear on their own. Acne marks will often fade to some extent, but often visible signs remain. Treatment is required if the patient is to get the smooth, clear skin they desire.
Why Consider Time Clinic?
We stand apart as the top clinic in London – with the reviews and awards to demonstrate this standing.
Please consider our services for the following reasons:
Amazing reputation
Our independent reviews are universally five stars,.
Expert Knowledge
Our clinic is run by Dr Manav Bawa, a leading expert in the field of non-surgical treatments.
Dr. Bawa is a member of the Royal College of Surgeons (MRCS) and the Royal College of General Practitioners (MRCGP). He also holds a postgraduate diploma in Surgical Sciences and a Masters in Surgical Education from Imperial College London and a Postgraduate Diploma in Aesthetic Medicine.
Dr. Bawa is entrusted as a trainer for minor surgery and joint injections courses for the Royal College of GPs and also provides the training for a leading Harley Street clinic.
The level of patient care provided is unsurpassed – this also seen in the care taken with follow-up appointments,
Award Winning
For the entire London region, we were named Best Medical Aesthetic Clinic – we are proud and honoured that it is us who hold this title. In 2021  we were also named Best Bespoke Facial Aesthetics & Wellness Clinic – London
Next Steps
Located in a superb spot, with easy access, our full address is:
Time Clinic
David Lloyds
Roding Lane
Buckhurst Hill
Chigwell
IG7 6BQ
To discuss requirements for a consultation, whether in person or via video sharing, please call us on 0203 795 9063 or use our Contact Form.
London Areas Served
Clients visit us from across the capital, including areas such as:
east london, essex, South Woodford (E18), Woodford (IG8), Buckhurst Hill (IG9), Loughton (IG10), Chigwell (IG7), Chingford (E4), Redbridge(IG1), Abridge (RM4), Epping (CM16), Wanstead (E11)