If you're looking for a way to achieve tighter skin and a more youthful appearance, skin laxity treatment in Essex is a great option. 
With our Secret RF microneedling treatment, you will see a reduction in fine lines and wrinkles, and loose skin will become tighter.  In fact, with this advanced skin tightening treatment, you will achieve skin that looks more plump, firmer and more rejuvenated. 
At Time Clinic in Essex, our team of medical professionals are experts in skin tightening treatments. We help our patients find the right treatment for their skin type through an in-depth consultation. This is where we get to know more about your skin and start your journey to a more youthful looking you. 
Why not find out more about how we can help you tighten loose skin by contacting our team on +44 20 3795 9063 or by emailing us at hello@time-clinic.com
What is skin tightening?
As we age fat cells or fat pads in our face start to decrease. This is most prominent in the upper face, specifically in the cheeks. 
In addition to a reduction in fat cells, we also start to lose our natural levels of collagen and elastin. These are proteins which help give our face its structure and plump look. This causes sagging skin, lines and wrinkles to form, and our face to look more fragile and less healthy. 
Other factors such as weight loss, too much sun exposure, stress and pollution can also result in your skin becoming loose and saggy over time. 
Secret RF skin tightening treatment Essex
Secret RF is an advanced skin treatment that kick-starts collagen production in the dermal layer of your skin, which helps tighten your skin. 
It uses a combination of microneedling with radio frequency treatment. By pairing these skin-tightening treatments, you are more likely to see full skin rejuvenation. This means firmer, smoother and fresher-looking skin. 
Microneedling starts by creating tiny punctures in the skin to stimulate your body's wound-healing response. It also helps to break down old collagen fibres, while replacing them with new collagen.  
The radio frequency energy targets the deeper layers of your skin to encourage skin cell turnover. It also triggers the production of new collagen and elastin. By treating the dermal layers of your skin, you will start to see a visible improvement in the way your skin looks and feels in just one treatment. 
After a course of treatments, you will notice an improvement in the structure of your skin and a reduction in fine lines and wrinkles. You will also see less sagging skin and it will feel firmer.
How many treatments will I need to see skin tightening results?
While you will notice improvements in your skin from the first or second treatment, we do recommend that patients have 3-4 sessions of Secret RF. It can take up to three months after your last treatment for your final results to show.  This is because it takes time for the skin to fully rebuild itself and for the new collagen to form. 
Not everyone's skin is the same, so results can vary from person to person. You can expect your final results to last for up to 12 months. At this stage, we would advise you to come back to our Essex clinic to have a top-up treatment. This will help boost and maintain your results. 
Trust in the skincare experts at Time Clinic in Essex 
With our medical expertise, we will be able to help you find the treatment that suits your skin type. We always provide clear and honest advice to all our patients, so that they feel comfortable knowing that they are choosing the right skin clinic and the right treatment for their skin needs.  
Your wellbeing is our first priority. From the moment you enter our clinic to your treatment and aftercare, you will be in the hands of experts who care. Check out what some of our patients have to say about their treatment experience with us. 
Start your journey to tighter and smoother-looking skin today by booking an appointment at our clinic in Essex.
BOOK YOUR INITIAL CONSULTATION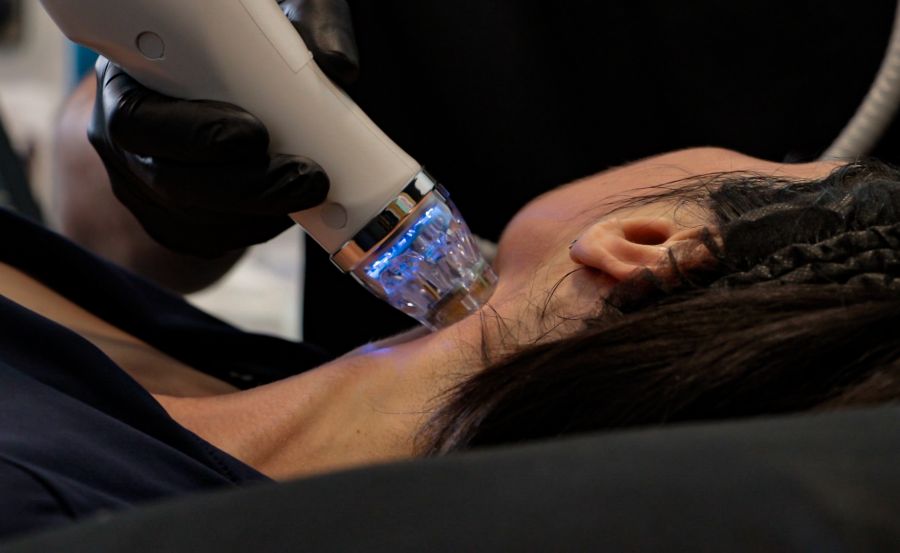 Where to find us 
Time Clinic Essex is easily accessed by road and rail. The most convenient route is via the Central Line on the London Underground which takes around 45 minutes.
We have plenty of parking spaces on site. The clinic is located within the David Lloyd
facility in the leafy Buckhurst Hill, Chigwell. 
Address
Time Clinic
David Lloyds
Roding Lane
Buckhurst Hill
Chigwell
IG7 6BQ
About Essex
Essex is a county in the East of England, which is famous for its mix of beautiful countryside and vibrant towns. Essex is home to over 1.8 million people, making it one of the most populous counties in England. 
Essex has excellent transportation links, which include easy access to various towns via road and rail. Its close proximity to London makes the county an attractive place for commuters who want to be close to work, but prefer a more relaxed lifestyle.