Time has been the leading skin clinic in South Woodford and the surrounding area for a number of years. We have recently moved, but continue to serve all our loyal and new customers in the south Woodford area.
If you're serious about looking your best, and are considering aesthetic treatments to enhance your natural beauty, only a doctor-led, well-established practice like Time Clinic will do. After all, boosting your skin's beauty and health should be something you entrust to the real experts.  
Time Clinic has a client base in the south Woodford area, Essex and London, who put their trust in its medical director, Doctor Manav Bawa, for his knowledge, foresight and skills that keep skin looking beautiful and youthful.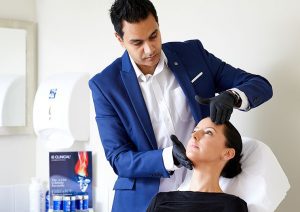 Medically trained aesthetic artists like Doctor Bawa are best placed to give you the right advice and guidance, and administer skin treatments in a safe, effective way for best results. 
Doctor Bawa has succeeded in a medical career in surgery, plastic surgery and General Practice. Having discovered a love for aesthetics, he has become an advanced aesthetics doctor whose clients benefit from his expertise as well as his warm and caring manner.
Why not get in touch with Time Clinic today to find out more about their wide range of cosmetic skin treatments?
Skin treatments in South Woodford
Time Clinic offers a range of skin treatments to South Woodford's residents, from chemical peels and skin boosters to dermal fillers, anti-wrinkle injections and non-surgical rhinoplasty. 
Innovative treatments you may have read about in magazines or through connections to well-known celebrities include Dracula Therapy (also known as the 'Vampire Facelift'), Fire & Ice facials, and Profhilo (the 'beauty editors' secret weapon').
Our boutique facial aesthetics and skin care clinic is nestled in the thriving, contemporary David Lloyds health club in Chigwell. We're within easy reach for clients in South Woodford via public transport or road, with a spacious car park on site. 
Obagi brand ambassador
Obagi has recently chosen Time Clinic to be an ambassador for their revolutionary skin products.  Founded in 1988, Obagi has brought together the best in scientific research to create professional-level skincare products that work with your skin as opposed to against it. 
Time Clinic will assess and recommend the exact Obagi product to improve and maintain beautifully radiant, healthy skin – from cleansers, toners, moisturisers and serums to the full prescription-only Obagi medical system.
More skincare brands at Time Clinic
iS Clinical Skincare is a medical-grade, clinically proven luxury brand. The iS Clinical range has been specially developed to comprehensively target a number of skin concerns, categorised to Cleanse, Treat, Hydrate and Protect.
Skinade is popular with our customers from around London and Essex. It is a multi award winning, collagen drink containing a formula of active ingredients which are designed to boost collagen and hyaluronic acid production within the body naturally.
AQ Skin Solutions Advanced Hair Complex is a non greasy hair loss treatment serum that is used to treat thinning or lost hair due to damaged hair follicles, or hardening of the scalp.
Chemical peels, South Woodford
At Time Clinic, we use only the professional grade recognised brands iS Clinical and Obagi. These are medical grade chemical peels which exfoliate and aggravate only the very topmost layer of the skin, leaving behind a more radiant, rejuvenated complexion, noticeably impacting early signs of ageing after just one application.
It is important that chemical peels are administered by a professional dermatologist, doctor, or skin health practitioner. If they are not correctly handled, applied or neutralised, they can cause serious side effects including burns and scarring.
Spider-vein treatment
Sclerotherapy is a non-invasive injectable treatment used to treat and eliminate thread veins and spider veins. Sclerotherapy is the gold standard treatment for thread and spider veins, and the preferred alternative where surgical intervention is not required or advised.
Aesthetic treatments South Woodford
Doctor Bawa focuses on gaining a complete understanding of his patient's expectations in order to deliver the best possible outcome. He is able to draw on a number of treatments and techniques when assembling a treatment package for patients in the South Woodford, Essex and London areas. In addition to the skin boosting treatments already covered, Time Clinic specialises in these procedures:
Anti wrinkle injections

: A popular treatment commonly used for reducing the appearance of fine lines and wrinkles.

Dermal fillers

: Designed to assist in restoring lost volume and give the face back its plump and lifted look, and for redefining facial features.

Non-surgical rhinoplasty

: Also known as the '15-minute nose job' this procedure improves the shape of the nose by using injectable fillers, without the need for surgery.

Sweat reduction treatment

: We treat the affected area such as under areas, palms of hands and feet using Botulinum Toxin injections (also used for wrinkle relaxing).  
To talk to us about any of these treatments and whether they are the right cosmetic procedure for you, book a consultation today.
Why Time Clinic is best locally
We have a range of treatments administered in a luxury setting in our clinic in Chigwell's David Lloyd health club, easily accessible for anyone in the South Woodford area.
We are affiliated with or accredited by some of the aesthetic industry's most trusted brands. And we have a Save Face accreditation, which means we are regulated – ensuring competence, standards and industry protocols are adhered to, always. 
Doctor Bawa's considerate bedside manner and warm caring persona underpins his knowledge and commitment to excellence. If you'd like to begin your journey to rejuvenated and refreshed skin with Time Clinic, book a consultation with Doctor Bawa via the contact form.