Time Clinic is proud to offer sclerotherapy in Chigwell (approved provider) at its Save Face approved clinic, for the treatment of thread and spider veins. We are an expert provider of sclerotherapy and highly rated with new and returning clients in Chigwell and from further afield.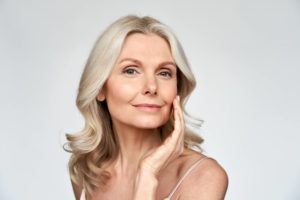 This effective and popular treatment is a trusted non-invasive solution to eliminate thread and spider veins. For more information or to visit one of our medical experts, please book a free no-obligation consultation.
You may also wish to contact us directly on +44 20 3795 906 or email the clinic at hello@time-clinic.com
What is Sclerotherapy?
Sclerotherapy is a cost-effective, quick and mostly painless treatment that improves the symptoms of thread veins. Treatment is trusted and proven, and what's more – it provides a permanent solution to the appearance of thread veins – once the vein has been treated effectively, it will not return.
Our sclerotherapy treatments in Chigwell are administered to a golden standard by experienced medical professionals and we pride ourselves on offering affordable and competitive services to our clients in Chigwell. This treatment is incredibly popular and Time Clinic boasts a wealth of satisfied customers, following outstanding results from sclerotherapy treatment.
How does Sclerotherapy work?
Sclerotherapy is a course of injectable liquid treatments, administered to the affected area. The injected sclerosis agent impacts the walls of the vein, causing it to block. Blood is then forced to flow through surrounding veins and eventually the thread or spider vein will close and disappear. 
Sclerotherapy treatments at Time Clinic in Chigwell are only administered by highly skilled medical professionals in a trusted and accredited clinic. The procedure is very safe when carried out by experts.
Why Time Clinic for Sclerotherapy Chigwell?
Time Clinic has a proven track record in delivering outstanding sclerotherapy results for Chigwell clients. Situated between Greater London and Essex, Time Clinic is within easy reach by road or rail, and has an excellent reputation as a clinic that offers excellent sclerotherapy treatment in Chigwell.  
Our clinic is Save Face approved, meaning it is highly regulated and monitored by governing authorities. Our Chigwell patients can be safe in the knowledge that sclerotherapy treatments are administered by skilled professionals with patient wellbeing and safety at their heart.
How long does Sclerotherapy take?
Sclerotherapy is a very quick procedure, treatment time usually takes less than 60 minutes. There is some downtime involved in order to fully recover after sclerotherapy treatment. We also advise that you wear compression socks for a couple of weeks after treatment, but all details can be discussed during your initial consultation. 
You should only need one course of sclerotherapy to effectively target spider and thread veins, again this can be assessed during consultation in o0ur Chigwell clinic.  
Patient Testimonials for Time Clinic, Chigwell
Take a look at our Patient Testimonials on YouTube, and book your free Sclerotherapy Consultation:
Please contact the clinic to book your consultation, email hello@time-clinic.com or call 0203 795 9063 to find out more about sclerotherapy Chigwell. 
About Time Clinic, Chigwell
The clinic is easily accessible to patients from across the capital and beyond, located in Chigwell – between Essex and Greater London. We have parking on site and can also be reached via the Central Line from London.
Our clinic is located in the David Lloyd complex in Chigwell. You can reach us on the Central Line of the London Underground, with a journey time of around 45 minutes between London and Chigwell. There is also parking on site.
Situated on the border between Essex and Greater London, Chigwell is conveniently located on the River Roding and served by Transport for London buses. 
Find us
Time Clinic
David Lloyds
Roding Lane
Buckhurst Hill
Chigwell
IG7 6BQ