Skin that looks tired or fatigued can leave us looking older than we actually are. If you're looking for a treatment that can help breathe new life into your skin, radiofrequency microneedling in Essex is a great option. 
Take your first steps to healthier-looking skin at Time Clinic. We are a team of qualified doctors and practitioners who help our patients achieve great results through microneedling treatment.
At our Essex skin clinic, we use Secret RF microneedling, which uses the power of radio frequency energy to provide full skin rejuvenation. In just a few treatments, you will see skin that looks younger, firmer and with fewer lines and wrinkles.
Contact our team to find out more about radio-frequency microneedling. You can reach us directly on +44 20 3795 9063 or email us at hello@time-clinic.com
What is Secret RF Radiofrequency?
Microneedling is a popular treatment that helps to give your skin an overall boost and improve its tone and texture. It can help tackle a number of skin concerns, including acne scars, pigmentation and stretch marks. 
The treatment works by using tiny needles to create micro injuries in your skin without causing damage to the skin's surface. By doing this, it triggers your body's natural healing process and encourages collagen and elastin production. This helps to plump and give your skin more shape.
Secret RF not only delivers the microneedling treatment, but adds something extra with radio frequency energy (rf energy). Why is this important? Well, the radio frequency energy travels to the deeper dermal layer of the skin to help rebuild your skin tissue and provides skin tightening benefits. The treatment works on all skin types and we can tailor it to treat your specific skin issues, giving your great results. 
Radiofrequency skin tightening
At some point, we will all start to see loose skin or sagging skin start to form on our faces and other areas of our bodies. Largely, skin laxity is a result of the natural process of ageing. However, there are other factors such as genetics, diet, stress and sun exposure that can affect your skin's ability to keep its strength and shape. 
This is where radiofrequency skin tightening can help. Safe levels of rf energy help to generate heat in the deeper layers of the skin. This stimulates skin cell turnover, while also triggering the production of new collagen and elastin. By treating your skin from within, after just a few treatments, you will see skin that is more firm, supple and has a healthy glow. 
By combining microneedling treatment with radio frequency, Secret RF helps you address the common signs of ageing. It also gives you the benefits of all-round skin rejuvenation. 
What are the other benefits of radiofrequency microneedling?
At Time Clinic in Essex, we use Secret RF to treat a number of skin conditions. You should consider this treatment if you want to:
      Reduce fine lines and wrinkles

      Tighten your skin 

      Minimise acne scars

      Treat stretch marks and other scars

      Improve your general skin tone and texture

      Target pigmentation such as sun spots or age spots
After just two treatments you will start to see noticeable results. However, to get the best results we do suggest that our patients have a course of 3-4 treatments. 
What happens after radio frequency microneedling?
After Secret RF microneedling, we will apply an ointment to your treated skin. This will help soothe and calm any potentially swelling or redness. This will usually go down within the first 24 hours. During this time, we also advise you not to wear any make-up to allow your skin to settle.
Choose the skincare experts in Essex
Time Clinic Skin Essex is a leading skin clinic in Essex, offering a range of aesthetic and medical treatments. From dermal fillers to microneedling, our team of trained professionals are passionate about providing the highest quality care to all our patients. Our goal is to provide you with the best treatment experience, so you can look and feel like the best version of yourself. 
From your first consultation through to treatment and aftercare, we will always put your health and wellbeing first. We provide you with clear and honest advice to help you find the right treatment for you. With a treatment plan tailored to your skin and skin care goals, you can be confident that you will see great results.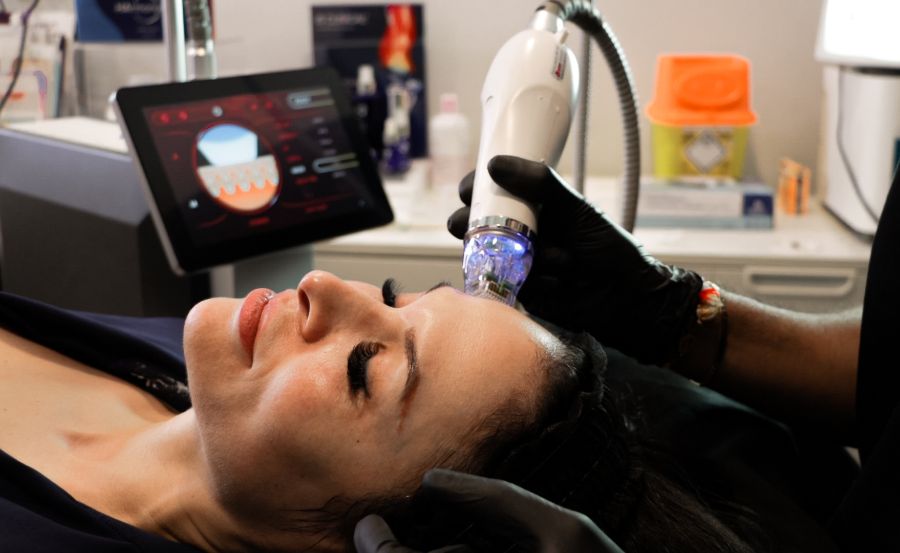 How to find us 
Time Clinic is easily accessed by road and rail. The most convenient route is via the Central Line on the London Underground which takes around 45 minutes.
We have plenty of parking spaces on site. The clinic is located within the David Lloyd
facility in Buckhurst Hill, Chigwell. 
Address
Time Clinic
David Lloyds
Roding Lane
Buckhurst Hill
Chigwell
IG7 6BQ
About Essex
Essex is a beautiful county set in the East of England on the estuary of the River Thames. It is home to some of the best countryside landscapes in the UK, including rolling hills and ancient forests. It is a popular place for people to live who commute into London for work, as it is well connected by road and rail.
The county also has a vibrant cultural scene, playing host to a number of different festivals and events every year. Besides this, Essex has a rich history linking back to the industrial age. Now, many visitors flock to the area to check out the likes of Colchester Castle and Audley End House and Gardens.