Are you looking for a treatment to help reduce the visible signs of ageing? Perhaps you suffer from scarring such as acne scars. Start your journey to smoother and brighter looking skin with Microneedling in Chigwell.
At Time clinic, we provide Secret RF microneedling treatment. It is different from traditional microneedling, in that it uses the power of radio frequency to give your skin the boost it needs. In as little as a 30-minute treatment, you will start to see skin that looks rejuvenated and fresher than before.
CLICK HERE AND BOOK A CONSULTATION
Ask how microneedling can help your skin concerns by contacting our expert team. You can reach us directly on +44 20 3795 9063 or email us at hello@time-clinic.com
What is Secret RF Microneedling treatment?
Secret RF helps to deliver fractional radio frequency to both the surface and deeper layers of your skin. This enables the treatment to rejuvenate and rebuild skin tissue. It also allows our team to customise the treatment to target your specific skin issues and help you achieve optimal results.
On top of this, it also uses the traditional microneedling technique of creating micro injuries without damaging the skin's surface. By doing this, it encourages your skin to start its natural healing process.
Combat the signs of ageing on your skin
As we age, it's natural for our skin to become hollow, less firm and to look more tired. This is because it takes our skin longer to recover from daily stressors and damage. This includes exposure to the sun and pollution amongst other factors.
Ageing also causes us to lose collagen and elastin in our skin. This is when we start to see our skin start to sag, become more fragile and wrinkles start to appear on different areas of your face.
The combination of microneedling with radio frequency treatment helps to plump your skin and reduce lines and wrinkles. How does it do this? By triggering the skin's natural healing process, it also encourages collagen production. This new collagen helps to strengthen your skin and give it a healthy glow.
What does Secret RF Microneedling treat?
The great thing about Secret RF Microneedling is that it can treat a variety of skin conditions and is suitable for all skin types. Below are just some of the benefits of this microneedling treatment:
·       Can help to smooth or reduce fine lines and wrinkles
·       Minimises various types of scarring including acne scars
·       Penetrates the deeper layers of your skin to help increase its firmness and flexibility
·       Improves skin tone and texture
When do you start to see results from microneedling?
An RF microneedling treatment session takes as little as 30 minutes to complete. This makes it easy to fit into your normal routine.
Some patients notice an improvement in the appearance of their skin after the first treatment. However, most patients will see the benefits of their treatment after the second session.
You will see the full benefits of your treatment up to three months after your last session of RF Microneedling.
We recommend that patients have 3-4 sessions of RF treatment to help them get the best results. During your consultation, our experts will help to create a bespoke treatment package that will address your skin concerns.
Why choose Time Clinic Medical Aesthetics and Wellness Chigwell?
From the moment you start your journey with Time Clinic in Chigwell, you'll feel comfortable and in safe hands. We help our patients achieve great results from their microneedling treatments. This is because we take the time to understand your needs and develop a tailored treatment package that will help you with your skincare goals.
We also specialise in a range of aesthetic treatments including dermal fillers and wrinkle relaxing tretaments. Why not see what our patients have to say about their treatments with us.
Our clinic has a Save Face accreditation, which demonstrates our commitment to upholding industry standards. It also shows our passion for putting each and every patient at the heart of everything we do. When you have a treatment with us at our Chigwell clinic, we want to make sure you leave us looking good and feeling good too.
How to find our clinic in Chigwell
Chigwell lies between the boarders of Essex and Greater London. Time Clinic is located within the David Lloyd facility in Buckhurst Hill, Chigwell.
We are easily accessible by road and rail. The most convenient route is via the Central Line on the London Underground which takes around 45 minutes. We have plenty of parking spaces available for patients on site.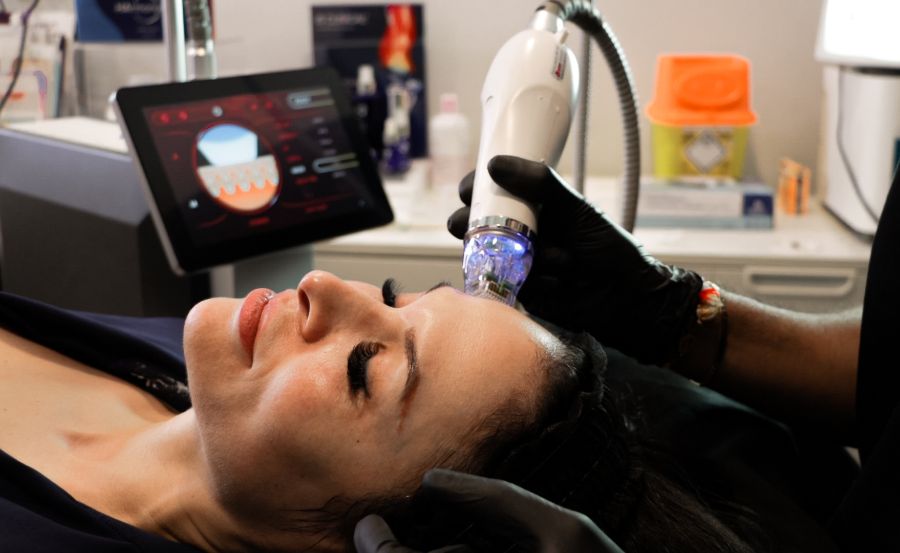 Address
Time Clinic
David Lloyds
Roding Lane
Buckhurst Hill
Chigwell
IG7 6BQ