There are numerous clinics and individuals offering lip fillers in East London, these with a range of experience and some very different levels of customer approval.
Why should you consider the Time Clinic? We believe there are a number of reasons that help us to stand apart.
Lip Fillers East London – Fully Approved
It may surprise you to learn that anyone can administer lip fillers – unlike in much of Europe, no legislation exists to stop people simply setting up and claiming they are suitably placed to perform this procedure.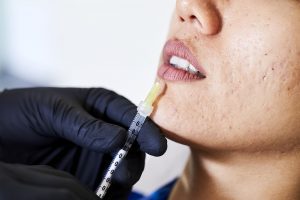 In time, hopefully, this will change but for now it creates a dangerous situation for anyone considering lip fillers. It is possible to find someone without qualifications, perhaps using untested gels at a knockdown price.
We would urge you that, whoever you end up choosing, please ensure they have experience and are Save Face registered. Your health is too important for you allow just anyone to start injecting your face.
Any clinic or individual who seems to be far cheaper than any approved clinic is likely to be using substandard gels. 
Once you have found clinics in East London with a proven track record, you will want to compare and contrast. Why consider our services?
The Time Clinic – East London's Leading Clinic For Injectables
Based in Buckhurst Hill with easy transport links to the wider community, we have the following benefits:
A five-star reputation. It is easy to talk of having a superb ethos and producing great results, but what do past customers say? Our verified, independent

reviews are five stars.

We produce results that are visible but natural-looking. The best cosmetic procedures always produce results that are visible to the patient, they boost appearance and with this self-esteem, but they do not give the appearance of obvious work having been done. Bad treatment is worse than no treatment.Please see the image gallery on our treatments page.
We are Save Face registered, (the national register accredited by Professional Standards Agency and recognised by the Government, Department of Health, NHS England and the Care Quality Commission). This ensures protocols are adhered to and the highest standards of care.In what is otherwise an unregulated field, ensuring you only use a Save Face registered clinic is your way of ensuring you get excellent results and the procedure is safe.
Our clinic is run by Dr, Manav Bawa, a true expert in the field of facial aesthetics. Dr Bawa is a member of the Royal College of Surgeons (MRCS) and the Royal College of General Practitioners (MRCGP).He also holds a postgraduate diploma in Surgical Sciences and a Masters in Surgical Education from Imperial College London.Finally, Dr. Bawa is an injectables trainer for a leading Harley Street academy and a trainer on behalf of the Royal College of GP's for minor surgery and joint injections coursesRather than entrusting an untrained practitioner or a clinic with limited experience, by entrusting Dr Bawa you get an unmatched level of skill and dedication.
This extra level of skill and experience does not come at great extra cost. We are competitive on prices. With the Time Clinic, you get the best results, but that is not to say they are also the most expensive results.
Lip Fillers – It Starts With A Consultation
We provide the same level of professionalism to lip fillers as would be given to a much more invasive cosmetic procedure and this start with a thorough, detailed consultation.
The consultation is the chance for the prospective patient to outline the appearance they want from lip fillers and the surgeon to detail the results possible.
For many, lip fillers are the first cosmetic procedure they have considered and we always take this into account – consultations are friendly, our manner reassuring and understanding. We are not looking to sell the procedure, instead to discuss requirements and check it is the right option.
You can get a sense of our customer care by watching the video below.
Next Steps
Located perfectly for all parts of East London, our clinic is in Buckhurst Hill, the full address
Time Clinic
David Lloyds
Roding Lane
Buckhurst Hill
Chigwell
IG7 6BQ
To discuss requirements for a consultation, whether in person or via video sharing, please call us on 0203 795 9063 or use our Contact Form.