If you're looking to enhance a weak jawline and achieve a more sculpted look, our jawline fillers in Essex are a great option.
At Time Clinic, we understand the importance that having a defined jawline can have on the symmetry of your face. That is why we customise our chin and jawline filler treatments to help enhance your natural features and give you the look you want. 
You will be in the capable hands of our team of medical professionals. We have years of experience in providing jaw filler treatments safely so that you achieve a natural-looking result. 
Our aim is to help improve your overall appearance so that you can feel more confident in your facial features. 
If you'd like to ask more questions about our jaw fillers, you can also contact our friendly team directly on +44 20 3795 9063 or email us at hello@time-clinic.com
What is jawline filler?
Jawline filler also known as dermal filler treatment helps to create more structure to an undefined jawline. This brings more symmetry to your facial contours and can give you a more youthful appearance. 
Dermal fillers can also plump and add volume to a weak chin to bring the chin forward and create more balance in the lower face. For this reason, we see a lot of patients who opt for both jawline and chin filler treatments.
On top of creating a more defined jawline, dermal fillers can also smooth out lines and wrinkles. This is because they consist of hyaluronic acid, which helps to plump your skin by giving it a boost of hydration. Hyaluronic acid has the ability to retain moisture in our skin and joints to keep them supple and flexible. 
What are the benefits of jawline filler treatment?
We treat both men and women with jawline filler. We can tailor the treatment to help you achieve the shape and structure you want to help frame your jawline and lower face. 
Usually, men opt for jaw fillers to create a stronger or more defined jawline. Whereas our female patients choose jaw filler to help gently contour their lower face. 
We will assess your jaw structure at your initial consultation and develop a bespoke treatment plan that will provide you with amazing-looking results.
Reasons to choose jawline fillers 
   

To create a strength to improve the definition of an undefined jawline

   

To reduce facial asymmetry and bring balance to the lower face

   

To combine with chin fillers to streamline the chin and jawline

   

Restore a more youthful look to the face 

   

To add volume and lift the jowl area

   

You will see immediate results with little downtime
What other areas can be treated with dermal filler in Essex?
At our skin clinic in Essex, we provide dermal filler treatment for the following areas of the face:
      Volumise lips

      Plump or shape cheeks

      Lift sagging jowls

      To reshape the nose (non-surgical rhinoplasty)

      To reduce dark circles and fill the under-eye area (tear trough fillers)

      To correct a weak chin (chin filler)

      To fill deep lines on the forehead

      To smooth out nasolabial folds (lines between the nose and lips)
Not sure if dermal fillers are right for you? Contact our clinic in Essex for advice from our team.
W
hat to expect during jawline dermal filler treatment in Essex
The first step of your jaw filler journey is to understand whether you are suitable for treatment. This is why we give every patient an in-depth consultation with our doctor or one of our aesthetic practitioners.
During your appointment, we will assess your jawline, look at your medical history and discuss what you are hoping to achieve from dermal filler treatment. We will also walk you through the treatment and answer any questions you might have. 
Your jawline filler treatment should take around 30 minutes to complete. When you arrive at the clinic, we ask that you have a clean face without make-up. 
Your doctor or practitioner will show you where the injection sites will be across your jawline before beginning the treatment. We use a very small needle to inject dermal fillers into the skin. 
You may feel a small scratch of the needle, but it is a relatively painless procedure. We do apply an anaesthetic cream (numbing cream) to the area to help keep the treatment as comfortable as possible. 
You will start to see results straight after your treatment. However, it can take two weeks for the final results to show and for the dermal fillers to settle. 
The experts in dermal fillers Essex
At Time Clinic, our patients' health and wellbeing always come first. We are passionate about using our expertise to provide you with a safe and comfortable treatment experience. We only use the highest quality dermal fillers to ensure that you see natural-looking results that last. 
We are a Save Face accredited practice, which means that all of our treatments are regulated to meet industry standards.  This shows that we understand how to inject dermal fillers correctly. It also means that you will not risk any negative side effects that can arise from choosing a non-qualified injector.
Our team is also on hand to provide you with full aftercare so that you have peace of mind that you can contact us at any point after your dermal filler treatment.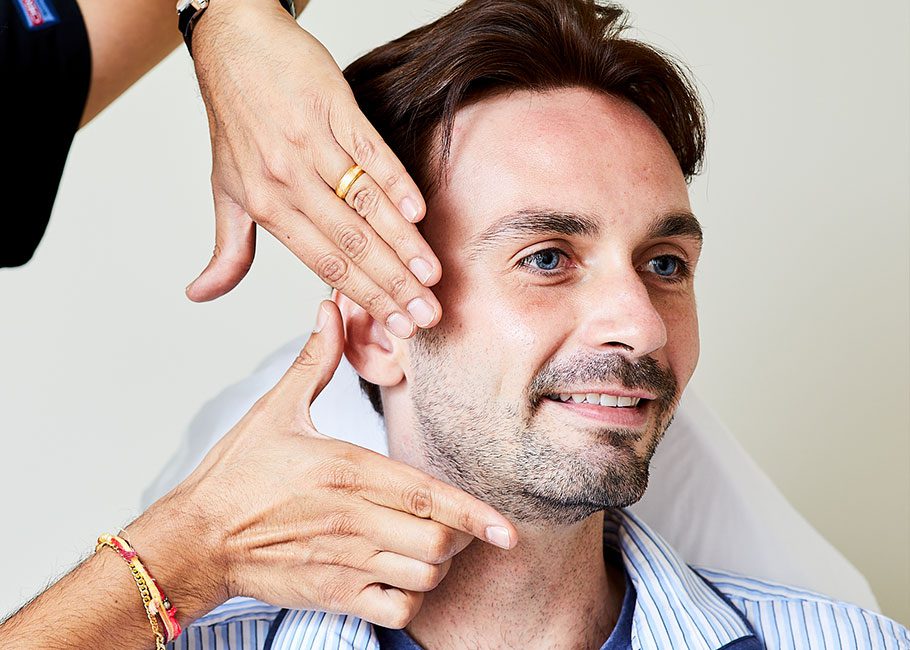 How to find our Essex clinic
Time Clinic is easily reached by road or rail, most conveniently via the Central Line on the London Underground – with a journey time of around 45 minutes.
We have ample parking on site. The clinic is located within the David Lloyd facility in Buckhurst Hill, Chigwell. 
Address
Time Clinic
David Lloyds
Roding Lane
Buckhurst Hill
Chigwell
IG7 6BQ
About Essex
Essex is located in the East of England. It is known for its rich history, beautiful landscapes and bustling communities. With a population of over 1.8 million people, it is a diverse place to live and visit. 
Essex is home to several historic sites that showcase its past. The city of Colchester boasts an impressive Roman heritage, with landmarks like Colchester Castle and the Roman Walls. If you want to look at medieval architecture, then Hedingham Castle will be sure to please any history buff.