Dermal Fillers are available near Loughton through Time Clinic – a local clinic with expertise and a reputation for quality that is unsurpassed.
We are based in Buckhurst Hill, just a few miles away, but making the short journey from Loughton is well worth it as Time Clinic has a number of key advantages regarding the application of Dermal Fillers.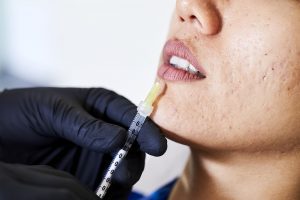 These fillers are of course hugely popular and suitable for almost all, but that is not to say that all clinics and practitioners are equal. Time Clinic has the expertise to produce results that are natural looking yet also make a profound change, this all done with safety and customer care to the fore.
Consider Time Clinic for dermal fillers in Loughton because:
We have a superb reputation as shown by

independent, verified reviews

– our rating is an unblemished five stars. This demonstrates that, without exception, those seeking dermal fillers have always been delighted with the results and service received
We apply the high standards you would associate with cosmetic surgery to dermal fillers. By this we mean we hold detailed consultations and take the time to check that they are the right option for any prospective client. We would also advise those who are pregnant or undergoing IVF that it can be best to avoid these fillers.We also outline the results achievable
We have Save Face registration, this the register accredited by Professional Standards Agency and recognised by the Government, Department of Health, NHS England and the Care Quality Commission.This accreditation ensures protocols are followed and that any patient is assured of the highest standards of care. Please, whoever you end up choosing for dermal fillers, take the time to check they are Save Face registered.
Results achieved through dermal fillers are natural looking, yet beneficial. Less skilled practitioners can either produce results that have no discernible benefit or those that give the clear look of a person who 'has had work done'.
We have a true expert in the field of facial aesthetics running our clinic. Dr Manav Bawa has a CV that compares with the best in London or the UK – he holds a postgraduate diploma in Surgical Sciences at the

 

University of Edinburgh and a Masters in Surgical Education at Imperial College, London. He is also an injectables trainer for a Harley Street clinic and a trainer for the Royal College of GP's for minor surgery and joint injections courses.
We use only the highest quality injectables – these ones that are proven to be effective and safe. If a clinic is significantly cheaper it may be because the quality of injectable used is not of this high quality.
We remain highly competitive on price, opting for our level of quality does not mean having to spend much more.
Why Consider Dermal Fillers in Loughton?
It might be that you are unsure whether dermal fillers are for you. In a detailed consultation we could discuss this, an honest conversation enabling you to learn the results achievable.
In general terms however dermal fillers are suitable for a huge percentage of the population. They are an injectable that are regarded as safe and one that can be administered quickly – there is also little if any downtime, typically just some initial swelling that quickly returns to normal.
As we age, we all shows signs that we are no longer in the first stages of youth – wrinkles appear, smoothness can be lost. Dermal fillers can tackle this as well as other areas such as thin lips, improvements to the jaw line, enhancing the cheeks and far more besides.
There is little if any discomfort during treatment, the area is numbed and Hyaluronic Acid – a substance that already occurs naturally in the body – is injected. It is this injection that leads to the skin becoming firmer and tighter, one of the skills of the practitioner is in delivering just the right amount in the optimal area.
Treatment can be genuinely relaxing and is certainly not uncomfortable. We know that any treatment can be somewhat nerve-wracking, especially if this is the first time you have considered dermal fillers. We put all patients at ease, please watch the videos below to get a sense of the Time Clinic experience.
Located perfectly for Loughton, our clinic is in Buckhurst Hill, the full address
Time Clinic
David Lloyds
Roding Lane
Buckhurst Hill
Chigwell
IG7 6BQ
Please try in touch for an initial consultation or to discuss your requirements from dermal fillers.
Call us on 0203 795 9063 or use our Contact Form.
About Loughton:
Loughton is a town and civil parish in the Epping Forest district. The town is around 11 miles from central London and has excellent transport links to the capital via road, rail and underground.
The earliest mention or sign of Loughton, if not by its current name, was around 500 BC, an Iron Age fort found from this period, though it was only discovered in 1872 having become hidden by thick undergrowth.
The first reference to the modern day site in written form came in 1062 in the charter from Edward the Confessor.
Loughton, or the settlement that would become Loughton, remained a small village for centuries only growing in size when a high road was extended through the forest in the 17th century.
Steady growth, driven largely through ever better transport links saw Loughton develop to its current standing as a town of more than 31,000 residents as of the 2011 census.
There have been a number of notable people who were either born in Loughton or are associated with the town. These include Harry Kane, Ron Greenwood, Matt Johnson (frontman of The The) and Sidney Godley – the first private soldier to be awarded the Victoria Cross during the Great War.