If you are looking for dermal fillers near Buckhurst Hill please take two minutes to find out why the Time Clinic stands apart, with a reputation and level of customer service that are unmatched.
Based right here in Buckhurst Hill, just a couple of minutes away, we are true experts in facial aesthetics with a quality of both care and result that are the equal of any available in London and beyond.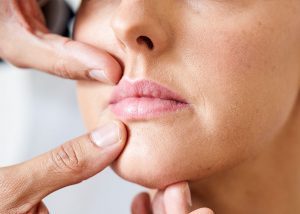 And, while it is easy to talk of producing superb results, our claims are backed by verified independent reviews – we have universal five star reviews. 
This demonstrates that, without exception, every patient has been delighted with both their dermal fillers and also the level of care and professionalism on offer.
Dermal fillers are of course hugely popular in Buckhurst Hill and beyond and we are far from being the only local clinic who can administer them. We do, though, have several key advantages.
Dermal Fillers Buckhurst Hill – About Time Clinic
We apply the high standards you would associate with cosmetic surgery to dermal fillers. This means that we hold detailed consultations and outline the results achievable, we also advise when these fillers might not be suitable, for instance for those that are pregnant or undergoing IVF treatment.We want everyone who considers dermal fillers to be happy with the results that are possible and to be fully informed about the process.
We are Save Face accredited – this is the register accredited by Professional Standards Agency and recognised by the Government, Department of Health, NHS England and the Care Quality Commission.Only with clinics that have this registration can you be certain that the highest standards are adhered to – we would recommend that you ensure that whoever you choose has this level of certification.
Our clinic is run by a true expert in the field of facial aesthetics. Rr Manav Bawa's CV doesn't just stand apart compared to others in Buckhurst Hill, it stands comparison with any in London or the UK. Dr Bawa holds a postgraduate diploma in Surgical Sciences at the

 

University of Edinburgh and a Masters in Surgical Education at Imperial College, London.His expertise has also seen him selected as an injectables trainer for a Harley Street clinic and he is a trainer for the Royal College of GP's for minor surgery and joint injections courses.
In keeping with this reputation for excellence, Time Clinic only uses top quality injectables, those that are proven to deliver superb results in a safe manner.
The results we achieve are beneficial but also natural looking. The skill with dermal fillers is to get the level just right, an inexperienced or unskilled practitioner can easily create results that have no discernible benefit or, worse still, those that make it all too obvious that a procedure has been undertaken.
Despite these advantages we remain competitive on price and compare well to any other clinic around Buckhurst Hill. It is worth noting that any clinic that is significantly cheaper may well not be using injectables of the same high standard.
Why Consider Dermal Fillers in Buckhurst Hill?
Dermal fillers are hugely popular because they are superb at helping to remove signs of ageing such as wrinkles and lines and loss of smoothness and also address other common aesthetic concerns.
Dermal fillers can address thin lips, help to create an improved jaw line, enhance the corner of the mouth and more besides.
They are a treatment that is quick to administer, without pain and also lead to only minimal swelling that quickly recedes.
Dermal fillers can also be used in stages, many have an initial treatment and then, having seen the impact of that, choose to have further fillers in future.
Using Hyaluronic Acid, a substance that occurs naturally in the body dermal fillers are safe, they are also an affordable option that produces almost instantaneous results.
The treatment itself can be quite relaxing, it is a short period during which you can relax as the fillers are injected. At Time Clinic, we pride ourselves on ensuring all patients are made to feel as calm and relaxed as possible, we appreciate that for many, perhaps especially when opting for a first treatment, there can be a degree of uncertainty.
In the videos below, you can the honest opinions of people who have used Time Clinic – this including those who were new to having any form of injectable or facial aesthetic procedure.
Located perfectly, our clinic is in Buckhurst Hill, the full address
Time Clinic
David Lloyds
Roding Lane
Buckhurst Hill
Chigwell
IG7 6BQ
Please try in touch for an initial consultation or to discuss your requirements from dermal fillers.
Call us on 0203 795 9063 or use our Contact Form.
About Buckhurst Hill
Buckhurst Hill is a town in the Epping Forest district of Essex with a population of just over 11,000 as of the 2011 census.
The first mention of Buckhurst Hill was as 'La Bocherste' in 1135, that then becoming 'Bucket Hill' which at the time meant a hill covered with beech trees.
Buckhurst Hill remained a relatively small settlement until the arrival of the railway, this then leading to rapid growth. Buckhurst Hill station opened in 1856 and by 1871 almost 600 houses had been built near to the station.
Steady growth continued, in recent times this also helped by local access to underground stations, with both Buckhurst Hill and Roding Valley serving the town.
Notable residents past and present include Jack Straw, the former labour politician was born in Buckhurst Hill. Dick Turpin also moved to Buckhurst Hill in 1725.