Has your skin started to show signs of ageing such as lines and wrinkles? Would you like to reduce the appearance of scarring or stretch marks? It's time to consider collagen induction therapy in Essex.
At Time Clinic, our skin experts have years of experience in providing aesthetic and skincare solutions. This includes the Secret RF microneedling treatment, which uses radio frequency to rejuvenate your skin at a deeper level. As a result, you will see skin that looks younger, smoother and more radiant than before. 
To find out more contact our clinic in Essex. You can reach us directly on +44 20 3795 9063 or email us at hello@time-clinic.com
What is collagen induction therapy?
You may have heard of the term microneedling or skin needling, but did you know this is also called collagen induction therapy? This is because it is a non-invasive skin treatment that helps to stimulate elastin and collagen production deep below the surface of the skin. 
As a result of new collagen and elastin forming, your skin starts to look more plump, fresh and youthful looking.
How does it work?
Microneedling treatment uses a dermal pen that has tiny needles which create microscopic channels in the skin. This helps to break up old collagen and encourage the formation of new collagen. It also encourages your skin's natural healing process. 
At Time Clinic in Essex, we provide Secret RF microneedling treatment. This combines traditional micro-needling with radiofrequency, which helps to target the deeper layers of your skin. This not only boosts your results but also gives you full skin rejuvenation. 
In as little as a 30-minute treatment, you will start to see youthful skin that glows. Unlike laser treatments, which can be harsher on sensitive skin and are not suitable for all skin types, Secret RF works for all skin tones and types. 
Five benefits of collagen induction therapy
Micro-needling or collagen induction therapy has a number of benefits and helps to tackle various skin concerns including:
  Skin stimulates new collagen 
As stated in the name, microneedling treatment helps to boost the collagen levels in your skin. As we age, our collagen levels decrease, which is why we start to see skin laxity and sagging skin. 
By stimulating new collagen, this treatment helps to target these visible signs of ageing. With regular microneedling sessions, you will see a more youthful appearance and radiant complexion. 
2.
Reduces fine lines and wrinkles
Another sign of ageing skin is the appearance of lines and wrinkles. This treatment works to reduce these by stimulating the production of new skin cells, as well as elastin and collagen. This helps to plump and smooth your skin, tackling crow's feet, forehead lines and frown lines. 
3.
Helps to fade acne scars and stretch marks 
It can be difficult to find the right treatment to help remove or reduce the appearance of stretch marks and acne scarring. With a course of microneedling treatments, you will start to see your scar tissue including acne scars and stretch marks fade. This is because the new collagen helps damaged skin heal, while also plumping and making your skin look smoother.  
Microneedling does not help treat active acne, as it does not kill the acne-causing bacteria. It can in fact, cause the bacteria to spread through the micro channels, leading to further outbreaks.
4.
Treats sun-damaged skin
Too much direct sun exposure can result in sun damage to your skin. Secret RF can help to treat the signs of sun damage including age spots and hyperpigmentation. Stimulating collagen production and skin cell renewal can effectively fade sun spots and brown spots and actively reverse the signs of ageing.
5.
Helps your skin care products work smarter
Microneedling helps to kick-start the skin healing process and reveal healthier, new skin cells. This allows the active ingredients in your products to absorb more easily into your skin, making them work smarter and helping you get the most out of them.
How many treatments do I need to see results?
It will depend on what skin concern you are looking to tackle with this treatment. Acne scarring and stretch marks will take more than one microneedling session to treat. If you are looking to freshen dull skin and shrink enlarged pores, one or two sessions may be enough. 
Many of our patients do notice an improvement in their skin tone and texture after their first treatment. However, you continue to see more benefits after your second and third treatments of Secret RF.
During your consultation, one of our doctors or practitioners will assess your skin and develop a treatment plan that will help you get the best results. We do suggest that you have at least three sessions of Secret RF to help tackle your skin issues. 
Why choose Time Clinic in Essex for Collagen induction therapy?
Our patients' health and wellbeing are at the forefront of everything we do at Time Clinic in Essex. We work with you to get to know you and understand your skin concerns and skin care needs.  
Every patient has in-depth consultation with a member of our expert team. This is where we will walk you through how microneedling and radio frequency works and show you some of the results we have helped other patients achieve. 
Our aim is to help you look good on the outside and feel good on the inside. We always provide clear and honest information on our treatments, so that you can make the decision that is right for you.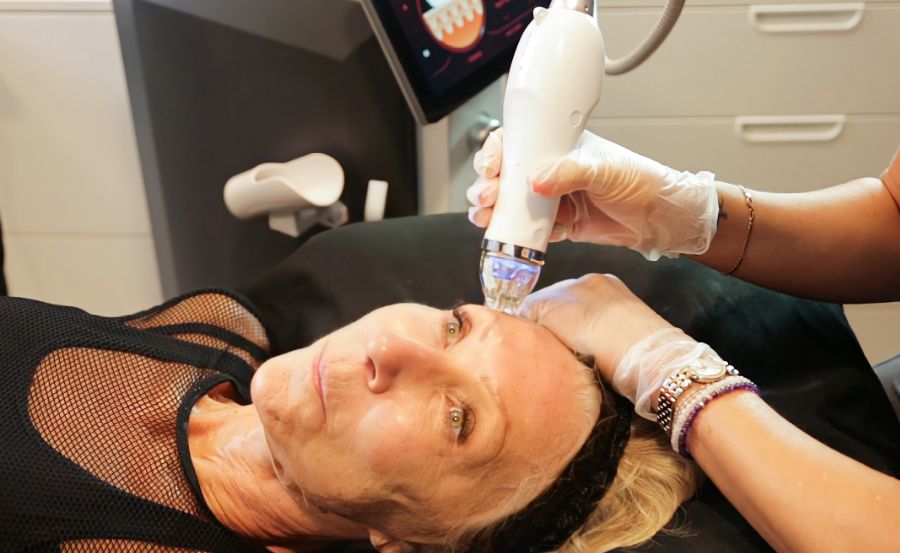 Our Essex clinic 
You can reach us easily by rail on the Central Line, which only takes 45 minutes from London. 
We have plenty of parking spaces on site. The clinic is located within the David Lloyd
facility in Buckhurst Hill, Chigwell.
Address
Time Clinic
David Lloyds
Roding Lane
Buckhurst Hill
Chigwell
IG7 6BQ
About Essex
Essex, located in the southeast of England, is a county known for its rich history and beautiful landscapes. The county has a number of famous landmarks including Colchester Castle and Chelmsford Cathedral. Tourists also come to visit the remains of Roman settlements such as the Colchester Roman Wall.
Essex has excellent transport links to London and other parts of the country. This includes connections by rail and the convenience of travelling by road via the M25 motorway.