Botox, also known by the full name Botulinum Toxin, is a treatment available to Chingford residents that can potentially have a profound impact. You can access leading, anti-ageing injections at the nearby award-winning and Save Face registered Time Clinic, one of the leading clinics not just in the region but the entire UK.
Quick to administer and pain free, Botulinum Toxin can address visible signs of ageing, producing results that are profound but also natural looking without the obvious look of 'work having been done'.
However, injectables including Botulinum Toxin are generally under regulated and so care shouldn't be taken when choosing a clinic close to Chingford. Please always only use a practice with Save Face accreditation.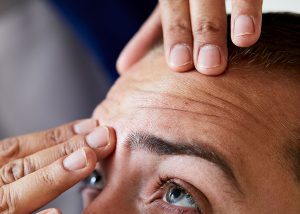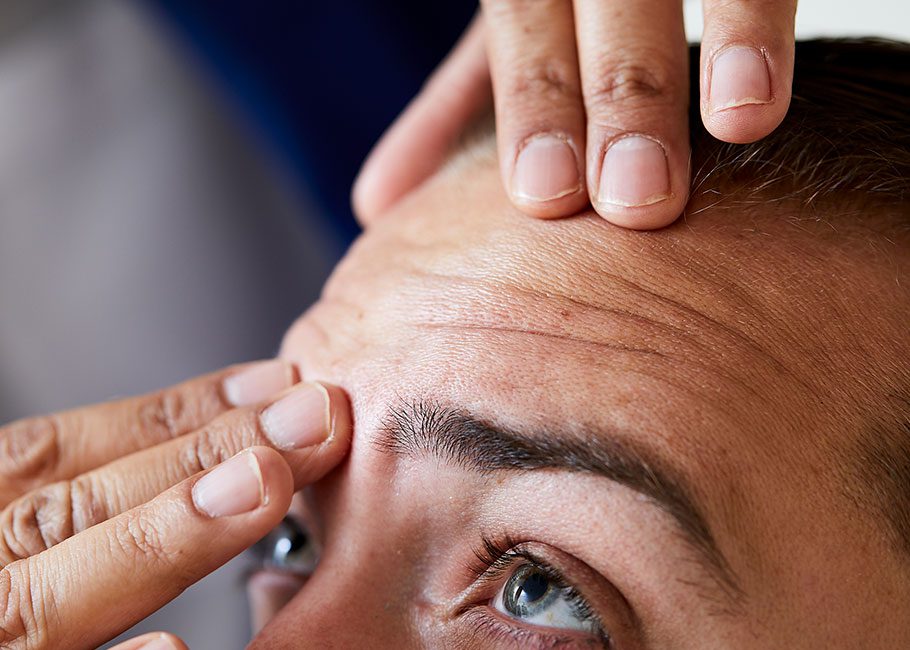 Anyone in Chingford should feel reassured that the award-winning Dr Manav Bawa's clinic is nearby. Dr. Bawa is one of the UK's leading practitioners, has full medical training and is even a trainer for other healthcare practitioners in Botox and dermal fillers.
Dr. Bawa and the Time Clinic have universally five-star reviews and he is entrusted by the Royal College of GPs to instruct in minor surgery.
The Uses for Botulinum Toxin
Clients chose Botox because of its wonderful ability to address signs of ageing that are caused as the face moves.
Ageing comes to us all and there are multiple causes, one is that linear that appear as we change expression become ever-more visible.
Botox addresses these, it works by blocking the nerve signal to the muscles that cause the contractions – and lines. 
Botulinum Toxin is a suitable treatment for:
Frown lines
Forehead lines
Lip lines
Crows feet (wrinkles around the eyes)
Slimming the jawline

 

Lifting heavy eyebrows and sagging eyelids
Downturned mouth (sad look)
Dimpling chin
Botox can also be a treatment for tackling excessive sweating such as under the arms of the forehead. A further use can be in combatting chronic headaches and also helping to reduce jaw clenching and grinding teeth and reducing the gummy smile.
When used for anti-ageing – and this is the most common usage – Botox may be combined with other treatments such as dermal fillers or skin peels.
Using treatments in combination can have a truly transformative impact, creating the look of a full, deep plane facelift but with none of the expense, invasive surgery or lengthy recovery period.
Skillful application ensures the results appear natural, without the look of a frozen face, lines and signs of ageing minimised, but the person still looking natural – a great version of themselves. 
What Is Botulinum Toxin
Botox is a form of injectable and is often confused with dermal fillers, although the two are quite different.
As mentioned, Botox works by blocking specific nerve signals to muscles. The skill of the practitioner is therefore crucial – targeting just the right nerves and ensuring the right amount of Botox is applied, ensuring results that have an impact but also are not vastly over the top.
Botox works on lines and signs of ageing that appear dynamically, as we change expression or move our face, for instance lines on the forehead, around the eyes or the mouth.
Dermal fillers meanwhile, as the name implies, fill in deep lines or scarring such as acne scarring. The fillers can also be used for addressing an issue such as a 'weak jawline'.
Botox and facial fillers are often used in conjunction ad they address different signs of ageing, thus ensuring that a client does not have some aspects of ageing tackled but not others.
The client however does not need to be an expert on which treatment should be used for which sign of ageing, this is where a consultation is key. This is a chance to discuss the areas that you would like to have addressed and the expert to suggest the best course of action.
Stunning Results with Botulinum Toxin
Superb results are possible – this if you choose a leading clinic with ave Face accreditation and a proven track record.
At Time Clinic, we produce results that are natural yet make a difference – we want the client to look younger, rejuvenated, healthy and refreshed, but still like themselves.
The reaction of friends and family will 'wow! You look great' and not 'oh, have you had work done?'
The Importance of a Consultation
It is possible to simply turn pop with some and have injections there and then – but without a consultation first how can there be any certainty that the results will be as the client hoped for?
Applying high standards means treating facial aesthetics with the same care as would be applied to any other treatment and this extends to ensuring that the service offered will deliver the results the client is hoping for.
The consultation is a chance to discuss what you are looking to address and the expert to them make a recommendation – it might be that botox alone is suitable, our that a combination of treatments might produce the profound change sought.
It is key to work in partnership. Often, the person visiting us will have an idea that they wish too target signs of ageing but not be certain how this should be achieved, or they may have a preconception that might need polite reexamining. 
Dr. Bawa works with people to ensure the procedures they have, including Botox, deliver the results sought.
The process is not simply picking from a menu of available treatments, instead it is finding a way for the results desired to be achieved.
Why Consider Time Clinic for Botulinum Toxin?
A Five-Star Reputation
Our verified, independent reviews are universally five stars, the testimonials a clear indication as to our levels of patient care.
Award winning
Time Clinic were proud recipients of the Best Medical Aesthetic Clinic – London award
We are fully approved
We are Save Face registered, this is hugely important in a generally under-regulated field, and Dr Manav Bawa is also a local GMC registered GP, to add further reassurance.
Save Face is your assurance that any clinic has the level of skill and experience you would want of someone using injectables.
Treatments By An Expert
Our award winning nearby South Woodford clinic is run by Dr. Manav Bawa, a leading expert in facial aesthetics in the UK. 
Dr. Bawa is a member of the Royal College of Surgeons (MRCS) and the Royal College of General Practitioners (MRCGP), and holds a postgraduate diploma in Surgical Sciences and a Masters in Surgical Education from Imperial College London.
Dr Bawa also has a Postgraduate Diploma in Aesthetic Medicine.
Further indicating his expertise, Dr. Bawa is a trainer for minor surgery and joint injections courses for the Royal College of GPs and also provides the training for a leading Harley Street clinic.
Botox that is Affordable
We are open with all our prices making it easy to compare us to any other clinic.
The cost will vary depending on the amount of treatment opted for, but Botox can cost under £200 for a treatment at Time Clinic at the time of writing. 
Next Steps
Located handily for Chingford, we are easily reached in Buckhurst Hill, our full location.
Time Clinic
David Lloyds
Roding Lane
Buckhurst Hill
Chigwell
IG7 6BQ
To discuss requirements for a consultation, whether in person or via video sharing, please call us on 0203 795 9063 or use our Contact Form.
About Chingford
Chingford's name is believed to derive from the term 'King's River' – and the area was first referenced in the Domesday Book of 1086.
Chingford has a number of notable landmarks, these including Queen Elizabeth's Hunting Lodge, All Saints' Church and the Pole Hill Obelisk.
However, it is perhaps the remarkable list of residents and those born in Chingford that is most worthy of record.
For an area with a relatively small population, a staggering range of important people are associated with Chingford. These include.
Sir Winston Churchill
Harry Kane
David Beckham
Michael Nyman
Alan Davies
Iain Duncan Smith
Teddy Sheringham
Leslie Phillips
and, perhaps less a cause for celebration, the Kray Twins.