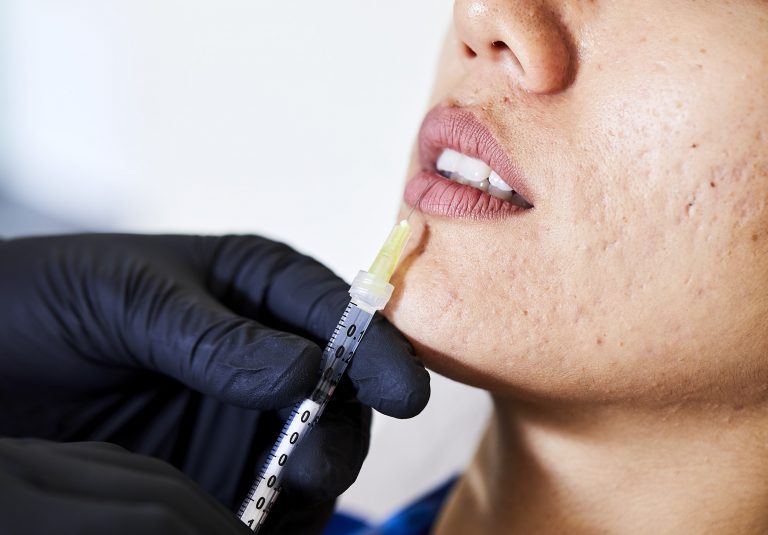 Lip filler has become the latest popular treatment to subtly change your appearance in just one short appointment. Whether through a friend, colleague, or media personality you follow closely, you've come in contact with dermal fillers. You've heard of them and seen their results, but how much else do you really know about the treatment? We're going to shed some light on the answers you need before booking your lip filler treatment so you're comfortable and confident in your treatment journey.
What is lip filler made of?
The beauty industry today is full of products touting natural ingredients and honest labels with their content scribed openly. We're much more aware of what we're putting into and onto our skin, which can only be a good thing! Making sure of these things is paramount to your safety and obtaining beautiful results. Dermal fillers are a gel-like substance that closely resembles hyaluronic acid, a natural sugar that occurs in the body. This sugar is essential to skin hydration, laxity, and volume, which is how dermal fillers achieve their natural-looking effects. Because this gel so closely mirrors a natural skin component, the treatment is completely safe when performed by a trained professional and there are only very slight side effects.
What kind of results are you seeking?
If you can pinpoint your exact concerns with regards to your lips, this will make it far easier to speak openly with your practitioner. Are you seeking natural-looking and subtle results for a little lip refreshment, or are you seeking a more glamorous and fuller pout? Coming to your consultation and treatment with a good idea of what you'd like to see change in your lips helps your practitioner understand your needs and desired results. It also gives them an opportunity to suggest a different approach. You might think you need more dermal filler in your lips to enhance them, when actually the placement of the dermal filler will make all of the difference, for example. When you have an idea of what you'd like to see in your lips, we can help create a personalised treatment journey that is the best for you.
Who is performing your lip filler treatment?
Always find someone you trust to perform your treatment, and make sure they are a medical professional with the appropriate aesthetic training.As a medical doctor and recognised aesthetic practitioner, Dr Bawa provides safe and effective treatments for all of his clients. Take your time to acquaint yourself with the clinic and practitioner who will be performing your treatment. At your initial consultation, ask any and all burning questions you have so that you can receive the answers you need to feel comfortable. Consider how much experience your practitioner has and overall how they make you feel. When you feel comfortable, book your appointment!
Will there be side effects?
A consideration to bear in mind is that there will be some side effects following your lip filler treatment, though these differ in severity between clients. Some people experience very minor side effects, while some may see them a little more than others. Some minor bruising at the injection site, swelling, and tenderness is expected in some degree for most patients, though not everyone experiences all three symptoms in the same measure or indeed at all. These side effects should recede after 2-3 days post-treatment and are entirely normal. A cold compress or ice pack can be used to control the swelling and avoiding alcohol for 48 hours either side of the treatment will help to minimise the risk of bruising.
Book your lip filler consultation with Dr Bawa in South Woodford today to receive confidential and compassionate advice on your treatment. Enquire online or get in touch on +44 (0)20 3795 9063 today.
Back to blog