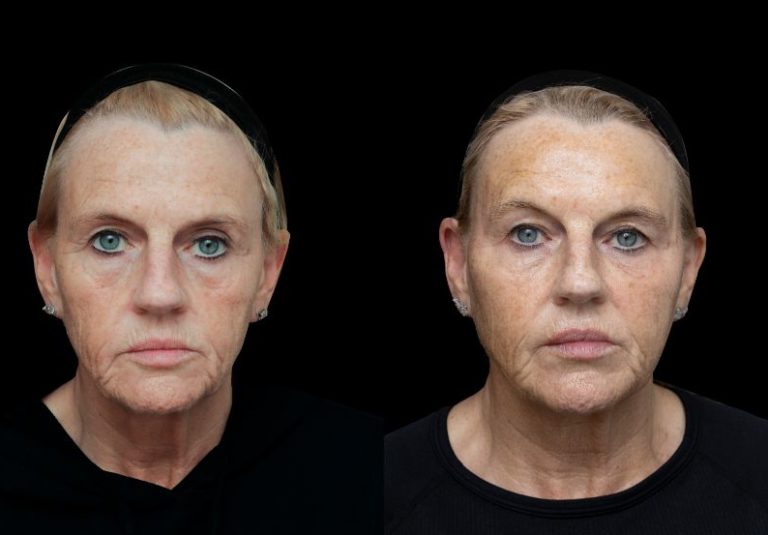 Over the past year, Dr Manav has been treating 56-year-old Lisa whose self-esteem was at an all-time low. With her permission, here he shares her inspiring journey to looking and feeling better…
The impact of ageing
It's not unusual for many women to feel they look tired and gaunt as they get older. The collagen and fat pads in our face that keep our skin looking tight and plump are in decline, meaning wrinkles and sagging are inevitable.
Couple this with big life changes such as menopause, children leaving home or relationship breakdowns, and the impact can have a huge impact on your self-esteem and confidence.
Losing confidence
This was the case for our lovely patient Lisa, who originally came to see us a year ago. At 54-years-old, she'd been really unhappy with the appearance of her face for the past three to four years. Splitting from her partner of 10 years, having to sell her house and seeing him move on with a younger woman had left her feeling even worse.
Lisa explained that despite how well she dressed or did her make-up, she was constantly worried that people thought she looked old and saggy.
Gradual and effective results
Fast forward 11 months and Lisa's life has been transformed. After undergoing a series of subtle yet effective injectable and skincare treatments, her wrinkles have been reduced, while her skin looks naturally smoother, brighter, and more volumised.
Lisa says she no longer talks to people with her hands over her face, close friends and people she's not seen for a while regularly comment on how well she looks, while she's even received compliments on her skin quality from her mum – who's never usually that forthcoming!
Settled into a new home, Lisa has her confidence back and is delighted with how she now looks. She told me, "You've achieved exactly what I wanted – to look as I did five years ago, so thank you."
Prioritising your individual needs
As we did with Lisa, here at Time Clinic, we really listen to your journey and emotional drivers for seeking treatment. This helps us to tailor treatment to suit your lifestyle, timescale, budget and goals.
Our aim is always to restore confidence and make all our patients feel like the best version of themselves!
Back to blog