Treatments
Polynucleotide Skin Biostimulation Treatment
Polynucleotide Treatment in Chigwell, East London
Polynucleotides are the latest innovation in medical aesthetics that emerged as biostimulators that work on a cellular level to repair tissue and boost skin quality.
At Time Clinic, we use Polynucleotide injections for skin rejuvenation, reducing fine lines and wrinkles, improving skin elasticity, and treating scars. The treatment encourages the skin to produce more collagen and elastin, leading to firmer and more youthful skin.
How Does Polynucleotide Skin Biostimulation Treatment Work?
When introduced into the targeted area, polynucleotide targets fibroblasts, which are the cells responsible for producing the connective tissue, collagen and elastin that influence our skin quality. As we age, the function of fibroblasts declines, meaning less collagen and elastin are produced. On the outside, this presents as aged and damaged skin.
When the polynucleotides reach the fibroblasts, they are able to renew them. This means collagen production gets started again, so we see significant improvements in skin quality.
Dr Bawa Explains Polynuecloetides. Click Here to Watch.
Book a Consultation
At a glance
Treatment Time
30 - 60 minutes
Treatment Anaesthesia
Topical Numbing Cream
Treatment Frequency
Course of 3
Treatment Results
Reduction of Fine Lines and Wrinkles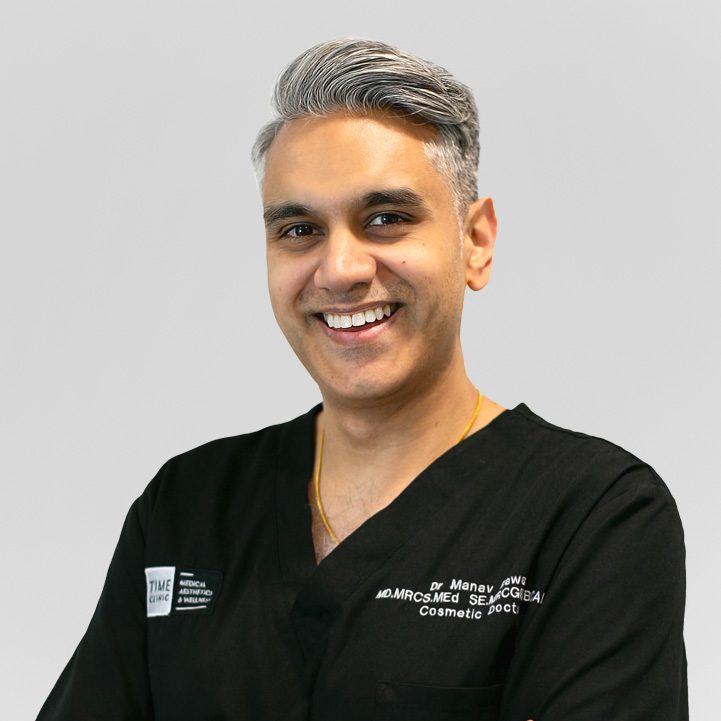 Treatment
Frequently asked questions
How is Polynucleotide Skin Biostimulation Injection Administered?
Polynucleotide treatment will be administered by one of the medical experts at Time Clinic. During the treatment, polynucleotide solution is injected into the desired area using very fine needles. The depth and pattern of the injections can vary based on the specific treatment goals.
What should I expect after the treatment?
You can expect smoother, firmer, brighter-looking skin that's more even in tone and texture. For the best results, we always recommend a course of three to four treatments spaced a few weeks apart.
Is Polynucleotide Skin Biostimulation Treatment Painful?
Polynucleotide treatment involves injections, so the experience can be likened to other injectable procedures. The level of discomfort varies from person to person, but many patients describe the sensation as a slight pinch or sting during the injection. Based on patient preferences, the Time Clinic specialist can apply topical numbing cream to minimise any discomfort.
Am I suitable for Polynucleotide Treatment?
Most people will be suitable for polynucleotide treatment treatment. However, if you are pregnant, breast-feeding or receiving IVF treatment, it may not be advisable to undergo this procedure. This will be determined at your consultation.
Are there any side effects or risks from Polynucleotide Treatment?
Polynucleotide treatments are generally considered safe when administered by trained professionals. As with any treatment, there are potential side effects, which might include pain at the injection site, bruising, swelling, and allergic reactions. It's always essential to consult with a qualified healthcare provider before considering such treatments.
How much downtime is usually needed after Polynucleotide Treatment?
After the treatment, the patient might experience some redness, swelling, or bruising, which usually subsides within a week or two.
Testimonials
What our patients say...
I can't rate Dr Bawa highly enough. He is exceptionally skilled and you always know that you are in the safest of hands, not only because of his impressive medical background but because of the time and care he takes to listen and respond to your individual needs. Not only that he is a truly lovely and genuine person. I would not hesitate in highly recommending him.
Adele
Excellent all round I couldn't recommend him more. You feel in expert hands with no pressure and a fabulous eye for exactly what you want. An artist at work….as well as an experience medical practitioner. Huge thanks !
Cal
Dr Bawa is very passionate about what he does , we discussed everything in great detail before starting, also no pain, just a tiny scratch sensation
I'm very pleased with the subtle look I wanted to achieve. I would highly recommend Dr Bawa
Katie Strange
Dr Bawa made me feel very comfortable and relaxed. He explained everything clearly and concisely. Will definitely recommend him to friends and family.
Carol Grant
Absolutely delighted with the results of the Fire and Ice facial. My skin was glowing for days afterwards and was the best it had looked in years. Dr Bawa did a thorough consultation beforehand and talked me through each step in detail. Highly recommend Dr Bawa!
Charlotte
Being completely new to Anti-Wrinkle Injections – Dr Bawa completely put me at ease. He has a wonderful, pleasant manner and is incredibly knowledgeable and an expert in his field. This allows you to put trust in him and make informed decisions. Still awaiting full results of the procedure to present themselves but otherwise so far so good – no bruising, no pain and completely undetectable! Thank you Dr Bawa!
Sammi
Dr Bawa did an excellent job. He took the time to discuss what I wanted, come up with recommendations and go through the risks. He was reassuring throughout the procedure and took his time to make sure he achieved the best results possible. Although it's only been a short time since I've had my treatment, I'm really pleased with the results. I would highly recommend Dr Bawa.
Helen
Always a great experience! I always feel very comfortable and in safe hands . Great long lasting results every time. I highly recommend Dr Bawa for any aesthetic procedure.
Sarah