Looking for approved Profhilo clinics in London? Time Clinic is an award-winning practice offering the latest innovation in Profhilo treatment. We serve clients across Greater London and Essex. 
With an excellent reputation for delivering first-class results in aesthetic procedures, Time Clinic is a trusted provider of Profhilo, and a favourite clinic among clients in London.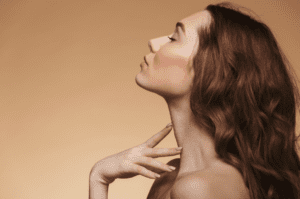 Our clinic is easily accessible to patients from across the capital and beyond, located in Chigwell which is between Essex and Greater London. We have parking on site and can also be reached via the Central Line from London.
Book a consultation to find out more about Profhilo skin treatment at Time Clinic and see how it may help you with your beauty and anti-ageing goals. 
You can also email the clinic at hello@time-clinic.com or call on +44 20 3795 9063.
Why Time Clinic for Profhilo in London?
Time Clinic boasts a proven track record in delivering outstanding results for London clients. Situated between Greater London and Essex, Time Clinic is within easy reach by road or rail, and has an excellent reputation as a clinic that offers Profhilo in the London area.  
Profhilo contains one of the highest concentrations of hyaluronic acid, making it a very popular and effective way to combat the signs of ageing.
Due to its effectiveness, Profhilo clinics in London are gaining in popularity. However many establishments offering aesthetic procedures are unregulated, putting patient safety at risk.
Time Clinic is Save Face approved, meaning it is highly regulated. Patients in London can be safe in the knowledge that Profhilo treatments at Time Clinic are administered by skilled professionals with high regards for patient wellbeing and safety.
What is Profhilo treatment?
Profhilo is a procedure designed to improve the tautness of the skin, while stimulating production of collagen and elastin. It is a revolutionary anti-ageing treatment, injected beneath the surface of the skin that works by slowly releasing hyaluronic acid, to encourage the production of collagen and elastin. 
Profhilo is a non-dermal filler, which helps to hydrate the skin from within using high-grade hyaluronic acid (which is found naturally in the skin). Although it's a temporary enhancement, results can be seen and felt all year round with an appropriate number of treatments. 
London patients can expect to see tighter, brighter and smoother skin from Profhilo injections, which may be applied to the face, neck or decolletage area. 
How many Profhilo treatments are needed?
Time Clinic recommends patients should have a series of treatments, with sessions occurring at least four weeks apart to see maximum results. This injectable treatment is very popular among Time Clinic's London clients, and we're proud to offer this latest innovation in Profhilo treatment to new and existing patients from across Greater London and Essex.   
Profhilo clinics London: More about Time Clinic
Profhilo treatment is deemed to be a very safe anti-ageing skin treatment since it contains Hyaluronic acid – a natural substance found within the skin. Profhilo has low inflammatory properties and is considered to be low risk since there are no chemical cross-linking agents contained within it.

Our London patients report minimal if any discomfort with Profhilo treatment and downtime after the procedure is minimal to none. Any risks from the treatment will be discussed during consultation.




Dr Manav Bawa is Time Clinic's medical director and an award-winning expert in skin cosmetics. He is a highly experienced practitioner, who together with his wife Yogeeta, ensures that all aesthetic procedures and treatments are completed to the highest standards.




Time Clinic London is

Save Face accredited

, so our Profhilo clients can rest in the knowledge that they are in safe hands at all times. 
How much does Profhilo treatment cost in London?
Prices for Profhilo treatment at Time Clinic start at £800 and can be discussed during your consultation, along with your recommended treatment plan. 
Please contact the clinic to book your consultation, email hello@time-clinic.com or call 0203 795 9063 to find out more about Profhilo treatment at our clinics in London. 
Find us
Time Clinic
David Lloyds
Roding Lane
Buckhurst Hill
Chigwell
IG7 6BQ
Getting to us from London
Our clinic is located in the David Lloyd complex in Chigwell. You can reach us on the Central Line of the London Underground, with a journey time of around 45 minutes between London and Chigwell. There is also parking on site.
Situated on the border between Essex and Greater London, Chigwell is conveniently located on the River Roding and served by Transport for London buses.