Give your skin a much needed boost with a full facial transformation in Essex from the award-winning Time Clinic.
This holistic rejuvenation treatment is ideal for those looking for an injection of energy into tired and sad-looking skin. 
Whether you're conscious about lost volume or dark and hollow eyes, or worried about lines and wrinkles, or any other skin issues for that matter, we're here to help craft the perfect solution to get you glowing once again.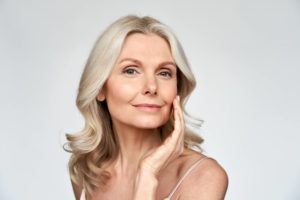 Find out more about how a full facial transformation could work for you by contacting a member of our friendly team in Essex today. 
Contact Time Clinic using the webpage link above, or call +44 20 3795 9063 or email hello@time-clinic.com. 
What is a full facial transformation?
A full facial transformation can be enjoyed by anyone who is looking for either a skin boost, anti-ageing solutions, more facial definition or just overall facial rejuvenation.
It is the ideal treatment for tired and dull skin that is lacking in laxity, volume or prone to lines and wrinkles. We use the latest clever and innovative techniques to bring the skin back to life, leaving a glowing and radiant appearance.
Our wonderful, highly experienced doctors combine a number of skin treatments that when working in tandem, bring together the best of all skin treatment possibilities to produce optimum results for you.
Your full facial transformation in Essex can be tailored uniquely to your personal circumstances, so whatever your skin worries are, we can focus on those areas in particular. 
Why is the full facial transformation so popular? 
Our patients in Essex love the full facial transformation for being so versatile and adaptable to your particular skin condition and concerns. 
This wonder treatment is ideal for a whole host of skin concerns. Common skin conditions that the full facial transformation can treat include:
Lost volume in the skin

Crepey skin, lacking in laxity

Hollow or dark eyes

Appearance of jowls

Loss of facial definition

Double chin

Hollowed temples

Nasolabial lines

Crows feet

Frown lines

Fine lines and wrinkles
Give your skin the boost it deserves with a second-to-none facial treatment, crafted specifically to your current skin condition.
What does the full facial transformation treatment consist of?
The full facial transformation is a bespoke treatment that would combine a number of treatments which will work best for your personal skin situation. Following an initial consultation your skin care consultant would recommend a package of treatments to yield the best results, personalised for you.
As a starting point, Time Clinic recommends a package that would be blend or some of combination of wrinkle relaxing treatment, Juvederm fillers, HarmonyCA, Profhilo and medical grade skin care, since these treatments are known to produce excellent, natural  and beautiful results.
Dermal fillers
Dermal fillers are particularly popular because of their ability to target the signs of ageing. As we age, our skin loses its volume and elasticity, but thankfully with the use of dermal fillers, volume can be restored in a safe and effective way.
Dermal fillers can be used on multiple areas in the face including the cheeks, lips, jawline and other areas where lines and wrinkles appear, including the treatment of nasolabial folds. 
Our Essex patients generally find injectable dermal fillers to be comfortable, experiencing only mild sensitivity in some cases. Dermal fillers are designed to work temporarily and will eventually dissolve over time.
Profhilo
As part of the full facial transformation we also recommend Profhilo treatment for its wonderful ability to improve tautness of the skin. 
The Profhilo treatment works by releasing hyaluronic acid under the skin's surface which encourages the natural production of collagen and elastin. 
Results tend to be longer lasting, since the cycle of collagen and elastin production continues and helps to keep the skin tight and hydrated. Expected results are tighter, brighter and smoother skin.
Medical grade skin care
Time Clinic is proud to offer iS Clinical Skincare which is a medical grade, clinically-proven luxury brand with products designed to cleanse, treat, hydrate and protect the skin.
These products are formulated to improve structural cell integrity and promote cellular renewal. Patients who have skin concerns such as acne, rosacea, hyperpigmentation and ageing, may benefit from iS Clinical Skincare treatment. 
An award-winning clinic in Essex
We believe that the best results are achieved not only when you look good, but when you feel good too. Time Clinic prides itself on putting our patients' wellbeing and safety first That's why we are affiliated and accredited by some of the aesthetic industry's most trusted brands.
Awarded the Best Medical Aesthetic Clinic in London, Time Clinic is a leader in pioneering the latest treatments and motivated by our passion to achieve the best possible results for our patients.
To find out more about the Time Clinic full facial transformation in Essex, contact us or call +44 20 3795 9063 or email hello@time-clinic.com.
About Essex
With a population of around 1.8 million people, Essex is a bustling hive of activity with a wonderfully diverse population.
The county lies between London and the North Sea, in the South East of England and enjoys excellent transportation links to the capital.
Essex is a popular destination with tourists and commuters alike, since its road and rail transportation links make it an easy destination to reach from London.