Are you starting to see sunken cheeks, dark under eyes or deep lines and wrinkles forming? Are they making you look and feel older? Maybe it's time to consider dermal fillers in Essex to help you get back to a more youthful appearance.
There is no need for surgery to help you add more definition to your chin, to get fuller lips or restore volume to your cheeks. With dermal fillers you can do all this without going under the knife and with minimal downtime.
Start your journey today with a skin clinic you can trust. Time Clinic in Essex is a team of qualified medical professionals who are experts in facial aesthetic treatments. Our aim is to give you great, natural looking results that you will love.
If you'd like to ask more questions about dermal fillers, you can also contact our friendly team directly on +44 20 3795 9063 or email us at hello@time-clinic.com
How does dermal filler treatment work?
As we age, our skin becomes thinner and more fragile. It starts to look less plump and we lose that youthful appearance.
So how do dermal fillers work? Dermal fillers rejuvenate your skin. They do this by adding volume to the areas of the face that have lost fat or sunken over time. This includes the cheeks or under eye area.
Dermal fillers are a soft injectable gel that have hyaluronic acid as their key ingredient. They work by adding a boost of hyaluronic acid to your skin.  Not only does this help to plump the face, but it also reduces the appearance of lines and wrinkles. This gives your skin a more softer and smoother appearance.
 What is Hyaluronic acid?
Hyaluronic acid is a naturally occurring sugar that is found in your skin and broken down in the body. Your skin's level of hyaluronic acid decreases with age. So does the amount of collagen your skin produces. This is why our skin starts to look tired, becomes less firm and can sag.
Hyaluronic acid hydrates your skin. It does by helping to bind water to collagen, trapping it in the skin. Its ability to hydrate your skin is what makes it look fuller, healthier and younger looking.
 What areas can dermal filler be used for?
Dermal filler treatment can help add volume and treat deep wrinkles or folds in the following areas:
marionette lines or smile lines (mouth lines)
tear trough (under eyes)
nasolabial folds (creases for the sides of your nose to the corner of your mouth)
lip fillers
cheek fillers
non surgical rhinoplasty (nose job)
If you're not sure whether dermal fillers treatment is right for you, please contact our clinic in Essex for advice from our team.
How long do dermal fillers last?
You will start to see the results of your treatment straight away. However, it can take a few days for the swelling to fully go down and for your final results to show.
You can expect your dermal filler result to last up to 12 months. For some patients they can last slightly longer. The exact amount of time they will last will depend on several factors. These include your metabolism and what type of filler that is used in your treatment.
At Time Clinic we use Juvéderm fillers, one of the most trusted, high quality types of dermal filler. This ensures we help you get the best results possible.
Are dermal fillers painful?
You can experience some slight sensitivity during your dermal filler injections. However, many of our patients describe fillers as a comfortable treatment. To help keep any discomfort to a minimum, we do apply a local anaesthetic numbing cream to the treatment area first.
Your dermal fillers session will take between 30 and 60 minutes to complete. You will be able to resume your normal activity straight after your treatment.
How much do dermal fillers cost in Essex?
The cost of dermal filler procedures vary. It will depend on the size of the treatment area and the results you are looking to achieve.
At Time Clinic we provide various types of filler treatments including lip fillers, cheek fillers, tear trough fillers and jawline fillers.
At your consultation, one of the medical experts at our clinic will talk you through your treatment goals, what it is like to get dermal fillers and what results you can expect. From this, we will develop a bespoke treatment plan that will help you achieve natural looking results.
Please contact our clinic to book your consultation. You can also email us at hello@time-clinic.com or call us on 0203 795 9063.
Choose an expert clinic for dermal fillers in Essex
We have a commitment to always put the patient first. We are passionate about delivering the best treatment experience to you. From the moment you enter the clinic to any aftercare you may need – your care always takes top priority.
Time Clinic Essex is a Save Face accredited practice, which means that all our face and body treatments are regulated to meet industry standards.  This shows that we understand how to provide dermal fillers safely and effectively. So, you can leave us not only looking good, but feeling good too.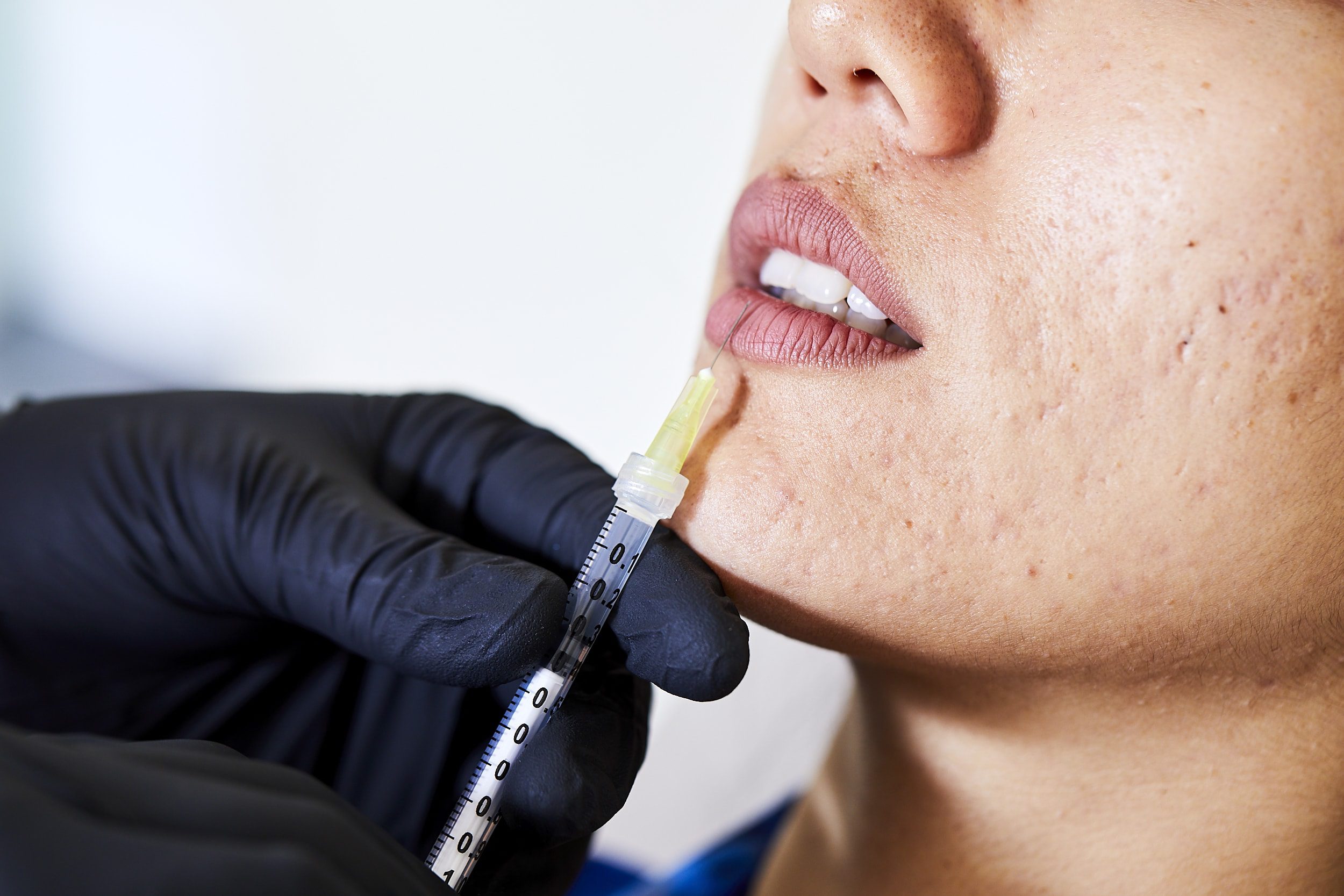 How to find our clinic in Essex
Time Clinic is easily reached by road or rail, most conveniently via the Central Line on the London Underground – with a journey time of around 45 minutes.
We have ample parking on site. The clinic is located within the David Lloyd facility in Buckhurst Hill, Chigwell.
Address
Time Clinic
David Lloyds
Roding Lane
Buckhurst Hill
Chigwell
IG7 6BQ
About Essex
Over 1.8 million people call Essex home making it a diverse and friendly place to visit. Essex lies between London and the North Sea. It is a county in the South East of England with great links to the centre of the capital.
Road and rail links between London and Essex make it an easy place to commute from if you work in the City. Because of this it offers the best of rural living with access to London for work and play.