Botox, also known by its full name Botulinum Toxin, is a hugely popular anti-wrinkle injectable treatment available for Chigwell customers with Time Clinic.
Its popularity with our Chigwell customers comes from botox's potential help with the signs of ageing, providing a more youthful, energised and vibrant appearance yet one that is also still completely natural looking.
Botox treatment itself is a minimally invasive form of facial aesthetics. Botox is quick to administer, the effects last for months and the results achieved are predictable when applied by a skilled facial aesthetics practitioner.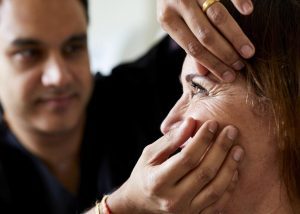 In Chigwell, and indeed regionally, few come more skilled and qualified than the award winning Dr Manav Bawa, the hugely respected and experienced founder of the Time Clinic located just a few miles away. Dr Bawa, a GMC registered doctor, is a local GP as well as having a background in Plastic and Orthopaedic Surgery.
Dr Bawa is Save Face registered, has universally five star reviews from independent, verified reviews and is entrusted by the Royal College of GPs to teach minor surgery, as well as recently winning an award for Best Aesthetic Medicine Clinic – London.
What Precisely is Botox?
Botox is an injection that helps remove and lessen the impact of lines and wrinkles. It is often confused with dermal and facial fillers but actually works in a very different way.
Dermal fillers fill in lines and creases and also concerns such as scarring caused by acne. When used to combat signs of ageing, these fillers work to lessen the impact of lines that are visible at all times, i.e. even when the face is not moving, the person is not smiling or talking for instance.
Botox, the original botulinum toxin, counteracts dynamic lines, wrinkles and creases, the signs of ageing we might see on smiling, or laughing, or the lines in our forehead that appear.
Rather than filling in these lines, Botox is a muscle relaxant, it relaxes the supporting muscles that have lost their tone over time through natural ageing. 
As we age, these movement lines can become more apparent, Botox reverses the clock, making it so popular a procedure in Chigwell and beyond.
Do Botox Results Appear Natural?
Results achievable for patients through anti-ageing injections should appear natural, but much depends on the skill and experience of the practitioner.
It may come as a surprise to learn that facial aesthetics is a largely under regulated field and so there are few barriers to entry. Almost anyone can start administering Botox and facial fillers.
There are, therefore, many results that are not of a high standard. If not enough of the injectable is used, or the locating isn't completely accurate then there may be very little visible impact.
Alternatively, when too much is used there is that clear look of work having been done, the look anything but natural.
However, for a truly skilled expert the results are predictable and do appear natural. Experience allows for deeper layers of skin to be targeted, leading to more profound, yet still natural alterations that last for a good length of time.
At the Time Clinic, we proud ourselves on natural-looking results. We want any client to look like themselves still, but themselves at their best – younger, more energised, with an added sparkle – but still them.
The reaction of friends and family should be 'wow! You look great' and not 'oh, have you had something done.'
What Can Botox Be Administered For?
The application of Botox is primarily for facial aesthetics, to address signs of ageing in a patient, but there are other medical uses too.
Botulinum Toxin is suitable for:
Forehead lines
Frown lines
Lip lines
Crows feet (wrinkles around the eyes)
Slimming the jawline
Lifting heavy eyebrows and sagging eyelids
Downturned mouth (sad look)
Dimpling chin
And for non facial aesthetics
Treating excessive sweat, for instance in the under arm region or forehead
Jaw clenching and grinding teeth
Gummy smile
Combatting chronic headaches and migraines
Botox is also often used in conjunction with other forms of minimally invasive and non-invasive surgery as part of an overall anti-ageing package. 
This might includes fillers, or skin peels, platelet-rich plasma therapy and more.
The Importance of Consultation
Some who administer Botox underplay the role of consultation – we believe it is essential.
A consultation is where the prospective patient and expert in medical aesthetics can discuss the desired results to be achieved.
Often, the person looking to address signs of ageing doesn't really know what treatments would be of best benefit. They may know what they want to achieve, or have a general desire to address the signs of ageing, but not really know whether it is Botox that they need, or peels, or fillers.
In other cases, someone might be right in thinking that Botox would be a suitable treatment, but failing to address signs of ageing elsewhere might create a bit of a mismatch – using a combination of dermal fillers and Botox to address different forms of lines on the face and neck might be ideal.
The overall impact can be what is known as a non-invasive facelift, much of the benefit of a full, deep plane facelift but with none of the extensive recovery time, swelling, need for hospital stay or expense.
You can get a sense of our customer care by watching the videos below.
Why Consider Time Clinic for Botox in Chigwell?
A Five-Star Reputation
Our verified, independent reviews are universally five stars, the testimonials demonstrate our levels of patient care.
We are fully approved
In this relatively unregulated field, we are a name who can be trusted and are Save Face registered. Dr Manav Bawa is also a local GMC registered GP, to add further reassurance. Whoever you chose, please do ensure this have this accreditation, it is your assurance that they operate to high standards. 
Botox Treatments By An Expert
Our award-winning clinic near Chigwell, located in Buckhurst Hill, is run by Dr. Manav Bawa, one of the leading experts in facial aesthetics operating not just in Chigwell or south London, but the entire UK. 
A member of the Royal College of Surgeons (MRCS) and the Royal College of General Practitioners (MRCGP), Dr Bawa also holds a postgraduate diploma is Surgical Sciences and a Masters in Surgical Education from Imperial College London.
Dr Bawa also has a Postgraduate Diploma in Aesthetic Medicine.
Dr Bawa is a trainer for minor surgery and joint injections courses for the Royal College of GPs and also provides the injectables (Botox and dermal filler) training for a leading Harley Street Academy.
Botox that is Affordable
We are open with all our prices making it easy to compare us to any other clinic.
The cost will vary depending on the amount of treatment opted for, but Botox can cost under £200 for a treatment at Time Clinic at the time of writing. 
Next Steps
Located perfectly for Chigwell, our clinic is in Buckhurst Hill, the full address
Time Clinic
David Lloyds
Roding Lane
Buckhurst Hill
Chigwell
IG7 6BQ
To discuss requirements for a consultation, whether in person or via video sharing, please call us on 0203 795 9063 or use our Contact Form.
About Chigwell
Located on the Central Line, Chigwell is part of Greater London and a civil parish in the Epping First district.
The name is believed to derive from an Anglo-Saxon name Cicca,  personal name, and so Cicca's well. It may be that the Cicca referred to is a lost king. 
While there were historically several springs in the area, and so the well part of the name would make sense in that it refers to water, others believe it is actually a derivation of the word wood.
For many centuries, Chigwell was predominantly rural, with farming the key trade, but it is now largely suburban.
One interesting fact is that the famous author Charles Dickens was a regular visitor and in a letter described it as "the greatest place in the world … Such a delicious old inn opposite the churchyard … such beautiful forest scenery … such an out of the way rural place…"
Dickens is also not the only famous name associated with Chigwell. Sally Gunnell was a pupil in the town while Bobby Moore and Geoff Hurst were residents.
Ronnie O'Sullivan also hails from Chigwell.