Botox injections are a minimally invasive procedure that can have a profound effect for customers in Buckhurst Hill, potentially helping reduce the signs of ageing.
Also known by the full name Botulinum Toxin, Botox is an injectable that is quick to administer and can be used on multiple parts of the face to address lines and wrinkles.
Anyone in Buckhurst Hill wanting Botox is fortunate that nearby is the award-winning Dr Manav Bawa, one of the leading practitioners of anti-wrinkle injections in the UK.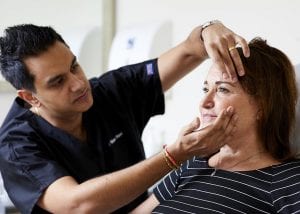 Dr. Bawa is Save Face registered, a trainer for other healthcare practitioners in Botox and dermal filler, has universally five-star reviews and is entrusted by the Royal College of GPs to instruct in minor surgery. As we all hopefully know, Botox must be admitted by someone as amply qualified and trustworthy as Dr Bawa. 
The Usage of Botox
Botox is typically used by our customers in Buckhurst Hill for facial aesthetics and specifically to address the natural signs of ageing that come to us all.
Botulinum Toxin is a suitable treatment for:
Frown lines
Forehead lines
Lip lines
Crows feet (wrinkles around the eyes)
Slimming the jawline

 

Lifting heavy eyebrows and sagging eyelids
Downturned mouth (sad look)
Dimpling chin
It can also be used for treating excessive sweat, for instance under the arms or on the forehead and combatting chronic headaches as well as helping to reduce jaw clenching and grinding teeth and reducing the gummy smile.
Botox will also often be administered in conjunction with other anti-ageing treatments such as dermal fillers or skin peels.
Used together, these can have a truly profound effect, combatting multiple signs of ageing. The overall course of treatment is sometimes known as a non-surgical facelift – the benefits of a deep plane face lift but without the expense or recovery time.
What Is Botox
We mentioned above how Botox injections will often be used in a package of treatments alongside fillers. 
Many wonder how these differ.
Fillers work by filling in lines and creases (or skin imperfections such as acne scars). Fillers are used for lines that are permanent, visible even when the face is relaxed and not moving.
In contrast, Botox is a muscle relaxant, it works by tackling those lines that appear as we move areas of our face – forehead lines, lines around our eyes as we smile, lip lines too.
A skilled practitioner will know which form of treatment is the correct one for each sign of ageing and discuss this in consultation.
The Results Achievable with Botox
The results will vary by practitioner, unfortunately the use of facial aesthetics is relatively unregulated and so almost anyone can administer treatments.
With an approved, Save Face registered clinic, superb predictable results are possible.
At Time Clinic, we achieve results that look natural yet make a clear difference – we want you to look younger, rejuvenated, healthy and refreshed, but still like you.
The reaction of friends and family will 'wow! You look great' and not 'oh, have you had work done?'
It Starts With A Detailed Consultation
At Time Clinic, we apply the high standards you would expect in cosmetic surgery to less invasive procedures such as injections to counter wrinkles.
This means that we place importance on consultations, these the opportunity for you to discuss your aims for the procedure, the areas you would like to target and Dr Bawa to talk you through his recommendations.
You can then come to a decision free of pressure.
Often, the prospective patient will have a general idea that they would like to address signs of ageing but naturally aren't sure which treatments are there most suited to each area. 
Rather than simply expecting you to say 'I want this, this and this' Dr. Bawa will listen to your overall goal and then suggest the best way for this to become reality.
Why Consider Time Clinic for Botox?
A Five-Star Reputation
Our verified, independent reviews are universally five stars, the testimonials demonstrate our levels of patient care.
We are fully approved
We are Save Face registered, this is hugely important in a generally under-regulated field, and Dr Manav Bawa is also a local GMC registered GP, to add further reassurance.
Whoever you chose, please do ensure this have this accreditation, it is your assurance that they have the level of skill and experience you would want of someone using injectables.
Treatments By An Expert
Our award winning clinic in Buckhurst Hill is run by Dr. Manav Bawa, a leading experts in facial aesthetics in the UK. 
Dr. Bawa is a member of the Royal College of Surgeons (MRCS) and the Royal College of General Practitioners (MRCGP), he also holds a postgraduate diploma in Surgical Sciences and a Masters in Surgical Education from Imperial College London.
Dr Bawa also has a Postgraduate Diploma in Aesthetic Medicine.
A further sign of his expertise is that Dr. Bawa is a trainer for minor surgery and joint injections courses for the Royal College of GPs and also provides the training for a leading Harley Street clinic.
Botox that is Affordable
We are open with all our prices making it easy to compare us to any other clinic.
The cost will vary depending on the amount of treatment opted for, but Botox can cost under £200 for a treatment at Time Clinic at the time of writing. 
Next Steps
Located perfectly, our clinic is in Buckhurst Hill, the full address
Time Clinic
David Lloyds
Roding Lane
Buckhurst Hill
Chigwell
IG7 6BQ
To discuss requirements for a consultation, whether in person or via video sharing, please call us on 0203 795 9063 or use our Contact Form.
You can get a sense of our customer care by watching the videos below.
About Buckhurst Hill
Buckhurst Hill is a town in the Epping Forest district of Essex. 
The first mention of Buckhurst Hill was in 1135 when reference was made to La Bocherste, this in later years becoming Bucket Hill, the meaning of which was a town covered in Beech Trees.
At the time it lay in Epping Forest and consisted of only a few houses on the road from Woodford to London.
The growth only really occurred with the opening of Buckhurst Hill station in 1856, new homes were built near the station and land was taken from Epping Forest to build more homes until this practice was stopped by the Epping Forest Act of 1878.
Despite its growth being relatively modern and the town itself only having a population of around 11,000 as of the 2011 census, Buckhurst Hill does have cultural significance.
Dick Turpin moved to Buckhurst Hill in 1725, no doubt the access to Epping Forest was appealing. Labour political Jack Straw was born in Buckhurst Hill.
The area also features heavily in the ITV series Essex Wives while some filming for The Only Way is Essex has been undertaken in Buckhurst Hill.