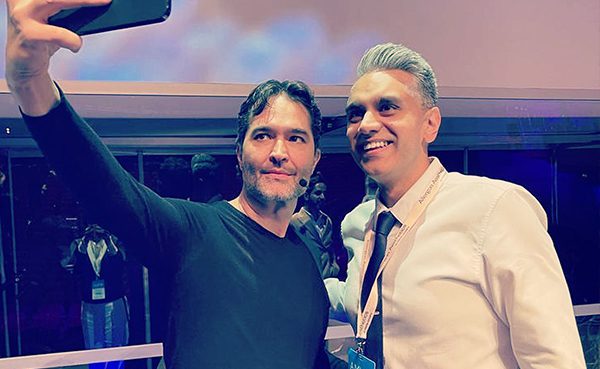 For April's blog, Dr Manav Bawa tells us all about his time in Monte Carlo for one of the biggest aesthetic events in the world…
Well, it's fair to say I had a great start to the month at the Aesthetic and Anti-Aging Medicine World Congress (AMWC) in Monaco! This is a huge conference and exhibition, which unites aesthetic medical professionals from across the globe to learn about the exciting new products and treatments that we can offer patients over the coming year.
My favourite presentation was one by Dr Mauricio de Maio. He is a Brazilian plastic surgeon and widely regarded as the best in the world. Dr de Maio has mentored me personally, so catching up with him is always an honour. He performed a live demonstration using some new techniques, which produced fantastic results. I'll definitely be introducing these to my patients!
I also attended some fantastic educational sessions run by Allergan (one of the biggest aesthetic product manufacturers in the world), which focused on delivering a 360-degree approach to patient care. This is something I teach on behalf of Allergan in the UK, so it was fantastic to see an emphasis on this in the global aesthetic community.
HArmonyCA – one of our favourite products here at Time Clinic – was also highlighted. As well as giving your face an immediate lift, HArmonyCA stimulates collagen production to enhance this lift and your skin quality over six to nine months… it really is the gift that keeps on giving!
AMWC shared the excellent results practitioners were achieving for their patients around the world. I was asked to record a video about my own experience using HArmonyCA which was played throughout the event – it was so great to see our results showcased!
Most significantly, I learnt about a few amazing new products that are delivering revolutionary results to patients that I thought I just have to bring to you. I can't reveal too much yet, but I can say that there'll be a few surprises over the coming months, so watch this space!
Finally, Monaco is a super cool place if you're thinking of a weekend break. You'll know that it's a 'microstate' so is really small, meaning you can get around it pretty quickly. If you're into supercars, there's plenty to spot, while the harbour and beach are fantastic places to have a drink and enjoy some delicious food along the gorgeous French Riviera. Well worth a visit if you have the opportunity!
Back to blog