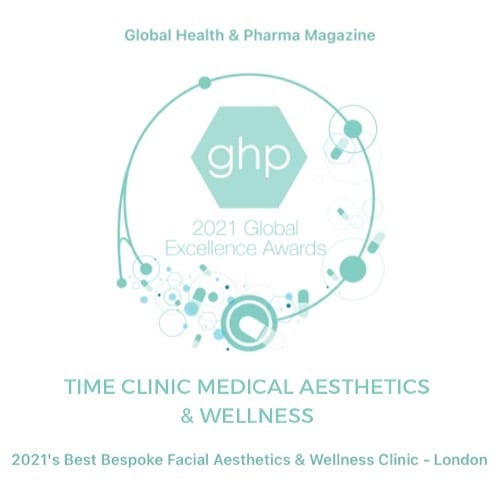 Time Clinic was born from first-rate ideals that aimed to provide an exemplary service to all that would come through its doors. This high level of attention has not waned and we are proud to boast that as time passes we continue to go from strength to strength. 
Our fantastic contribution to the world of aesthetics is recognised by other professionals within the industry and it is with much pleasure and pride that we want to announce that we have won another award. Global Health and Pharma magazine has selected us winners of the 'BEST BESPOKE FACIAL AESTHETICS & WELNESS CLINIC – LONDON'. We received this amazing accolade in April this year and is a welcomed merit that is reflective of the benefits and virtues that Time Clinic is able to bestow. 
As a clinic that truly believes in itself, we are proud to shout about our unrivalled provision and our many clients would confirm this is why we are their first choice. 
Our range of treatments have been specially selected to make a difference to people's lives, improving both the way they look and the way they feel. Residing in an accessible corner of the country, our clinic attracts many clients from various locations who are drawn to the outstanding provisions that await them in this leading aesthetics and wellness clinic. 
From injectable solutions that help to turn back the clock on ageing, to redefining the features and bespoke skincare products, our treatments produce effective and successful outcomes for the face and skin. The technologies and techniques that are used to carry out our innovative treatments, combine perfectly with the supreme products we use to ensure your appearance is second to none. The optimum outcomes that are produced at Time Clinic are testament to the team of experts who deliver their exceptional care and aesthetic skill to creating subtle and natural enhancements of the highest standard. 
So why not come and visit us this spring and experience for yourselves the wonder that is Time Clinic. Whatever your aesthetic concern, our award-winning clinic is more than happy to help.
Back to blog