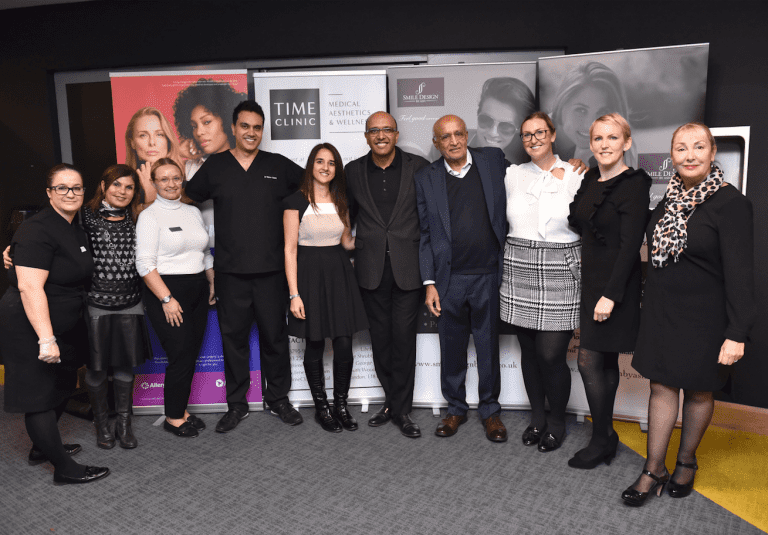 Since the birth of Time Clinic, Dr. Bawa has been working hard to put his Medical Wellness and Aesthetic's practice on the map.
It's been a busy year, with the new look branding, website and most recently with Dr Bawa (of Time Clinic) teaming up with Smile Design by Ash, at the David Lloyd Leisure Club in Chigwell to continue our drive for education and patient wellness. Last month, we took centre stage at our 'Look Good and Feel Great' Event and we are excited to tell you all about it!
It was an incredible fun packed afternoon with something for everyone from delicious Cupcakes to Full facial transformations. We enjoyed a huge turnout of patients and peers, who supported us, and boy did we deliver a great day for all.
The afternoon started with welcome drinks for everyone, provided by our great friends at Skinade. What better way to start the day than with giving your skin a glimmer from the inside out? The event was an 'Aesthetics Wonderland' – showcasing the latest innovative products from Juvederm, as we welcomed our guests to swing by the Dermal Filler bar and then on to a live Demo with Dr Bawa practising MD Codes to give a truly regenerative full facial transformation to our lovely volunteer – she's looking years younger and super glam – just in time for Christmas.
Things got serious when Dr Bawa and our Co-Host Dr Ash Parmar took to the stage presenting a host of inspiring educational talks to impart knowledge and give power to our patients, as we believe that education is massively important and patient awareness should be at the forefront of this industry. In addition to hearing from our resident experts, our very own Yogeeta Bawa shone as she discussed the latest in 'tweakment' trends, relative to some of the conditions we treat here at Time Clinic. Patient understanding is so valuable, and this informative discussion went down a storm with our guests.
If this wasn't enough excitement, we even had some 'live demo' Fire & Ice facials brought to our guests exclusively from the wonderful team at iS Clinical. This amazing treatment uses high quality botanical ingredients along with pharmaceutical grade serums to resurface, and optimise the quality of the skin for complete rejuvenation through a process of hot and cold applications.
As we wrapped up a busy day of demo's, talks, treats and networking, we extended our gratitude to all our special attendees as they each got to take away a goodie bag bursting full of Skinade and other tit-bits for an extra little boost at home to continue their great work in style
Back to blog